In retrospect, it's easy to see meaning in things where maybe there wasn't any, but that's the way we silly humans are, I guess. We need stories about our lives to make sense. We struggle to understand our experiences as cohesive narratives that follow some sort of reason. I know this. It does not stop me from doing it.
And so I know it both to be true and probably not when I tell you that after the first couple of days with Goose here, Licorice—the dog who took several YEARS to warm up to Duncan, and who generally practiced disdain for all other four-legged creatures—took to lying down next to her, patiently waiting for her food while I attended to Goose's, and generally acting like Goose was her new best friend. Goose literally climbed all over her and Licorice was unbothered.
The story that feels true to me is that Licorice knew. She knew she was dying, and she knew I needed another dog in the house, even if it's not a dog we're keeping. She knew Goose would be a comfort to us, and that she wasn't leaving us alone.
I will spare y'all the gory details. The sudden onset glaucoma was, indeed, secondary. While we'd waved off the diagnostics to narrow down the cause, whatever caused it was, in the end, swift and terrible. It ate her up. She went from having some issues with her back legs to being unable to walk in the space of just a few short weeks. And we took her back to the vet over and over, looking to keep her out of pain just a little bit longer. Our last visit was on Wednesday before Thanksgiving, and Otto came with us. Was she still eating? We confessed to spoon-feeding her canned food, but she was eating it, yes. The vet told us she was dehydrated. Was it okay to give her fluids? It would make her more comfortable. Of course, we said.
"Our oldest is coming home late tonight," I said, through tears. "She needs to see her. She needs to say goodbye. I know you're closed Thursday and Friday. We can come in on Saturday, if you can give us something to keep her comfortable until then. We just need a little time." The vet understood. Opioids would stave off the pain. (Contraindicated with her kidney issues, we all knew, but that was no longer an issue.) They flooded her with saline and gave her the first dose of meds. She returned to us dopey but—for the first time in weeks—not shaking. We brought her home and she dozed for a while.
There were hours between when that first dose wore off and we were allowed to give her the second one. And then the second dose just didn't seem to do a thing. She shook. She moaned and stared at us. We tucked her into bed with us and she never slept. Otto and I took turns stroking her head and crooning to her. Chickadee and Sunny arrived at about 1:30 in the morning, and I quietly called Chickie in to our room. She rubbed Licorice's ears and asked how she was. "It's a bad day," I admitted. But I shooed the girls off to get some sleep.
Around about 3:30 or so, Otto put his hand over mine. "We can't make her wait until Saturday," he said. "She's miserable." I knew he was right. And I knew the vet hospital ER was open. But I cried and told him the kids needed to spend some time saying goodbye. I told him we needed to wait a few more hours. It seemed both kind and cruel, and I hoped she would sleep a little. She didn't. I eventually dozed for about an hour. I woke up to Otto cradling her and telling her we're right here, it's okay, you're a good girl. She tried to move and cried. Once it was 7:00 a.m., I woke the kids.
It was Thanksgiving morning, then.
We gathered on the couch in the family room. We draped Licorice across our laps and all took turns stroking her head. I don't know who started it, but suddenly we were all taking turns talking to her like she could understand, reminding her of all the sweet and ridiculous things she had done. I don't even know how to describe it; it was like a prayer for her safe passage to whatever wonderful place good dogs go to when it's time to leave.
"Hey Licorice, remember when we taught you your name in the beginning?"
"Remember that time we thought you ran away but you were just on adventure and then you just came strolling up like HEY GUYS after?"
"Do you remember how you really wanted to eat the baby Jesus that first Christmas, Licorice?"
"What about the time you met your friend the crab? That was pretty exciting."
"And the time you went in a boat to your own private island and Otto had to chase you down because you didn't want to leave!"
"Remember that time when Chickadee was in the hospital and you went to visit her and got tortilla chips and your own sundae? That was a pretty great day."
"Yeah, much better than when we tried to take you to the dog park, that's for sure. Sorry about that."
"Though, really, nothing could top the time you found your very own squirrel intestine with bonus butthole."
We continued our chorus for I don't know how long. And then it was time to go.
Monkey decided to stay here, which was the right choice for him. Chickadee decided to come with, which was the right choice for her.
The vet hospital ER understood very quickly, even though my voice broke as I explained. It didn't take long for them to get us situated in a quiet room, and when they offered us some "time to say goodbye" we answered in unison that we'd already done that at home. We held her, and cried into her fur, and let her go. No more pain. Well, not for her, anyway. She was the very best pup, and she held on to make sure I had a dog in the house and to say goodbye to Her Girl; loyal to the end. She deserved to rest and be free.
We came home and Goose was very excited to see us. I baked the cinnamon rolls I'd made the day before, and the kids—young adults, I guess—sat together at the kitchen table and ate them in silence. Sunny and Chickadee got ready to go and headed over to Sunny's parents' house for their Thanksgiving dinner. Otto and Monkey and I stayed here. I made pies. I cried while the crust dough fell apart. I sniffled as I patched it back together. I baked the damn pies and then I lay down on the couch and Goose pounced on my chest. I rubbed her ears and stared at the ceiling. The girls came back that night, chatty and full of stories, and I asked Otto if I could just accidentally forget to take them back to the airport in a few days, because it's so wonderful having them here.
On Friday, we had our Thanksgiving meal. We had a few extra guests, and when they opened with, "We are so sorry about Licorice" I thanked them and said, "But we're not going to talk about that today." We ate and drank wine and my pie crust was terrible but everyone was very polite and swore it wasn't. Monkey told me he wouldn't have known it was gluten-free and I declared him to be my favorite child. (Earlier I had declared the girls' friend who joined us to be my favorite child, and later both Sunny and Chickadee had turns being my favorite. I am nothing if not fickle.)
We packed up leftovers and did dishes and I started a big pot of stock with the turkey carcass. Later that night we all watched a movie together. When it ended, Otto and I headed to bed, because we are old. I got into bed and burst into tears and cried all over him for an hour. Once I calmed down I realized a light was on on the stairs, so I went upstairs to see who left it on. It was actually not the stair light, but the light in Monkey's sitting room, so I poked my head in and told him not to stay up all night.
He furrowed his eyebrows at me. "Why are you still up?" he asked. "Are you okay?"
"I had to have my nightly cry," I said, because I couldn't come up with a demurral fast enough.
"You need a hug," he said, and he sprung up out of his chair and squeezed me tight.
"You're a pretty awesome man, you know that?" I said into his shoulder.
We finished hugging and I went back downstairs to bed.
This morning, Otto tried to let me sleep in. But when he went to let Goose out, she came tearing into our room and leapt into bed with me. She refused to leave for her morning trip outside. So I had to get up and take her out, and then feed her, and then she raced back to my bed. We're sitting in it together right now. When Chickadee got up this morning, she came downstairs and joined us.
Woooooo, sad bed party!
It's the end of an era. It's so hard to believe they're both gone.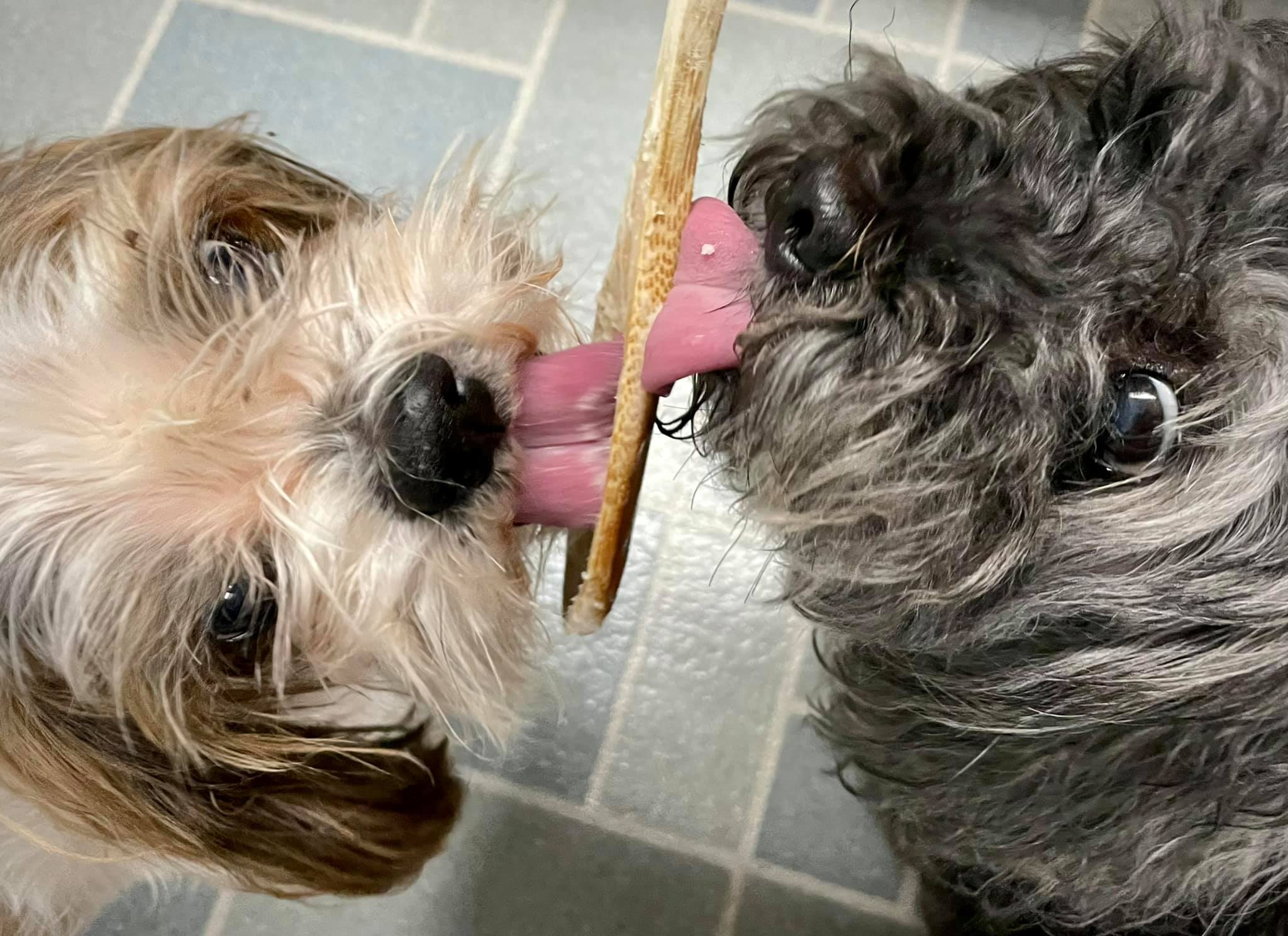 She was truly the very best dog, and I hope she knows how much we all loved her. I think she does. Did.
I tell myself she knew.