It seems ridiculous to claim we're out communing with nature when, in reality, our camper has a microwave and the campground has free wifi. I know. But we're parked in a forest where emerging takes you right to the ocean's shore, and more to the point, this is The Land Of A Million Squirrels.
When you sign in at the campground, they give you all sorts of information materials (maps and such), and everything carries prominent warnings that you should not feed the squirrels. This baffles me. First of all, these squirrels swagger around like the damn rodent mafia, which to me is SO CREEPY that I cannot imagine anyone thinking, "Wow, this giant rat with a fluffy tail just walked up and drank out of the dog's water dish while she was sitting right there, I think I'll offer him a Cheeto in the hopes that he takes out a tiny switchblade and carves up my face for good measure." Second… well, there really isn't a second. I just pretty much hate squirrels.
Licorice, however, is having the time of her life. Because no sooner does the squirrel she's chasing scamper up a tree than another emerges nearby to taunt her and take its place.
This is delightful for the dog, but exhausting for me and Otto, because we are constantly either having our shoulders dislocated from the dog yanking at a leash we're holding OR we have her on the lead tied to the camper and she manages to run after something and get herself wrapped around a picnic table or stuck underneath, wrapped around the tires, etc.
Here allow me to pause and note that the people parked at the site directly across from us have the world's tiniest adorable little camper, probably big enough just for a bed and some storage, and so they spend every moment sitting outside with their dogs. Ignoring the fact that it's been 95 degrees during the day with about 210% humidity (yes, I'm typing this while sitting inside, in the air conditioning, the way a loving God intended), I strongly suspect them of drugging their pets. Every single time I walk past their site to walk Licorice over to her preferred clump of vegetation to pee on, the two dogs over there are 1) lying down and 2) completely silent, even when Licorice barks her fool head off at them. I have never seen them so much as blink at the squirrels. Or any of the other dogs here.
One last note on the squirrels. I cannot tell a lie, I… may have committed some squirrel violence. I didn't mean to. I mean, it wasn't premeditated, or anything. I was sitting here at the kitchen table, working, and listening to a squirrel run around on the roof of the camper. Suddenly there was a mighty scrabbling up above and then… the squirrel landed on the canvas tent-top of our bed. From where I was sitting it was just above my left shoulder, and I could SEE its little feet, the heavy shadow from its body, the fuzzier line out behind it from its tail. I looked at it, I looked across the table at Otto, I looked back again, and then… it just HAPPENED, I swear. All of its own accord, my hand shot upward, punching up against the shadow on the canvas, launching the squirrel straight into the stratosphere.
Otto and I only had a moment to exchange startled glances over what I'd done before there came a soft thud of the squirrel landing EXACTLY BACK ON ITS ORIGINAL SPOT before it scrambled down off the camper. I think that if I'd punted it and it disappeared, I would've felt badly, but as it was, we couldn't stop laughing. "He's going and telling all his little squirrels friends right now," gasped Otto, between chuckles, "'WHAT THE HELL, THAT THING IS LIKE A POSSESSED TRAMPOLINE!'"
Anyway. Yesterday we thought we'd take a break from the squirrels and head over to the beach so that we could enjoy some creature-free time with the dog. Also the breeze on the beach is delightful, making the heat tolerable and significantly lowering the probability of my attacking a helpless creature. Ahem.
Being the kind and loving dog-mama that I am, nothing delights me more than forcing the dog to run up and down the beach with me and darting in and out of the waves until she looks like a half-drowned sand rat.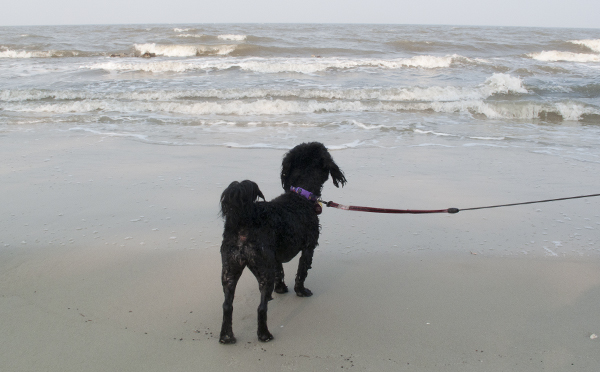 (Licorice says this photo was not taken from her good side.)
We got good and wet and then started walking further down the beach until we found an area where giant hunks of driftwood were positively teeming with life. And I don't mean that in a good way; I mean there were swarms of… I don't know… sea cockroaches? Googling has totally failed me; the creatures were about the shape and size of palmetto bugs (yecch), but with more legs. Which maybe means they're actually some sort of crustacean? These bugs were FASCINATING to Licorice, in much the same way that the squirrels were. She started bobbing and weaving, darting in, pulling back, going forward again, backing up. It was hilarious.
But THEN. The grand finale: Licorice spotted a crab.
And the crab saw Licorice.
And then they began to dance.
I had the leash, and at first I just let her go, but after a few back-and-forths between them I began to picture that crab dangling off of my poor puppy's nose while she howled in pain, so I pulled her back. Eventually the crab disappeared into the surf. But not before Otto made the pair pose for a picture.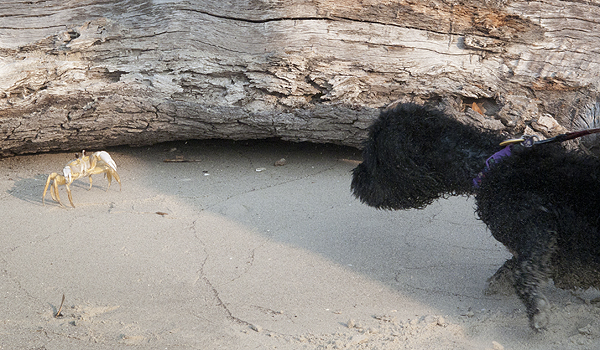 After the crab disappeared, Licorice continued to approach every stone, every ripple in the sand, every puff of air as if it might try to pinch her nose off. We finally dragged her back to the campground, where she had to endure the indignity of the dog-washing station. She refused to make eye contact with us as we hosed her off, and continued to shun me even after I discovered she had picked up some sort of weird burr (or maybe a tiny sea urchin?) in her fur and had to eventually resort to tweezers to get it off her. (I can't figure out what that was, either. It was a tiny, spiny yellow ball that STUNG, though. Ouch. Nature is dangerous!)
Eventually we retired back to our site, sweltering outdoors until Licorice was mostly dry, then heading inside for dinner.
It was all pretty exciting, so today Licorice has mostly laid around napping. And I swear I haven't punched any squirrels today. Yet.