This morning we set alarms (and got woken up early, anyway, by our trusty I-saw-you-breathe-it-must-be-kibble-o'clock prancing canine alarm) and got up early and the boys went back to school.
Monkey's first day back to Hippie School, and Otto's first day back to teaching. Of course I made them pose.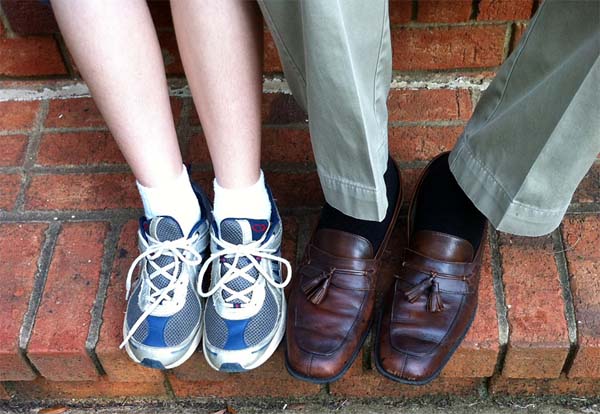 (Please disregard the fact that Otto really needs to polish his shoes and instead focus on the fact that Monkey's feet suddenly do not seem all that much smaller than a full grown man's. ACK.)
Last night as we lay in bed, I commented to no one in particular, "Well, I'm ready for our summer to start, now!"
Otto snorted. "Summer? I'm ready for spring break!"
So… yeah. 2012, The Year Without A Break. (Coming soon to a very depressing theater near you.)
* * * * *
As we readied ourselves to head into Atlanta and take Chickadee for an outing, this weekend, Monkey began insisting, as is his way, that we take the dog with us. "Chickie misses her! And Licorice misses Chickie!" It's true—Chickadee has commented repeatedly about missing the dog, and poor Licorice periodically wanders into Chickie's room and sniffs around, as if wondering where we've hidden her—but it seems less than prudent to attempt an afternoon out in the city with a dog in tow.
So I was musing about this on Facebook, and frequent commenter Nancy left me a link to one of those sites that tells you which restaurants are dog-friendly. She even made sure it went directly to the Atlanta listings.
Suddenly it seemed kind of dumb that we'd never taken the dog in, really. So I ran it past Otto (after, of course, locating a Mexican restaurant with a dog-friendly patio), and we headed in.
Licorice is still kind of a nervous car rider, but now that we have a doggie seatbelt tether thing so that she doesn't have to ride in the crate, she does seem a little more comfortable.
"I am a delicate flower with crossed paws. Adore me."
[Edited to add: All photos in this post except for the shoes one are courtesy of Otto. You can tell because the shoes one is crappy and the rest are good pictures.]
When we got there, I left the dog and the boys in the car and went inside to sign Chickie out for the afternoon. She, of course, had no idea what was going on, so we three humans in the know got to have the unparalleled joy of watching her open the car door and GASP in surprise, then pretty much fall on top of a VERY CONFUSED dog whose emotions seemed to run the gamut from "ZOMG IT'S YOU!" to "HELP, CAN'T BREATHE."
We then drove over to a lovely little Mexican joint where the waiter brought us menus and said, "I'll be right back with four human waters and a dog water." The dish of water he brought for Licorice was just about big enough for her to bathe in, which meant she had a nice drink and then promptly draped her tail in it when attempting to turn around. This perplexed her, but we were able to soothe her consternation with a judicious application of tortilla chips.
Our lunch was delicious, and then we walked around for a while. It was all very! exciting! because of all the new things to sniff and new places to pee. (We are trying to break Monkey of that habit….) (Oh God, you know I'm kidding; please do not send me stern emails about letting my kid pee around the city.)
Chickadee seemed good. Really good, actually. By the time we headed for ice cream to wrap up our time together, I was thinking maybe she'll be coming home sooner rather than later. But after we took her back to the hospital, she, uh, had kind of a rough evening. Lest we get too hopeful, or anything. HEY that's depressing, so let's not focus on that.
Instead, let's focus on this: Did you know that if you ask, Bruster's will make your doggie a free sundae? Because they totally will: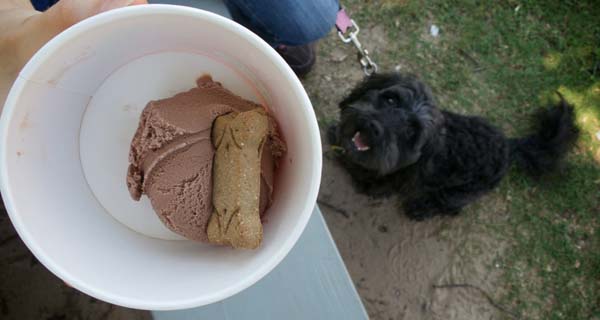 "ZOMG ZOMG IS THAT FOR ME??"
(Yes, I know dogs are not supposed to have chocolate. Our server—scooper?—appeared to be… ahhh… maybe just a little stoned. It took him SO LONG to get our ice creams that I didn't feel like arguing. Licorice has gotten chocolate ice cream before without a problem, so I felt confident this wasn't going to kill her.)
Normally we share a little with Licorice, but this was her first just-for-her sundae. I think the kids were more excited about watching her eat it than they were about their own ice cream. In truth, it was pretty entertaining—something about the size of the cup, the size of her muzzle, and the way the biscuit kind of froze into the ice cream meant that she had to work really hard to get it all out.
"Oh man, this is sooo goooood. I love Atlanta!"
That night when we finally got home, Licorice pretty much walked into the house and fell comatose on the floor. That was a LOT of excitement for an animal who usually sleeps 20 hours each day! Of course, she's ruined now—she'll be wanting her own sundae every day, no doubt. Last night at dinner while she pranced around the table all "Where's MINE?" I may or may not have told her that being part of our family is pretty much an object lesson in not getting what you want all the time. Just like my other children, she totally ignored me.
Still. We'll take those good times (and those shoe pictures) where we can get 'em.