I feel like I could make with OH SO MANY WORDS about the suckage of 2012, but frankly I am sick of it and have no desire to rehash. If you were here, you already know. If you weren't, well, I guess we could do an in-a-nutshell retrospective as a sidebar if I could do one for real.
[I can't do a real sidebar, so here's a fake one. Sidebar: 2012 sucked hairy donkey balls. Chickadee spent half the year in the hospital and I spent months fighting for Medicaid coverage for her while fighting for decent treatment, and then she decided to go live with her dad. (Single bright spot during that: You all helped me do an amazing thing for the hospital and I love you for it.) Otto's car imploded in Atlanta one day and then we had to rush Monkey to the ER with suspected appendicitis and my mother-in-law passed away. For further hilarity, I then broke my hand on an apple and became bionic. And just when you thought it couldn't get any worse, we capped it all off with it seeming like Licorice might be deathly ill (though, fortunately, that one turned out okay). It was kind of A Year, is all I'm saying.]
Was there ever a year I was so happy to see end? I can't think of one. Though we all know that the human brain is a miraculous thing; if there HAS been a year similarly awful, I have clearly repressed it. Lalalalala! I can't heeeeeear you! I look forward to this year's razor-sharp edges dulling in my mind, as well. The sooner the better.
Naturally, there was nothing left to do but get my woo-woo on.
It's true that I am not normally given to the woo-woo end of things. I am pragmatic. I enjoy the logical and the concrete. This year feels like a 365-day-long demonstration of how wishing does NOT make it so. Still, desperate times, and all of that.
Two years ago I made a vision board and found it a surprisingly useful exercise. I don't know if it was because I tried to give in to the woo-woo-ness of it or just because it kind of tricked my brain into understanding a little bit about what was not working for me, but I enjoyed the process and found it useful.
I don't know why I didn't do it again, last year. Possibly because life was already starting to unravel a bit in December.
This year, it became clear to me that it was time to do it again. But Chickadee was here, and it also became clear to me that it might be a useful exercise for her, as well. I can assure you that she is her mother's daughter—my first suggestion that we do this together was met with a cynical quirked eyebrow, and I had to assure her that it was FUN and INTERESTING and she should just open her mind to the idea. And then I had to promise her that I would buy her some trashy teen magazines that she could read before we cut them up, too. That was enough to win her over.
The nine days Chickie was home were a mixed bag, I'm not going to lie. We'd been apart for nearly three months. I would characterize 90% of her time here as bittersweet, with 10% of it falling into the "oh, right, I remember how unpleasant life was last year" category. We've both changed a lot this year. My beautiful daughter has grown so much more than she realizes, but they call those unfortunate pangs growing PAINS for a reason. She's still finding her footing, still figuring out who she is, still sad-glad-angry that she chose to spend this year away from here.
I figured an afternoon of sitting on her bed together, cutting up magazines and listening to music, could only tell us both more about where both of us are (woo-woo or not). And I was right.
Chickadee didn't want to share her board, but you'll have to take my word for it that it was AMAZING. It gave me chills when it was done, for real. She was very quick to shrug and scuff and "whatever" it, but I see the woman she's becoming all over that thing, and I love, love, LOVE what I see.
Also, those five hours or so we spent working on our boards? The very best time we spent together all week. My favorite. I am so crazy about that child, I can't even explain it. You love your kids, of course. But those times when you realize how much you just LIKE them, too, are priceless.
I was pretty pleased with how mine came out, though I feel like hers definitely won (no, not a competition, but you know what I mean).
Here's mine (click here to see a bigger version if you want to check out the detail):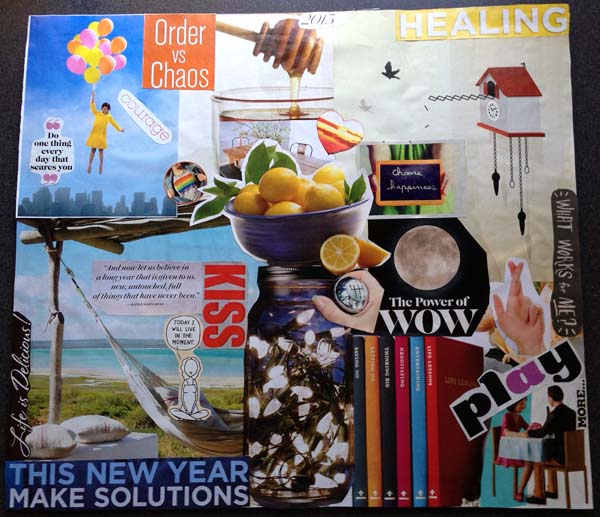 I know that last time I did this, I also sort of explained the reasoning behind a lot of the things I chose, and shared this big epiphany I had about myself, and blah blah blah. This time, I feel like a lot of it is self-evident, though I will share two pertinent things:
First, the big yellow "HEALING" in the upper right is also something Chickadee chose for her board. (Luckily it was from an ad that ran in more than one magazine, so we could both have one.) This makes me ridiculously happy.
Second, that bowl of lemons in the center is because this year I truly came to understand the meaning of making lemonade in dark times. And I have all of YOU to thank for that. I wanted the reminder, moving forward. I want to forget so much of this year; that's one thing I never want to forget.
I don't know about you, but I'm ready for 2013. Here's to a new year and everything it brings—lemons, lemonade, and all.