So. I told you that I went ahead and made a vision board this year, and I am simultaneously eager to share and feeling weirdly shy about it all, like maybe I will try to explain why it was so awesome and you'll be all, "And? You… made a collage. Welcome to the arts and crafts shack, Mir, and next week we might let you churn your own ice cream."
There are people who insist I must be a creative person because I'm a writer, and those people make me laugh, because when I think of creative I think of people who are WAY LESS TYPE-A than I am. Creative people go with the flow! They are in tune with the universe! They do not shriek at their children to PICK UP THIS MESS and hyperventilate when the week's dinner plan is somehow thrown off course. Creative people are ZEN. Or so I tend to believe, anyway.
I am not Zen. I am most often the polar opposite of Zen. I am the person bitching at Zen, asking why it's always LATE and why can't it just HANG UP ITS COAT and why can't it just CALL if plans change? Yeah.
In short, I believed that making vision boards is an activity for people who already know what they want and how to pursue it. But desperate times and all of that; I knew that I was sorely in need of at least an ATTEMPT to have a little chat with myself about, well, me.
2010 wasn't the worst year of my life, not by a longshot. A lot of stuff happened that was hard, yes. Plenty of what we went through as a family I would've changed in a heartbeat, if I could've, absolutely. But I am not so tunnel-visioned as to believe we have it so awful. In many ways, I am incredibly lucky.
But what I realized, as I thought about undertaking this exercise, is that everyone I talked to about vision boards spoke of what they wanted to bring to fruition in their lives. It's about focusing your energy on what you want. It's about knowing your goal and making it central to your consciousness. These were the sorts of things people say. And the more I read about it and talked to people about it, the more I realized that what happens to me when times are tough is that I just… stop wanting. I go from crisis to crisis, wanting only what will fix the immediate issue, and never thinking beyond it.
When Otto says to me, "What would you do, if you could do anything?" my answer is invariably, "I have no idea."
And that was why I decided to do the board, because—whether or not I pass the litmus test (whatever it may be) for being a "creative person"—the notion that I've become someone who no longer dreams scares the hell out of me. When did that happen? That's not who I want to be; that's not what I want to model for my kids, and not who my husband deserves.
Karen advised me to gather up some magazines, put on some good music, and just… start cutting stuff out.
On New Year's Eve Day I went out for groceries in anticipation of the kids' return later that day. While I stood in the checkout line, I marveled at how many of the available magazines were about celebrities and/or alien abductions. But I flipped through a few things and finally selected a Family Circle and an Oprah magazine to add to my little stash of magazines here at home. I want you to know that IT PAINED ME to give Oprah my money, but an image caught my eye as I flipped through, and I had to have it. (I remain ashamed, however.)
I came home and put the groceries away. Then I gathered up my magazines, my board, my scissors and my glue, and I sat down with them on the couch. I put on some good music and started browsing and cutting.
I made two piles: Whole pages I ripped out, and individual items I carefully cut out. After I'd worked my way through my stack of magazines (I think I had six), I started laying out pieces on my board, and then glued them down in layers.
Here's the part where it gets a little woo-woo: I didn't have a plan or an idea. I just cut out what caught my eye. And I didn't end up using everything I cut out, but I ended up with… exactly what I needed.
Here it is (click here to see a bigger version if you want to check out the detail):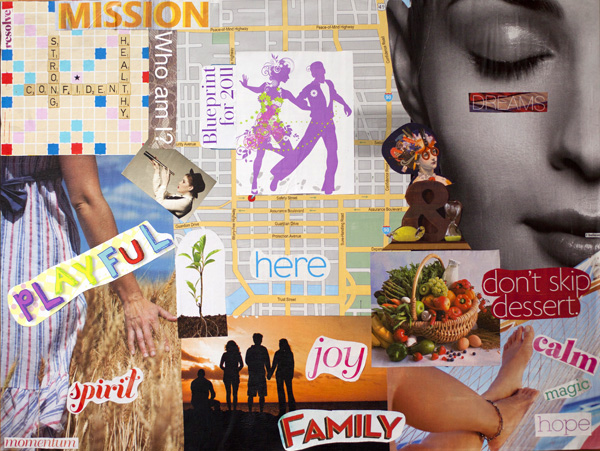 The big black-and-white face on the right was the reason I bought the Oprah magazine. I liked her; she looks peaceful to me. And most of the stuff I cut out was no real mystery; obviously my family is important to me. Obviously a Scrabble board featuring desirable attributes would appeal. Putting the dancing couple in the middle of a map that features places like Trust Street and Peace-of-Mind Highway is not exactly a mystery message.
The woo-woo came in when I was about two-thirds through and trying to decide if I really wanted to sully my "serious" project with the exhortation "don't skip dessert." I'd cut it out because it made me laugh. But did it belong on my board?
And that's when I got it.
I skip dessert. I don't know the answer to the "what would you do if you could do anything?" question because my response to stress and uncertainty is to clamp down, shut off everything except what I need to be completely practical, and stop wanting.
I don't just skip dessert; I don't even think about dessert. Dessert ceases to exist in my world.
And friends, I don't want to keep living in a world without dessert.
I think that maybe the way I get the calm and the magic and the hope that I put on that board is by remembering that no matter how hard things get, it's okay to have dessert. To have joy. To open up. To put the day aside and FEEL SOMETHING that may not be entirely practical. To be me; me the PERSON, not me the mother or me the writer or whatever other role I think I'm supposed to fill.
I finished my board, sealed it, and made Otto hang it up for me over my desk, here. All of the words and images on it mean something to me. But more than anything, I look at "don't skip dessert" and think that in 2011—no matter what else happens—I may just remember how to dream, after all.