Actually, I do know where to start. With this: THANK YOU. Thank you for reading, thank you for caring, thank you for being generous beyond measure. You don't need to care about my kid, or about a bunch of other kids you've never met, but you do, and you are AWESOME and PRETTY and I am inspired by you.
If you have no idea what I'm talking about, go read about my possibly ill-named post on making tampon lemonade. In the face of learning that Chickadee's hygiene items were constantly being stolen by other girls in the hospital, I'm not going to lie: I got angry. Anger is easy. So that happened first, and then I realized anger accomplished nothing, and instead maybe I—we—could do something, instead. I asked you to help me round up the supplies these girls need, and you responded beyond my wildest imaginings.
I rented my UPS mailbox on Monday, and put up that post, knowing that thanks to Amazon Prime, there would be packages arriving on Wednesday. I planned to go pick up at the end of the day, but around 2:00 I received a rather stern missive from the store.
"We have about fifty packages here for you. Is this going to be a regular occurrence? We really don't have the space to be storing this many things. When are you coming to pick them up?"
Whoops. (Related: FIFTY PACKAGES??? On the FIRST DAY? Houston, we're gonna need a bigger truck.)
I of course drove straight over to the store and found the manager and began apologizing profusely. I then ended up telling the entire story to him and the assistant manager, suavely prefacing it with, "Let me tell you what's happening here so that you don't think I'm just running drugs through your store."
When I finally reached the end and took a breath, the assistant—who is probably older than he looks, but lemme tell you, he looks about 18—surveyed the towering stack of boxes with my name and said, "So… uhhhh… these boxes are all filled with… tampons?"
I'm guessing, but that could be a first for that store. Just a hunch.
They were kind enough to help me load it all into the truck, and I assured them over and over that THIS IS THE WORST OF IT, Amazon Prime, you know, it's 2-day, and deliveries will surely taper off throughout the week, but you just go ahead and tell me what time the truck gets here and I will plan to come pick up right after that every day until it slows down, thank you so much for your patience with me and my little tampon charity project, you guys are great.
If you're a fan of the Woulda Coulda Shoulda Facebook page (you already are, aren't you?) you've already seen what that first delivery wrought:
Fifty(ish) boxes. Beyond my wildest hopes. And as I began unpacking and repacking (Amazon does love to toss one item in a box with seventeen airpacks and call it good, plus I wanted to pack like items together to make it easier for the hospital) I thought to myself, "This is incredible. And it's not even all of it! But it's most of it, I'm sure. Tomorrow there'll probably be ten more boxes or something, and then a few more things will kind of dribble in. Still, this is going to be enough for every girl there for months."
As I unboxed and repacked, Monkey came into my office and happily popped the airpacks for me and kept saying things like, "GEEZ, HOW MANY TAMPONS DO GIRLS NEED, ANYWAY??" (I think he found my response of "All of them" a little unnerving. Such is the cost of having me for your mother.) For fun I did some counting, that first day. 76 sticks of antiperspirant. 87 bottles of bodywash. 28 bags of pads and 34 boxes of tampons. An entire case of Stridex; 32 giant bottles of 2-in-1 shampoo/conditioner. And more and more and more.
I went to bed Wednesday sore and giddy. I remember saying to Otto, "Even if nothing else comes, this is amazing. They are going to FREAK when we drop all this off!"
Yesterday (Thursday) Otto and I drove over to UPS at the appointed time and were greeted by… a stack even larger than the day before. "Whoa. This can't be right," I stammered. "Is this all MINE?" The manager laughed and nodded. We started loading the truck.
And then a couple of guys brought out two more stacks. The second delivery was larger than the first one. And y'all are still mailing me and commenting that you have items on the way. Many of the boxes came with packing slips that don't tell me who sent them, so please consider all of yourselves thanked, anonymous or not. Some came with short messages of encouragement and love. A PR firm I haven't worked with in forever sent a lovely note wishing Chickadee and the girls all the best and was signed "from your friends at Pantene and Olay," and was a windfall of good-smelling luxury products. (The cynical amongst you might be tempted to see it as a PR thing but I tend to think they're just being generous, and in a personal way, to boot.) There just aren't enough thank yous to express how great this has been.
This was just partway through yesterday's unpacking, as I realized that (duh) the two big boxes I'd initially pulled for the tampons weren't going to be nearly large enough:
Ditto on the largest box, which I'd originally thought would be plenty big for all of the pads. Uh, no:
By the end of yesterday, in order to come sit at my chair at the desk here, I had to squeeze past EIGHT CASES of tightly-packed feminine hygiene products: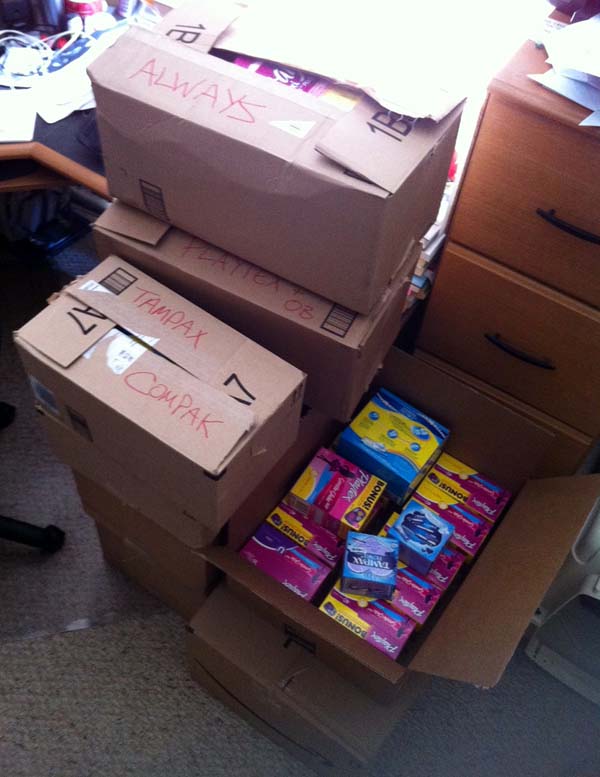 And yeah, maybe it was dumb to put it right next to my desk here, but see the problem is that the REST of my office is filled with everything ELSE—shampoo, conditioner, antiperspirants, lip balms, bodywash (OMG SO MUCH BODYWASH), lotions, puzzle books, and on and on and on.
Plus there's the trash. I've managed to compress about 104 boxes boxes down to about 32, so far. Here's the discard pile: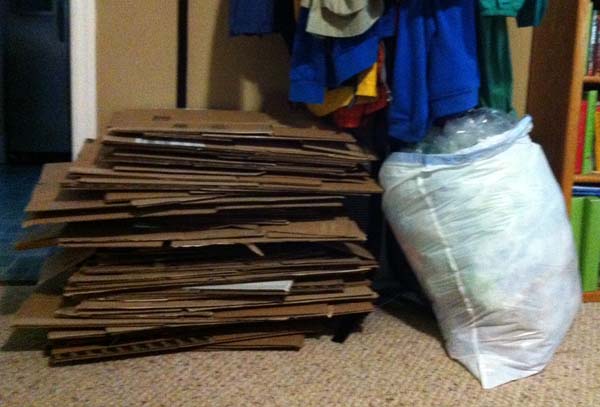 And here's the rest of what we have so far: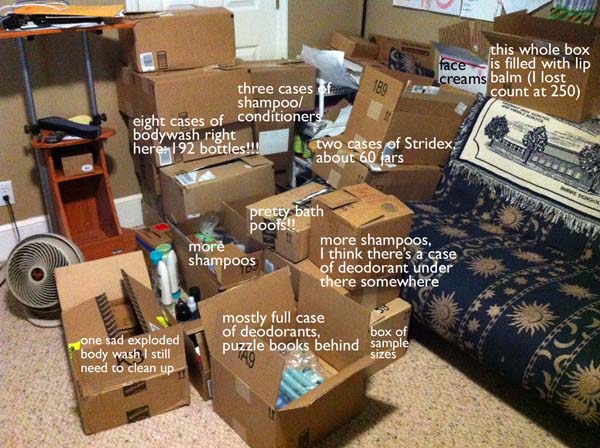 YOU DID THIS. In less than a week, you filled my office with tangible love for a group of girls you have no obligation to think about, much less shower in the evidence that the world does care about those who struggle. I have been brought to happy tears more than once in this process. If this is what can be done in just two days of deliveries, don't tell me that good people can't change the world. You already have.
We'll do another pickup today (is it wrong of me to hope it lets up just a little…?) and make our first delivery tomorrow. Then we'll collect whatever comes next week and take that next weekend.
Know that we are certainly not in dire need of anything else, but if you WANT to send something and haven't shopped yet, my contact told me that travel size items are nice for "incentive" items, and right now I only have one box of ethnic hair care items if you want to send more of those, too.
I was ready to be totally stoked just to play Santa and drop all of this off tomorrow, plus to do our customary 2-hour sit-in-the-cafeteria-and-play-Scattergories visitation with Chickadee, but we got one more little miracle: Tomorrow—after almost seven weeks in the program—Chickadee is having her first therapeutic leave. We get to take her out for a few hours, for the first time. It's pretty much going to be the greatest day EVER.
Thank you, thank you, thank you. Every single one of you has held us up during a difficult time, and I am so grateful that together we're making the world brighter for so many of these girls, too.