I neglected to tell you that the night we went to the ER, Otto and I couldn't stop laughing. I mean, really, what can you do?
"How did you hurt your hand, ma'am?"
"I was making apple crisp."
The questioner would do a double-take, and then we'd burst out into fresh giggles. Also Otto kept me entertained while we waited with great suggestions like, "Sooo… wanna play Rock, Paper, Scissors?" (We later decided to change it to Rock, Paper, Scissors, Crisp, but then deemed it too dangerous to play. Cue further giggling.)
Eventually they wrapped me up and sent me home with an orthopedist referral. And lucky me, I just happened to have an appointment for a physical the next morning, anyway, so they told me to give the paperwork to my doc and have them get me an appointment.
Meanwhile, I was lucky to even make it to the doctor in one piece, because I ended up sleeping only about an hour that first night. It turns out that broken bones HURT.
Anyway, you may remember that I called for this appointment back in August because my hair was falling out, among other things and so when my doctor finished grilling me about my hand, she turned to my bloodwork and said, "Well, we did find one problem." I then quipped that Dr. Google told me it was either my thyroid or I was dying, and she laughed and said it's just my thyroid. So she gave me a prescription for Synthroid and I should be restored to my normal Yeti-like self in a few months. We then also discussed how all narcotics make me barf, so she gave me a prescription for a non-narcotic pain killer, and then her assistant got me an orthopedist appointment for that afternoon. They are very efficient there; I kind of wanted to ask them to do my taxes.
The orthopedist was also efficient, but we don't like him as much, because when I asked him if I get to pick a color for my cast he said, "Oh, you're not getting a cast." He then whipped out my x-rays and started making with the Very Many Words, which—near as I could decipher—boiled down to, "Yeah, you really fucked your hand up."
See, I had seen the x-ray at the ER, and I'd seen the break. Granted, I'm no doctor, but it looked pretty straightforward to me. See?
Turns out, though, that "spiral fracture" isn't just a reference to the torsion that causes it, but to the resultant break, itself. That little chip of bone in the above picture was only the beginning… here's the whole fracture:
(OUCH.) So after explaining all of that, the doc unwrapped my hand and had me move a little, and said something about how my last two fingers are crossing now because of the angle of the break, and without surgery I would suffer "permanent deformity." Hey, that didn't sound so good! As this all sunk in, I asked how soon I could have the surgery, "How about tomorrow morning?" he said, with just a tad too much glee.
So that's how it came to pass that I busted my hand on an apple on Sunday night, and by noon on Tuesday I'd become The Bionic Woman: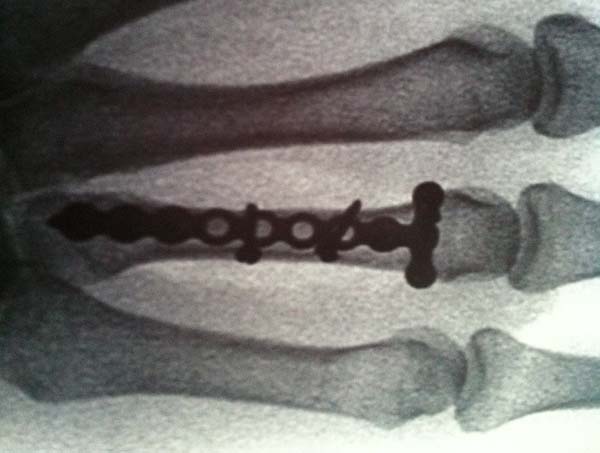 (Here we understand "bionic" to mean "proud owner of a steel plate, eight screws, and a LOT of painkillers.")
Anyway, it still hurts a lot (go figure) so I am spending a lot of time sleeping and generally lying around whining. I am a JOY, I tell you. I keep expecting to feel better, stronger, and faster than before, but mostly I just feel like crap. Maybe next week when I get my cast I'll start feeling more superhero-y.