Hey, remember when I painted my office? Like, a million years ago? And I was all excited about it but then we decided to order new flooring and we've been living life with my entire professional life (contents of my office; whatever) strewn all over the dining room and kitchen? The new floor is going in RIGHT NOW as I type. Finally.
Of course, I'm leaving town tomorrow. So, uh, either I'll reassemble my office tonight before I go or my family can enjoy having my desk in the middle of the kitchen for a few more days. No biggie, right? Right.
Normally I would've been terribly impatient about it all, but because life is never dull around here, I've been quite busy… cleaning up poop and worrying that Duncan is dying. (Does this seem like a recurring theme? Because wasn't he just sick a few weeks ago??) Over the last week Duncan was once again kind of lethargic and off and he stopped jumping up on the furniture to be with us and then he started having accidents in the house… and of course it was a holiday weekend so the vet was closed. He didn't really scare me until the night (on the weekend! of course!) when he refused to get up to come to bed, even, but slept in the crate in the family room all night because he didn't want to move. I'm not going to lie; I went to bed that night wondering if he was a lot sicker than we thought and maybe the next day would bring a terrible discovery… but… he slept all night and was happy to see us in the morning. After a few bad days he rallied and now he seems to be fine. Stinker.
So anyway, here we were trying to make sure he was okay, and constantly either following him around or closing him in his crate, and cleaning up after him when we didn't keep a close enough eye on him. At the same time, we'd decided to hire someone to do the floor because we are lazy, but also we are cheap, so we decided to rip up the carpet ourselves. (And by "ourselves" you understand I mean "Otto decided to do it himself" because I am useless.) Before the carpet came up, there was still a few things in the middle of my office (we had emptied it, mostly, but moved my desk to the middle of the room), so we moved the rest of the furniture and Otto set to work on the carpet. That meant the floor of my office was soon down to plywood and all manner of filth was being tracked from in there through the kitchen, but as the kitchen is mostly full of office stuff—plus the mess will be continuing until the floor is done—I cannot mop the floor in there just yet. This is making me slightly insane.
My half-ass solution is to scrub at visible dirt with Lysol wipes whenever I pass through the kitchen, but it's a losing battle. After all these days of cleaning up after Duncan it's become sort of reflexive, though. I may as well be rearranging deck chairs on the Titanic BUT IT MAKES ME FEEL BETTER.
Here's a terrible picture of my office this morning before the floor guy showed up:
(Please note that all of the Internet connectivity has been lodged in the window because going without a floor or an office is fine but not having Internet is barbaric. Also, the office bathroom is only open from 2-5 on Sundays. Hopefully you don't need to pee.)
The paint is nice, right?? I love the paint more than is logical. I think it'll be awesome with, you know, a floor, and furniture and stuff. Flooring Dude is hard at work, though: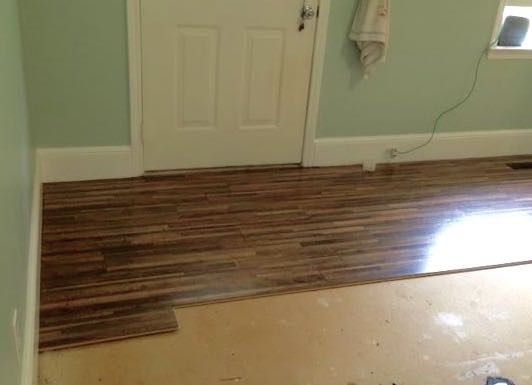 (Now picture it everywhere. Covered with furniture. Perfect!)
Meanwhile, after four days of laying around with zero fucks to give about anything, Duncan is feeling spry enough to be VERY ANGRY that Flooring Dude is encroaching upon his domain. In the short few hours that the floor has been under construction this morning, we have alternately: Closed the dogs in our bedroom, closed them in the bedroom inside the crate, put them in the crate with us in the family room, and allowed them to just hang around in here with us on leashes. All of these options have been UNACCEPTABLE, with Licorice whining about the indignity and Duncan just barking his fool head off for hours.
Finally I just stuffed them both in the puppy-tent right next to me here where I'm parked on the couch, and while they're still indignant, at least they're quiet right now.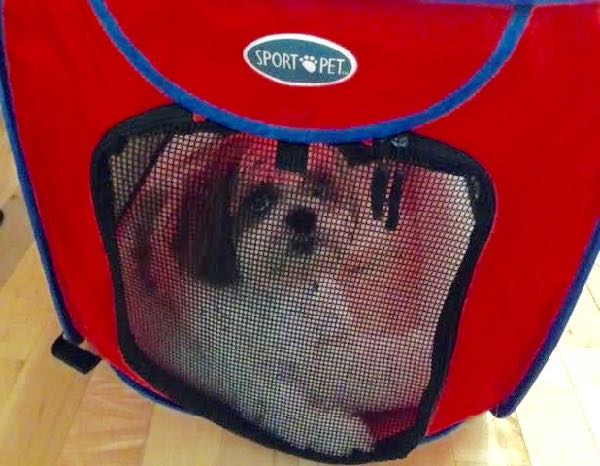 "Hey, Mom, I'm dying in here. Must. Eat. Floor Guy!"
Anyway. That's what's happening here. Thrilling, I know. Stay tuned for the next exciting installment wherein I end up mopping the floor at midnight because I live life on the edge, man.