Have I mentioned that I am slightly… er… underemployed at the moment? And how that's just fine, because I haven't had a slow period in over a decade, and it's summer, and we are doing Fun Things and years and years of being completely mentally ill about money mean that I can slack for a little while and we won't be in financial dire straits or anything? And it's all good, no problems, what a lovely and much needed break, we just have to be a little more careful and it's no problem?
Well. I have all this TIME on my hands, now. Time I don't normally have. Wouldn't a lull in work be the PERFECT time to paint my office finally? Plus Monkey was going to be away for a while and then Otto went off on a trip and it was just me and Chickadee and, yes, sure, Orange Is The New Black wasn't going to watch itself, but we finished it in two days (it was the weekend! GIRLS' WEEKEND with bonding and lesbian prisoners, DUH) and then the following Monday I picked up my special-order, made-from-unicorn-horn-and-fairy-dust paint, and it was time to get down to business. Surely this would be NOTHING like previous DIY projects of snowballing magnitude, right? Right!
Allow me to tell you in words how the pre-painting prep went: I discovered that I have a lot of crap in my office. A LOT OF CRAP. I had a weird giant shelf on the wall that ultimately had to be unbolted and then chiseled off, and I have a giant desk and a filing cabinet and endless bookshelves and a coat rack and and and AND. We emptied most of the office into the dining room, and moved the remaining few big things (desk, futon couch) into the center of the room. It was… not fun, but we got it done. Next up was spackling and sanding. Then I started taping trim while Chickadee removed outlet plates, and that's when I realized two very important things.
1) There are entirely too many doors in my office. FIVE of them, to be exact. (No, my office isn't all that big. But it's a corner room. From here you can go to the garage, kitchen, or outside, plus I have a closet and a tiny bathroom.) Plus a window. Yes. Also I have baseboards and crown molding. For those keeping track at home, THAT IS A METRIC FUCKTON OF STUFF TO TAPE.
2) Because of alllllllllll this trim, this is when I discovered that the former owners of our house were lazy jerkfaces.
I would love to describe to you my unfolding shock and horror as I discovered all the ways in which the room was previously painted by people who are unaware that painter's tape exists. But in this case, I think pictures are more apt. Understand that I was flabbergasted while I did the initial taping, but it wasn't until the office was painted and I removed the tape that I got really pissed off, because it looked so nice except for… THAT.
Anyway, pictures! We started out super happy. Chickadee did most of the rolling, and none was so triumphant as that first few strokes bidding goodbye to the color I not-so-lovingly referred to as Baby Poop Brown.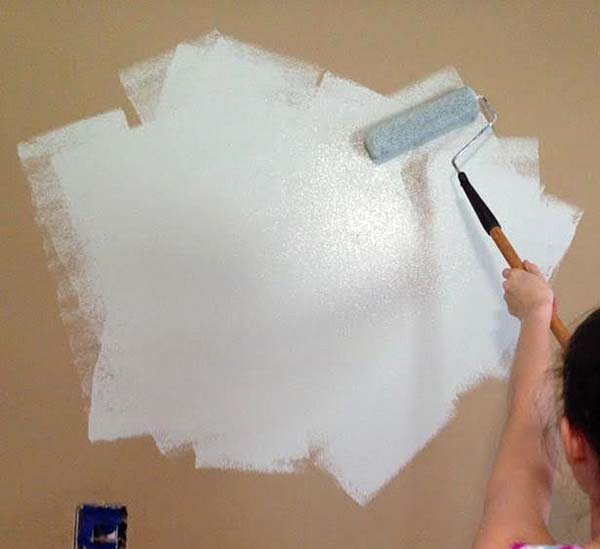 (Go, Chickie, go! She was a HUGE help through this process, not just in terms of work, but for camaraderie. I highly recommend doing the bulk of your painting in the evening with your ADHD teen after her meds have worn off. The entertainment value is indescribable.) (Also!! Unsolicited plug: The paint is Ellen Kennon Oasis, and it is more expensive than regular paint, but 1) Ellen Kennon emailed me personally two years ago when I was trying to find this paint in town and AGAIN this time when I was figuring out what to do AND she was helpful and darling both times, and 2) the paint is gorgeous and worth every penny. Full spectrum paint varies in color depending on the lighting/time of day—this color goes from green to blue, depending—and it's just plain cool. Highly recommend.)
Here's where having a teenage daughter is a great influence: I made a Snapchat story about how NOT TO PAINT and that helped me to manage my rage while I removed the tape. And I saved it for you! Here you go: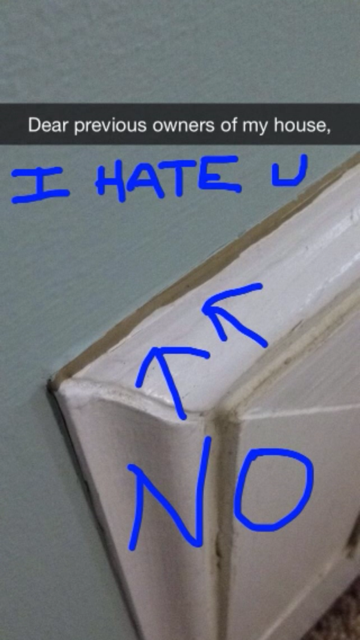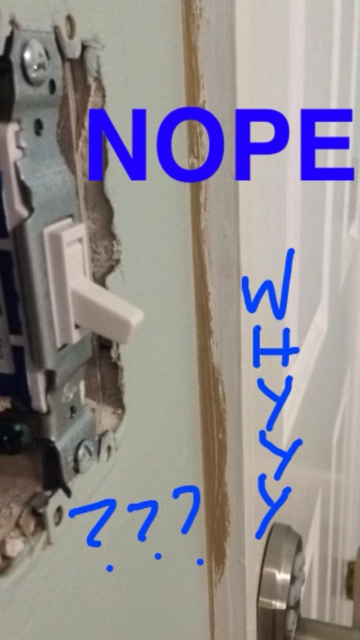 [Note: I am aware that a couple of these close-ups show the baseboards to be disgusting, and in my defense, most of it was behind furniture and impossible to clean. Also, maybe I'm a little disgusting. ANYWAY it's all freshly painted and snowy white, now, so relax.]
In conclusion: The former owners of the house not only loved ugly paint, they loved it all over everything.
Chickadee rolled and I did all the cut-ins with a brush. FIVE FREAKING DOORS, remember. The first day we got two coats of paint done and felt very productive. The second day I took the tape down, had rage, and started to formulate our plan of attack for the trim work. Basically Chickadee walked around and popped doors off hinges and painted them one at a time while I worked my way around the trim. I did the crown molding first, and then when I could no longer move my neck (fun!) I moved on to the baseboards. Then the five door frames. And the window. And I'm not gonna lie, by the time I got to the window, I no longer cared. I was no longer in love with my beautiful freshly-painted office, I just wanted to put down the paintbrush with my cramped, paintbrush-grasping hooks of hands and never paint again. I wanted my furniture back where it belonged and everything normal. I wanted to be DONE.
Otto came home very late one night when we were almost done. The next morning, as we were finishing up, I waited for him to shower us with praise for having done such an amazing job. Right now everything is painted and beautiful except for the door leading out to the porch—we're having a heat wave and I'm not going to pop the door and paint it until it cools off, some. (We were considering doing it last night, but at 11:00 pm it was still 86 degrees. No thanks!)
"Whaddaya think??" I asked, the standing in the (beautiful! oasis-y!) shambles of my office in my pajamas that morning. "Isn't it AMAZING?"
"It looks great," he said, nodding and looking around. "But…" his eyes flicked up from the floor to meet mine, because 26 years of knowing a person prepares you for saying things that might make the other person want to kill you. "… now that the walls look so great… and you've got most of the furniture out of here… do you want me to replace the floor?"
To my credit, I didn't stab him. And that's because I'm a wonderful person, NOT because there was nothing handy with which to do it, because we still had an assortment of tools sitting out. I sputtered and stammered something about MESS and MONEY and I WANT TO BE DONE and Otto nodded and patted my arm and was also unsurprised when twenty minutes later I asked him if he would come with me to the store to look at flooring. He didn't even mind when I muttered something about how this was all his fault.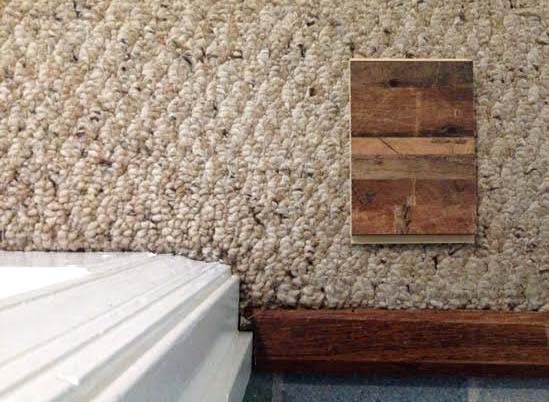 That's the sample of what I picked. It's a "distressed maple" ("I'm really stressed out about life!") Pergo. Hey, it's going to look amazing. If it's ever done.
[He's right. He's always right about this stuff. The carpet in here is old and gross and the dogs are making it grosser, despite my best efforts and my trusty Hoover SpinVac carpet cleaner thingie. It's just… I was trying to do something CHEAP and NOT THAT BIG OF A DEAL but best laid plans and rabbit holes and all of that.]