It comes as no surprise to anyone who's known me for any length of time that my favorite topic of conversation is dogs. Specifically, my dogs. Because they are smushy wuvvy fluffy balls of ridiculousness.
"Help, my teeth don't all fit in my mouth."
When the bible talks about pure love and devotion, I believe it's referring to something nigh unto impossible to achieve among fellow humans, but something that naturally occurs with pets. Just looking at them lowers my blood pressure by at least ten points. They're the BEST.
Even when they're, y'know, not.
I got one of those reminder postcards in the mail about a month ago, you know the ones. Really they should say COME GIVE US MONEY PLEASE, but instead they say, "Duncan is due for his yearly vaccinations! Please call our office to make an appointment!" I put it right next to the reminder postcard I got about how I was due for a mammogram… last August. Except I love Duncan a lot more than I love myself, it turns out, so I went ahead and made him an appointment for last week because I want to keep him healthy. It also turned out that somehow they'd never sent us a reminder for Licorice, so I took Duncan in one day and while I was there I said, "Huh, seems like it's been a while since Licorice had her shots…?" and they looked it up and WHOOPS, she was overdue, so I got to go back two days later with her. FUN.
Taking the dogs to the vet is always an adventure. Duncan enjoys riding in the car, and the vet gives him treats, so for the most part he's down with whatever's happening there. He hops into the car, struts around the office like he owns the place, and begs for treats. Licorice, on the other hand, begins shaking violently the second I place her in the car, spends the entire ride trying to crawl into my lap, cries the whole time we're at the office, and refuses to take any treats because she is so distressed. A study in opposites!
So I brought Duncan in and in addition to his shots, I wanted them to trim his nails because I am lazy, so the decision was made to muzzle him because is a stress nipper. (This is a nice way of saying that he has no problem biting you if he gets pissed off.) Duncan loves the vet but he HATES being muzzled, and with his jaws held mostly-shut all he could do was snort a lot and flick his tongue in aggravation, which meant I couldn't stop laughing at him because he looked like a deranged, angry anteater. *flick* *flick* *flick*
Duncan is a delicate flower, as you may recall, with myriad health issues, and I'm not saying the vet's eyes actually turn to dollar signs like you see in cartoons, when we walk in, but I'm not saying they DON'T, either. "How's he been doing?" he asked, while checking him over.
"Oh, he's good. Seems happy. We feed him every four hours and it seems to be working. But, um, his ears are a little gunky, can you check them?"
The vet checked his ears while Duncan continued to flick his tongue. "I don't think he has an infection," he said. "This is more like the yuck they get when they have food allergies. Maybe we should try a different food."
Duncan came to us an overweight mess of allergicness, and he's been doing well on the food we feed Licorice. When I pointed that out, I got a lecture about how allergy-prone dogs can develop new allergies over time, blah blah blah, did I just want to buy a small bag of the special hypoallergenic food to see if anything changed on it? Okay, fine. I'm a sucker.
But! They were all out. No worries; they should have it in by the time I needed to bring Licorice in for her appointment.
Duncan had a good shake when the muzzle came off, got his biscuit, and trotted out of there happy as a clam. (Are clams happy? How do we know?)
Two days later, which happened to be Friday (this will be important in a minute), I brought Licorice in for her appointment and she got all her shots and cried and vibrated and then got very annoyed that we couldn't leave IMMEDIATELY because I was buying this special food for Duncan. Special food which costs $24 for a 6-pound bag. I was thinking, hell, I could just feed him chicken or ground beef for that price, but no, I could not feed him these contents any other way, because this food is SUPER SPECIAL.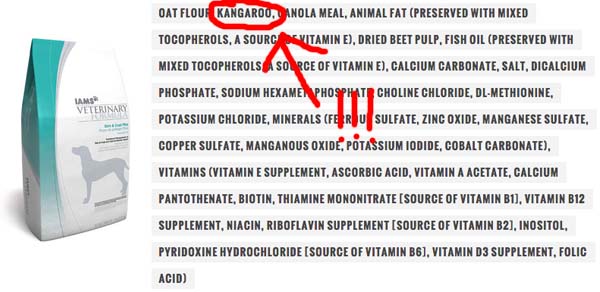 Yep. Doesn't your dog eat kangaroo? No? You must not love him as much as I love Duncan, then.
I'll admit, I was kind of squicked out. And then I was annoyed with my own hypocrisy, because I feed the dogs meat, I eat meat, myself, and why is kangaroo somehow weirder/less humane than beef or chicken? That's silly. And yet… ugh. Kangaroo.
Friday afternoon I fed Duncan the new food. And then again at dinner. And again at bedtime. He scarfed it all down, because 1) it's food and 2) he's a dog.
Here I need to point out that Duncan sleeps in a bed on the floor of our room, but Duncan DESPERATELY WANTS to sleep in the ZOMGTHEBIGBED with us. Like a toddler, he often wakes up in the wee hours and comes and paws at the side of the mattress until I pick him up and he can tuck in with us for an hour or so. It's adorable. (Licorice is part gazelle and so can just leap into our bed if she likes, which is why she doesn't sleep in our room. Duncan is too arthritic to manage this.) Sometimes when I'm having a really hard time, Otto will put Duncan in bed with us at bedtime, while saying, "I figured you needed a dog to snuggle tonight." Because I LOVE having him in the bed with us; he snuggles and I sleep better. But Otto, with his need to be a sleeping island, finds a dog in the bed disruptive. The dog wants to TOUCH HIM and Otto (claims that he) ends up on the edge of the mattress, trying to get away from him. So Duncan sleeps in his bed on the floor.
But… Otto was out of town for a few days, and yeah, Duncan was sleeping in the bed with me because I love him and I was lonely and sometimes you need a snoring dog in your armpit, okay?? Don't judge me. I wasn't hurting anyone. Friday night, Duncan and I tucked in to the ZOMGTHEBIGBED and I prepared for a blissful night of sleep and dog-snuggling.
Funny thing; TURNS OUT that perhaps Duncan isn't quite so down with the kangaroo diet. I awoke to that terrible sound that all dog owners know and fear—the repetitive, pulsing HORK HORK HORK which signals something terrible is about to happen. I sat up, felt around, patted Duncan, and he stopped making that noise. He did not appear to have actually vomited, and I was pretty tired, so we went back to sleep… until the next time it happened. And this time, he definitely did puke. And then tried to eat it! Because of course!! I cleaned up and retrieved towels and patted him and figured he was empty BECAUSE I AM A MORON and yeah, an hour later, he did it again.
Bonus: In the morning I discovered that he HAD puked that first time, too. Yep. Of course. My name is Mir, and I spent a good portion of the night sleeping in a puke-crusted bed. (Hey, it's a king, and he was considerate enough to puke over on Otto's side. Could've happened to anyone.)
Saturday was spent washing the duvet and cover, the sheets, the mattress protector, and the dog himself (he didn't smell so great). I switched Duncan back to his regular food and he's been fine ever since. Of course when Otto called to see how things were going, I was all, "Good news! I'm totally spring cleaning and washed all the bed linens!" Technically that was true.
Of course this happened on the weekend, so that I couldn't call the vet until today. He asked if I'd blended the old food and the new food to ease Duncan into the change, and of course I hadn't because did I mention how I am a moron? His suggestion was that I try again but with a blend. My suggestion is that he take his kangaroo food and… oh, never mind.
It's a really good thing these dogs are cute, is all I'm sayin'.