I guess I can offer up a small bit of further explanation as to why I hate everything and everyone right now, though this is just the tip of the iceberg, or—as we prefer to say in my family—the tiniest sliver of the crap cake.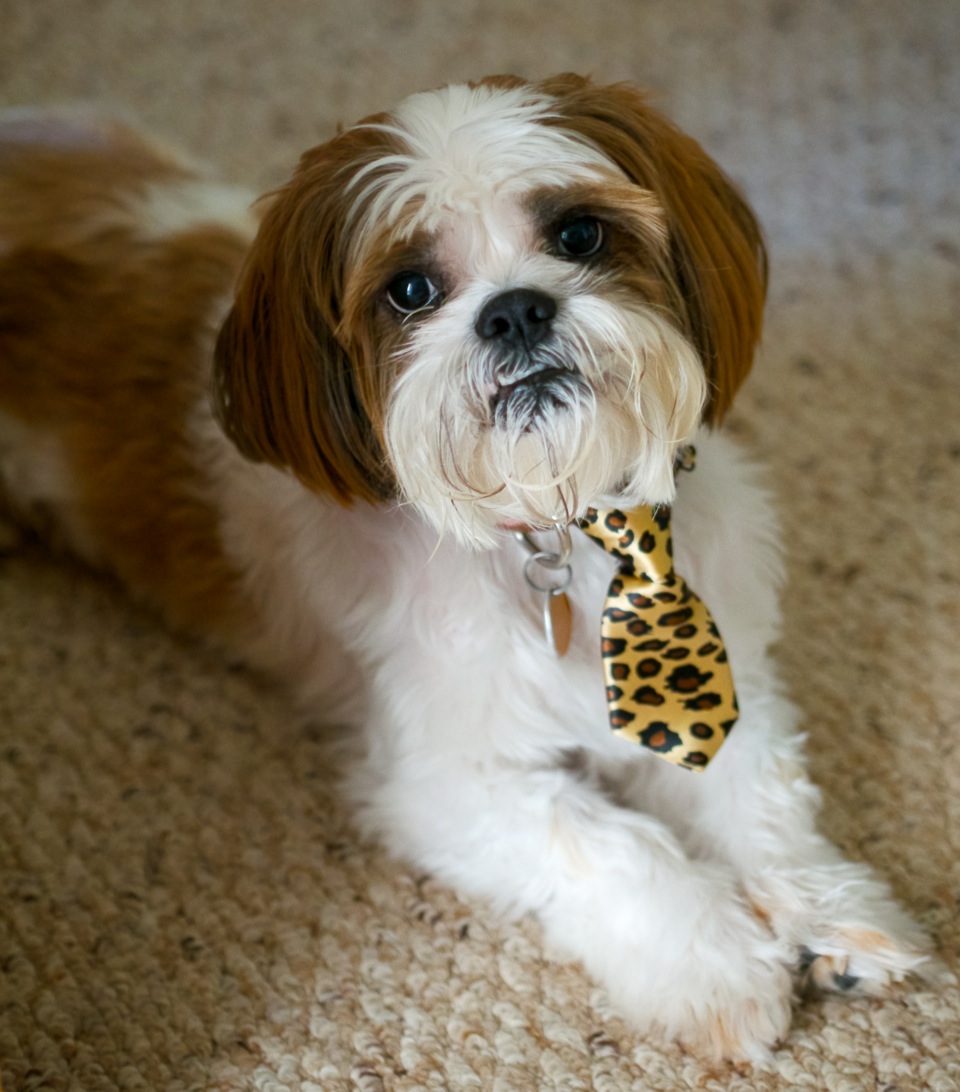 "Hi there! My name is Duncan. I enjoy wearing jaunty neckwear, scaring the crap out of my family, and costing a billion dollars while I do it. Also, I have a toe fetish. Please walk over here barefoot so I can lick you."
So hey, FUNNY STORY: Remember when Duncan got all sick and weird and possibly tumor-y and had to have surgery? And I was worried he was going to die, but then everything was fine (after we paid the vet a billion dollars and put Duncan in the Cone Of Shame for two weeks)? Those were some good times, man. I mean, sure, it was scary, but then he was fine. SILLY ME for being worried.
WELL.
Duncan started having… seizures. Maybe-seizures. We didn't really know. He would be fine one minute, then the next, his back legs would twitch and give out, and he'd fall over, and he didn't appear to be in any pain, but he was definitely confused, and it was hard to watch. It would happen every few days, and we of course took him to the vet, but we were never able to take him WHILE it was happening, so we were taking videos of him falling over and twitching and being bewildered and then curling up and sleeping it off. The vet was perplexed. We were perplexed. Duncan was super perplexed. But he wasn't in any obvious pain and he kept passing the neuro exam and he's sort of old and arthritic and we were all in wait-and-see mode.
The thing about epilepsy is that it doesn't just spontaneously develop in an older dog. And the thing about a brain tumor is that if he had one, he should be failing a neuro exam. And the main thing about Duncan is that he is a lovely soft smushy pile of fluff who mostly wants to sleep but is not shy about letting you know if he's displeased, so given that he was mostly still sleeping and begging for bits of banana and occasionally chasing a ball for 30 seconds and acting fine except for the falling over and twitching thing, the vet kept saying "follow his cues" and his cues mostly said "Hey, NBD, but if you really want to do something for me, I would not be opposed to more snacks."
Then it started happening every day. And then sometimes more than once a day.
Otto took Duncan back to the vet while I was in Boston. (Yep, I went out of town while my dog continued to deteriorate. WORST DOGGIE MOM EVER. I'll put the trophy next to my WORST HUMAN MOM EVER one.) He'd lost some weight. He was, at this point, lethargic even for him (that's saying something, as Duncan typically sleeps about 20 hours/day). The vet decided to do some blood work.
Then the vet called us and said, "Hey, this is probably just a lab error, but… how would you feel about leaving Duncan here for a day so we can do some glucose monitoring? A couple of things were just slightly off, but his blood glucose was so low either something is very wrong or the test was faulty."
As we still had a few nickels left and WE LOVE OUR SMUSHYKINS, we brought Duncan in for a day of glucose monitoring. We weren't allowed to feed him that morning, either, so he was SUPER THRILLED when we dropped him off.
At this point the vet suspected hypoglycemia (low blood sugar), but apparently good ol' Dunc was the star of the office that day, first prompting them to try several different blood glucose monitors and then to resort to testing some other animals because surely all of their monitors were malfunctioning because according to their readings DUNCAN WAS NOT ALIVE.
Cool party trick: Sit patiently in a room full of medical professionals, wagging and begging for treats, while your blood sugar level continuously registers at numbers which are—and I am quoting the vet, here—"incompatible with life."
Apparently humans are considered hypoglycemic at anything under about 70 mg/dl, and the vet said he worries when dogs dip below 60 mg/dl, with levels below 50 mg/dl considered life-threatening. Duncan never made it above 40 mg/dl the entire day, even after they fed him. He was, at times, as low as 20 mg/dl. The vet was completely flummoxed. Those "seizures" were bouts of diabetic shock.
Now our vet is consulting with another specialty vet for next steps, as subsequent tests suggest Duncan has a pancreatic tumor. Because of course he does. No insulin regulation for Duncan! His pancreas is all "Insulin? Consequences? HAVE ALL THE INSULIN I HAVE NO IDEA WHAT'S HAPPENING HERE LOLOLOL!" I suspect his pancreas has been talking to my children.
The good news is that now we have bragging rights as our dog is apparently undead, plus he probably won't die from this because he's already dead. Or undead. I'm unclear. (Also apparently it CAN kill him, but he's already dead so I refuse to believe that.) The other good news is that we're doing a round of steroids to maybe halt/shrink that tumor, and as Duncan is also arthritic and generally plagued by any number of allergies, within a day it was clear that Steroid Duncan is a happier, perkier, carefree-and-young-again version of himself. He's AWAKE and bouncing around the house and snuggling with us ON PURPOSE.
The bad news is that he can't stay on steroids forever, as much as I wish he could. The other bad news is that all of those times that we were all, "Oh, we can't stay out for 10 hours straight, THE DOGS" and had a momentary pang of wow-that's-kind-of-an-inconvenience are about to become a distant memory, because—are you ready for this?—Duncan needs to be fed every few hours to try to regulate his blood sugar. It could be worse, of course. I work from home and most days this won't be a problem, but… sometimes we want to leave the house for more than 3 hours. LIKE JERKS WHO DON'T LOVE THEIR DOG. Also he is not allowed to have ANY people food at ALL and now I have to sneak off and eat bananas in private because WHY YOU NO GIVE ME DELICIOUS BANANA TREAT BITS LADY, I THOUGHT YOU LOVED ME AND I AM SO HUNGRY. We have stopped having popcorn at night, because Otto said, "It just seems mean if we all get to have it and he doesn't." Yes, we gave up our favorite snack because POOR PUPPY.
(Also, um, tumors are bad. Tumors have a nasty habit of growing and doing all kinds of mean things. But I'm not thinking about that part. Nope. Leaving it to the vet team to make a determination about whether we're looking at something operable or not. Because "it's complicated," and not in a Facebook relationship status kind of way. LALALALALA I can't heeeeeeeaaaar yoooouuuuuuu.)
Duncan is now living the high life of breakfast, second breakfast, lunch, first dinner, second dinner, bedtime snack. But while I was writing this I realized I was late with second breakfast, so the one thing that hasn't changed is that I still suck. (He was sleeping. Probably because his blood sugar was too low. GO ME.)
Anyway. That's been a super fun diversion. It is never, ever boring here.
"I don't always pose for pensive photos, but when I do, I'm an adorable zombie staring off into the distance while wearing a tiny, ridiculous tie."
[Note: Photos courtesy of Otto and the photogenic Undead Dog. Tie courtesy of the good-humored folks at Wellness who recently sent the dogs a care package for no particular reason other than that apparently we were lacking in excellent dog accessories.]