Bad news: The pool is still leaking.
Good news: The Pool Guy comes to see us EVERY DAY! And he gets to spend a lot of time IN our pool!
Bad news: He doesn't seem too happy about it, plus Monkey is very bitter that the Pool Guy is the only person who's actually been swimming in our pool so far.
Good news: There is not, in fact, a hole in the new pool liner. You know, the SECOND new pool liner.
Bad news: What it SEEMS to be is some poor patching work between the steps and the pool concrete, and the Pool Guy keeps "fixing it," but we are still losing water.
Good news: We're currently losing water a lot slower than before. Yay?
Bad news: Apparently the accepted fix for this issue is some kind of putty that looks a lot like the clay you used in your elementary school art classes to make lumps of "sculptures" for your parents. Said putty gets jammed under the trim to the sides of the steps and results in something that looks like our pool was patched by a 6-six-old.
Good news: The putty works, you know, if you have enough of it. I know this because 1) after being puttied (hee! puttied!) twice, the pool is leaking a lot slower than it used to and 2) yesterday the Pool Guy told me that if it continued to lose water, he would come back with more putty (he was all out) and putty the ENTIRE THING.
Bad news: I don't really know that I want a whole pool full of putty. That seems… messy.
Good news: Pool Guy is coming back today to hopefully do the final fix and then it shouldn't leak any more, forever and amen.
Bad news: I am not holding my breath about that.
Good news: Otto's fix of the leaky pool filter worked great, so at least we're able to circulate the water now and feel reasonably certain that nothing else is wrong.
Bad news: Otto now likes to send me house listings. "THIS ONE DOESN'T HAVE A POOL," he'll note, along with the link. I feel like maybe he's trying to tell me something…?
Good news: In lieu of swimming, my children have managed to keep themselves busy with other activities. Why, just this morning, Chickadee baked cookies for Monkey and his friends, because he has a big D&D session happening tonight and you know, monster-fighting requires cookies.
Bad news: You really do not want to see my kitchen right now. Apparently doing dishes is not part of how they're keeping busy. WEIRD.
Good news: In addition to giant mound of cookies for the boys, Chickadee told me she was making "a cookie" for herself, as well. She has dubbed it Monster Cookie.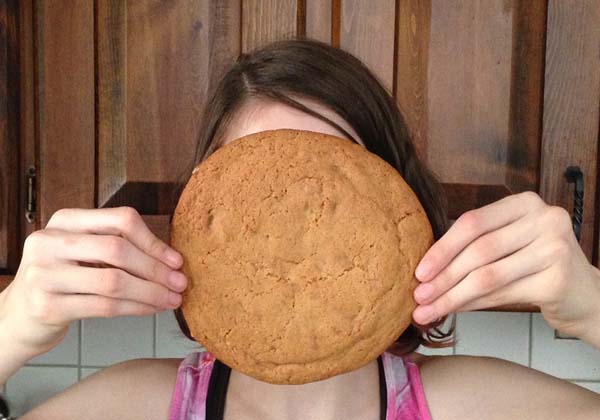 Apparently it's going to be her new pet. Much better than Phil, right? HAPPY ENDING!