Summer vacation, man. Things are crazy already, and it's only the second day.
I think tomorrow I'll be able to direct you to a post about my summer philosophy (spoiler: Now with fewer Give A Craps!), but for today all I can tell you is that we ate all the strawberries we picked last week and we had to go pick some more. Also there are more teenagers lurking around here than I remember giving birth to, but I am a little afraid to do a headcount. Everyone seems happy, so it's okay. Also we have a lot of strawberries.
ALSO my darling daughter has completely lost her mind discovered her nurturing side. You see, yesterday the Bug Guy came to spray, and while he was out spraying on the deck, a GIANT cockroach palmetto bug ran in through the deck door, and Chickadee decided to rescue it. AS YOU KNOW, I was already planning to burn the house down, but the new resident is making that decision even easier.
"He has EPILEPSY!" she declared. It seems he may have gotten sprayed on the way in. It scrambled his brains just a little. [WARNING: Pic after the jump.]
Meet Phil:
"HIS NAME IS PHIL AND HE HAS EPILEPSY AND I LOVE HIM," Chickie declared, warning all of us not to touch the glass under which he is currently residing. I am beginning to think that maybe SHE got sprayed while the Bug Guy was here, too.
"You cannot keep a cockroach," I said.
"I AM DOING SCIENCE!" she answered, happy as a clam, tapping on the glass and probably making Phil completely, traumatically deaf. "PLUS I LOVE HIM."
Oooooooookay. So, uh, Phil is on our dining room table. (Don't worry, we eat at the kitchen table.) (Oh, who am I kidding? It's summer, we eat on the couch or over the sink.) I figured I would let her keep him there for the day.
This morning Monkey peered into the glass. "He pooped," he observed, ever the master of the obvious.
"IT'S OKAY, HE IS MY PET AND I LOVE HIM AND I WILL TAKE CARE OF HIM!" my daughter said, somehow unable to speak in anything other than all-caps now that she is fueled by COCKROACH LOVE. She gently scooted the soiled index card out from under the glass while sliding a fresh, new one under in its place. Then she got on Facebook and asked her friends if anyone knew what cockroaches eat. My answer of YOUR FACE was apparently not what she was hoping to hear.
So, uh, I hear that Phil might need to enter the Witness Protection Program. Like, he may just pack his tiny little cockroach suitcases and flee in the night. It could happen. I'm just sayin'. Because he's kind of skeeving me out. Or at least my daughter waxing rhapsodic about how "HE IS SO CUTE AND HE IS MISSING A LEG AND HE USED TO BE EPILEPTIC BUT HE IS OKAY NOW, YES, OKAY, GOOD. HI, PHIL!" is starting to concern me just a little.
I thought I could distract her from Phil for a while this morning by offering her some fruit (this was before the replenishment of the strawberries…), so I left her alone with a small watermelon. Which was obviously a mistake.
Apparently this is (was) Napoleon: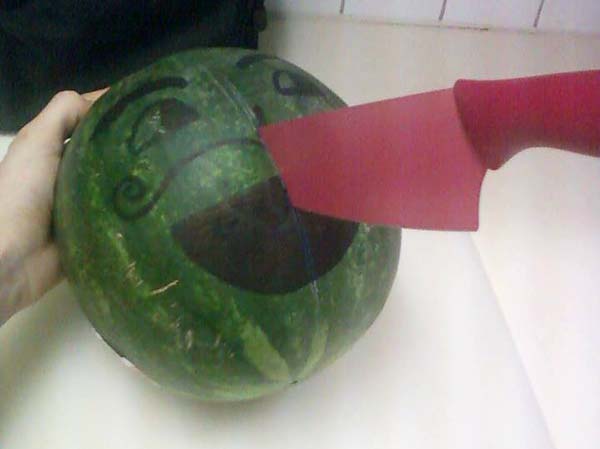 (I think he said something nasty about Phil….)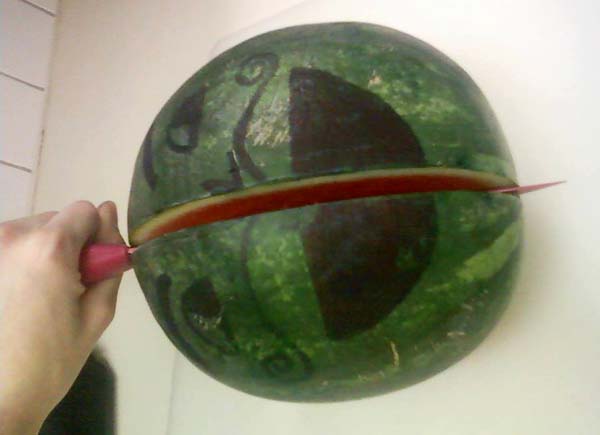 After Napoleon was dispatched, Licorice said he was DELICIOUS.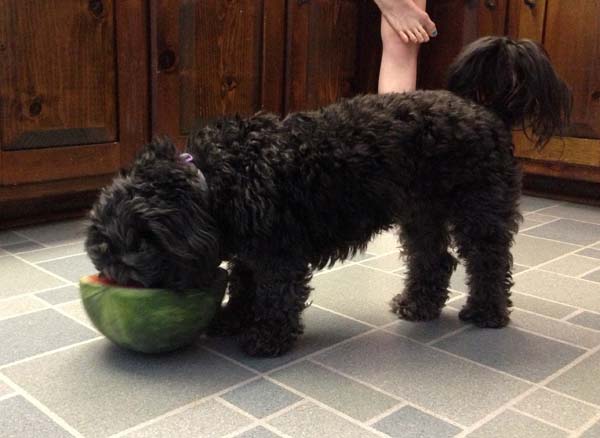 So, you know, everything is just kind of… going. The pool's still leaking. But GET THIS—the guy came to look at it and asked me if I had a hand mirror he could use. I'm assuming he was needing it to look for leaks, not to fix his hair, so I stole Chickie's hand mirror from her bathroom and gave it to him, and then later we left to pick strawberries, and when we came home it turned out that he broke her mirror but went and bought a replacement and left it here for us.
A broken mirror? Seven years of bad luck, right? Thanks for the replacement mirror and not fixing the leak, I think it's working already! (Hey, Mr. Pool Guy, can I interest you in a new pet…?)