So hey, since moving down here to the south I've become a passable vegetable gardener. (I don't know if it's so much due to the move as that the longer growing season is a lot more forgiving, and also I have a fenced area here to keep the deer from eating everything we grow.) Each year around Easter I trot out the wheelbarrow and various tools and dig the weeds out of my boxes and start planning what we'll plant this year.
I'd love to tell you each year has layered precious knowledge on top of what came before, and now—five years into my clueless time of gardening-with-Google—I'm an expert. But… mostly I am a person who 1) likes vegetables, 2) knows how to read, and 3) has sort of learned a little from past mistakes. To wit: After multiple years of trying to grow snap peas in the middle of the summer, I actually bothered to read up on them and now know that they don't do well in heat. Whoops! So this year I planted some early, and theoretically they should be ready for harvest before we're into endless weeks of 95+ temps.
Also, I've learned that tomatoes are pretty easy to grow as long as you don't have to battle tomato horn worms. So the garden is always pretty tomato-heavy. We all like tomatoes and tomato sauce, so that works.
Clearly I'm no expert. But it makes me happy, this gardening, on lots of different levels. The challenge, though, is trying to figure out the best way to structure it all so as to maximize my family's vegetable consumption. Because SOME PEOPLE in my family would rather eat other things. (And by "some people" I of course mean "everyone else who lives in my house.") The tomatoes seem to work out, like I said, but everyone gets tired of grilled zucchini about halfway before the plants are done and no, I am not just going to make zucchini brownies every day, CHILDREN. (And it's not just the carnivores making this happen, either. A certain vegetarian I know would really like to be a candytarian. Maybe a fruititarian on occasion, but VEGetarian is a LIE.)
Like I said, I already planted the peas this year. Here they are, tiny and hopeful:
(I put them in the box where I lovingly tended to cantaloupe last summer, winding vines and creating slings out of cut-up pantyhose and generally taking better care of those stupid melons than I do my kids. Over half of them were eaten by bugs or inexplicably shriveled before reaching ripeness, and the rest… tasted horrible. Clearly I displeased the melon gods, but WHATEVER. Lesson learned, I give up on melons.)
The day Monkey and I prepped all things garden-y we got the peas planted and cleaned out the rest of the boxes and even made a run to the Big Box Home Store and grabbed a few things we were going to need, including a bunch of bags of soil.
Listen, I feel stupid buying soil. I mean, it's not expensive, but let's face it: I'm buying dirt. When I live on… dirt. And have a compost pile which produces… dirt. DIRT IS EVERYWHERE. And yet I go to the store to buy it. Because I'm smart like that. Also because I am lazy about turning our compost pile and I'm not convinced the soil it produces is all that awesome. So I buy topsoil and I mix it with our composted soil and then I cross my fingers that things will grow. It usually works out.
So back to our first gardening day: We bought all this soil, and then stacked it inside the fence. When I go out there to plant the rest of our stuff—probably this weekend—I'll mix it up in the boxes and that'll be swell.
Turns out, Licorice did not approve of this plan. Licorice usually pays no attention to my garden boxes at all, but that all changed when there was an interloper and I wasn't paying attention.
Remember, we have a fenced area (containing the deck, the pool, and the garden boxes) that leads out to ANOTHER fenced area FOR LICORICE. We didn't add a dog run because WE wanted to have a big ugly chain-link fence that would make it harder to mow that part of the lawn, we did it because we thought it would be nice for, y'know, THE DOG. And she repays that consideration by running outside, approximately 98% of the time, and spending all of 30 seconds out in her run before returning to the deck/pool/garden area to either sun herself or try to find a way to escape.
This is already rotten behavior, but yesterday I let her out and the next thing I knew, Otto was outside hollering at the dog. It would appear that Licorice had spotted a lizard (and you know how Licorice loves lizards) and that lizard had the utter GALL to run away from her. Apparently it ran behind the soil sacks.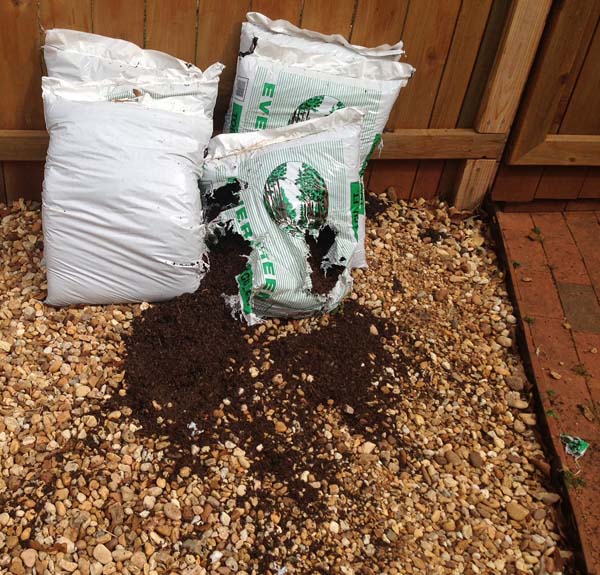 Licorice had to be removed from the scene bodily, clumps of dirt and shreds of plastic still stuck in her fur. Every time I've let her out today, I've had to walk outside and make VERY DISAPPROVING NOISES when she makes a beeline for the crime scene. She then stops, looks up at me on the porch with a guilty look, and goes the other way. (For about ten seconds. Then she heads back over there, hoping that I won't notice. Lather, rinse, repeat.)
We've owned her for three and a half years and have never known her to dig. I hope this was a one-time thing and not a sign of a new hobby. Either way, it was really hard to get mad. She was just so darn PROUD of herself. Apparently while I grow veggies, she's hoping for a crop of lizards.