Life keeps trucking along, despite my various concerns and issues. It's funny, that way.
Chickadee is somewhat improved since our frantic evening at Urgent Care and her shot of steroids. This means, of course, that she is still covered head-to-toe with rash, and that someone who hadn't seen her earlier this week would think she looked terrible, but we can see that compared to a few days ago, she is really MUCH BETTER. In the meantime, she has been increasingly emotional and crabby, which didn't make any sense to me until I remembered that prednisone makes me insane, and then I realized that probably it's not just her being a tween, probably the prednisone is making HER insane as well. Fun!
And then I got to pack her and her brother up and send them off with their dad for a couple of weeks. I'm so glad so sorry I'm going to miss the rest of the Steroid Days with her…. Last night was particularly delightful, as she became irate at the very notion of her clothing being in the—GASP!—same suitcase as her brother's, so she opted to pack for two weeks in the smallest backpack she owned. And it didn't work. And that was all my fault (of course). After everyone finished crying, she deigned to let her clothing be put in the suitcase. Like I said, good times.
So. With the kids leaving this morning, Otto and I of course began to celebrate wildly the moment they left. In his case, that meant heading off to go drive fast cars, and in mine it meant picking up some wheat-free bread from a friend and dropping off our library books. WE ARE PARTY ANIMALS.
Now, I know some of you aren't so interested in the "LOOK AT MY GARDEN" posts, and I understand, because honestly sometimes I wonder if this is even marginally interesting to someone who figured out a long time ago how to grow food. For me, it's a never-ending source of wonderment that we are growing stuff we can just walk outside and pick and eat. Especially considering the fact that I used to kill every houseplant I ever tried to grow.
Somehow in the hustle and bustle of getting the kids ready to go and spending Chickadee's college fund on chemical-free, dye-free, fragrance-free, 100%-hypoallergenic personal hygiene products, I hadn't been out to the garden in a couple of days. So this afternoon I went out to pick beans and water and all of that sort of thing.
If you look down on my garden boxes from the porch (as I often do) right now, they look like this: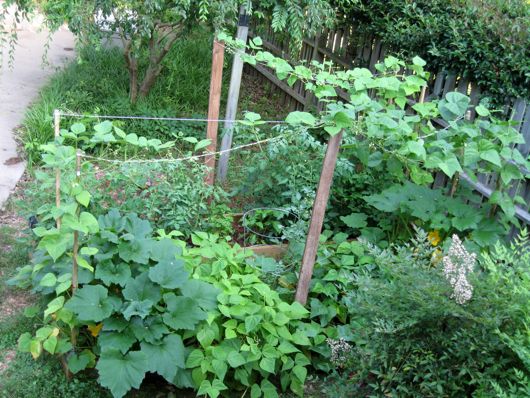 That's actually only two of the three boxes (the third is at an angle to those two, out of the frame to the right of the pictures), but it gives you the general idea. The plants are big and bushy and it requires a bit of maneuvering to get between the two main boxes without squishing any of the plants now hanging out the sides. The tomatoes I grew from seed (in the box not pictured) are now up to my CHIN, which is just craziness. All of the tomato plants are laden with fruit, though it's all green so far. This week we may get our first ripe tomato; we'll see. Mostly, right now, we have beans and squash. We got our first cucumber this week, too.
So I went out there, bowl in hand, ready to pull beans. The bush beans are winding down their production, but the green beans are just starting to ripen, and I do love how a bowl full of three different colors of beans looks:
That right there is a picture of TOTAL YUM. However, you may have noticed a second, smaller bowl in that picture. And you may be wondering what's in that bowl. And very soon you are going to wish you hadn't wondered.
Yesterday we had one of those flash thunderstorms that comes out of nowhere and just PUMMELS down the rain. For about twenty minutes it looked like the Apocalypse, and then it stopped and the sun came out again. I have thirteen tomato plants (no, no significance to the number) and only ONE of them decided this storm was too much for it to bear. I'm grateful, of course, that there weren't more casualties, but it was very odd to walk outside and realize that one of my plants was sort of bent and broken and unhappy looking.
I was standing between the boxes, trying to right the branches that had flung themselves groundward, and really, I was feeling pretty good about my little garden. The affected tomato plant seemed like it might be okay with a little added support, and the one next to it is the absolute prize of my garden—nearly as tall as I am, lush, bright green, and…
… inches from my face, a branch poked into the space between the boxes. Tender young leaves sprung towards the sky from its tip, and on its underside, a giant, fat, round leaf… was pooping.
A pooping leaf?!
Oh. Oh oh oh. OH NO. It was the biggest, fattest, caterpillar I'd ever seen. And yes, it had just pooped. While I watched. Inches away. And then it waved this weird horn-like appendage at me. AND I DIED.
I dropped my bean-picking bowl and ran back inside. My heart was beating wildly, my keen SENSE OF SQUICK was in overdrive, but I knew what I had to do. I grabbed a couple of baggies and a plastic bowl and a lid. I went back out. The fat caterpillar was exactly where I'd left him.
I put the baggies on my hands. I grabbed the branch with one hand, and the caterpillar with the other. And I pulled.
And that caterpillar held on for DEAR LIFE. The harder I pulled, the more adrenaline pulsed through my body, and by the time I'd extracted the little fucker, I was nearly hyperventilating. I dropped him into the bug bowl and put the lid on top. And then I surveyed the plant.
Oh. So THAT would explain all of the missing leaves. What are the chances of there being just one caterpillar…?
I started really looking, and they say "seek and ye shall find," and they are right, but I don't think they were talking about disgusting caterpillars exactly the same color as your tomato plants.
I pulled two more off of the same plant. I checked it again, then checked the falling over plant, and hoped like hell that I was done.
But then I remembered that I'd found some… stuff… on the leaves of the plant at the end of the box earlier in the week. I'd even mentioned it to Otto. "It looks like guano," I'd told him. "But I can't figure out what's leaving it!" Well, this had all started with me getting up close and personal with this particular creatures excrement, and now it was suddenly clear.
I moved down to the last plant. The biggest and fattest prize awaited me, and I actually gagged while I extracted it from the plant. Another quick check aaaaand… I appeared to have gotten them all.
Look; I'm all for live and let live. My goal is to plant enough that the bugs and other critters can have some and it's not a big deal. But as we already learned with the slugs, some bugs are GREEDY and then they must be ANNIHILATED. And any caterpillar big enough to make the same size turd as a kitten is not welcome in my garden.
I brought them inside because I wanted to figure out what they were, and I didn't know what else to do with them. DO NOT CLICK the following if you are easily skeeved out. Everyone, meet the tomato hornworms. And just in case you're not able to fully grasp their size from that picture, here's a handy reference object to show you how gargantuan they really are. ICK! ICKICKICK!!!!!
I have valiantly saved my tomatoes. And now I am never going outside again. Or into the kitchen where I am inexplicably storing a bowl full of caterpillars. You understand.