I bet you have no idea how much I like my dog, on account of I hardly ever talk about her. Haaaaaaaaaaaa!
The dog is a constant source of amusement. Sometimes intentionally, sometimes not. She's just funny. Plus, she doesn't have the stomach bug! Or any chronic diseases or developmental impairments! Basically, up until recently, the very worst thing about her is that she thinks a good way to remind you to feed her is to weave around your feet and step directly in front of you until you fall over. Now everyone in the house associates a twisted ankle with KIBBLE O'CLOCK, thanks to her.
She's a 12-pound jester, providing comic relief amidst the chaos.
Well, I still love her, but I'm afraid she's crossed the line.
Over the weekend, we were outside enjoying the deck when Licorice ran down the stairs and started running in circles like a dog possessed. Otto, Chickadee and I went to peek down at her, and this is what we saw: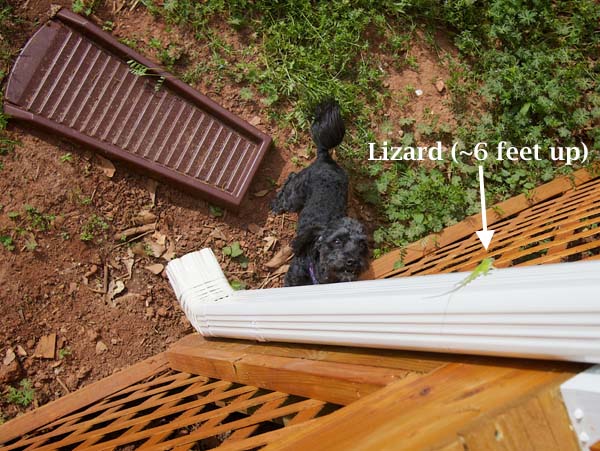 Licorice saw that anole and she WANTED IT. We stood up above her, watching her twist in circles and yip frantically, and wondered what on earth she would DO with the lizard if she could get it. Of course, there was no way she was going to get it, because it was far too high up for her.
Except… Licorice appears to be part gazelle: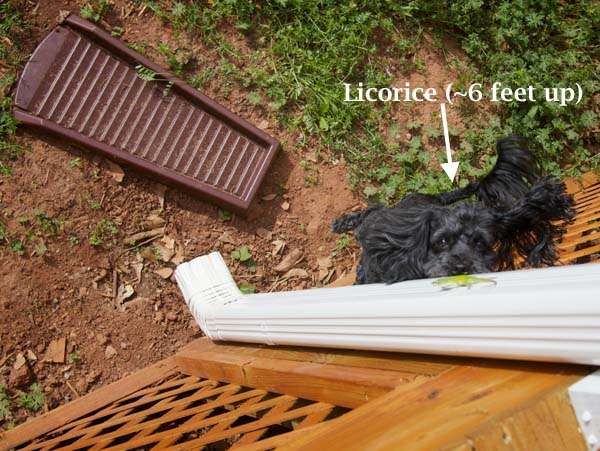 We were all having a good time watching her (and Otto snapping pictures, natch) until that lunge that almost brought her up to the terrified little guy. (Seriously, for such a little dog, her vertical leap is impressive.) Then Chickadee could no longer stand it, and went and retrieved the dog and took her inside before she could do anything bad.
Well. We saved that lizard.
Unfortunately, yesterday I was working away here in my office, and I had the door open and the dog was out on the porch. I heard some scuffling, and ran outside and called Licorice.
She came in looking very guilty, and licking her lips.
Uh oh.
Turns out she didn't eat the lizard; I suspect she gave it a lick once she'd incapacitated it and decided it wasn't delicious, after all. But she had mortally wounded it and left it on the porch to die.
Chickadee abandoned her puke bucket long enough to come out and have a small meltdown over this poor, crumpled lizard who was clearly gasping for air and in the throes of death. We debated what to do; did I need to figure out reptile CPR? Kill it myself? As we pondered, the lizard finally expired. I tossed him into the bushes and felt very guilty about it.
Later, I gave Licorice a talking to, and explained that LIZARDS ARE OUR FRIENDS. She listened patiently and licked my face, and I'm pretty sure she heard "Blah blah blah Licorice blah blah blah."
She's still my favorite but knowing she's a killer has me a little concerned. Lock up your lizards, folks!