Hey, remember last year, how the squirrels got into my tomatoes for the first time in forever, and I had unfairly blamed Licorice for a while before I figured it out, and then it became clear that the squirrels were just looking for water?
Good times. And by "good," I of course mean "rage-inducing." By the end of the summer we'd already used up all of the tomato sauce I'd made, on account of having only made a few pitiful batches. Most of my tomatoes were stolen.
Well. THIS YEAR would be different. Sure, it was dry out for a while, but then it rained for, like, a week straight. NO PROBLEM! Those pesky squirrels wouldn't need to decimate my tomatoes, right? HA. HAHA. MY OPTIMISM IS CHARMING AND DELUSIONAL.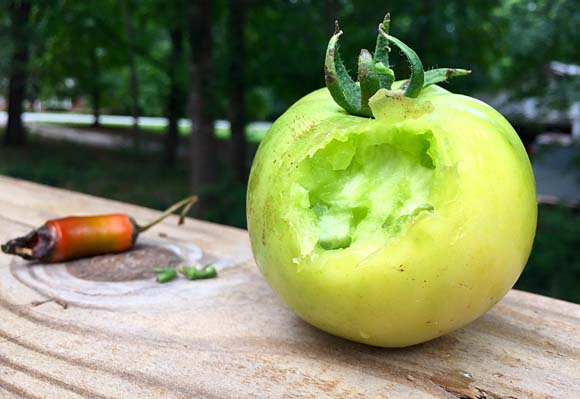 This specimen comes from the lone box up on the porch, the ONE plant I thought would remain undisturbed. And yesterday when Otto went out to let Licorice into the dog run, a squirrel chattered at him from INSIDE THE BOX and then dropped this and scampered away. Fucker. (Note the companion jalapeño which was sampled and discarded. I hope it gave him heartburn.)
In conclusion, I have no idea how to reliably keep squirrels out of my garden and I am cranky about it. On the other hand, I have lots of suggestions on how to take care of your marriage while life gets in the way, which is only because 1) life is always getting in the way, 2) life is less annoying that squirrels, and 3) Otto is the best and my favorite.