Well I, myself, need to talk about kale. Maybe you don't. But you're here and I do, so we're going to talk about kale.
[Possible alternatives to talking about kale: Talking about the fact that I just got 10″ of hair chopped off and now I have no idea how the hell to manage my hair, because even though I was tired of just putting it up in a massive bun every day, that doesn't mean I've figured out how to do an actual hairstyle ever in my life; talking about the fact that my kids are going on yet another school trip and this morning when I was trying to assist Monkey with his packing he got RIGHTEOUSLY PISSED OFF at me for not letting him do it on his own and it was so age-appropriate but also so aggravating that I had to hide in my office to both take some deep breaths and giggle; talking about how Duncan is ONCE AGAIN becoming allergic to the food he's eating and I'm switching the dogs to another option, but in the meantime he is itchy and unhappy and his ears smell like cheese. In other words: You really wanna hear me talk about kale.]
Kale is stupid. I mean, I know not everyone is into salads, but I happen to quite like salad-things, and I love, like really LOVE spinach (honest and for true), but kale continues to infuriate me. I KNOW it's a superfood, I KNOW it's good for me, blah blah blah, yes, got it. Still: kale is stupid. Kale mocks me with its pretentiousness. Kale can be made palatable but it is SO MUCH WORK and in the end, what? You've found a cure for cancer? Celebrated a job well done? Helped the homeless?? No. You've eaten some kale. Whoop-de-do.
You know how we (the royal we; we as a society) are always talking about how healthy foods are more expensive than unhealthy ones? Kale is more expensive than Twinkies, yes, we get it. A bunch of kale is even a lot more expensive than a bag of mostly iceberg lettuce. But it's not just that it's more expensive—it's way more WORK.
I'm trying to be healthier in the new year, like everyone else in the world. The holiday season may have brought me a little more chocolate and cheese and wine than was, strictly speaking, healthy. So it's time to get back to being conscientious about my health, or at least about my ability to fit into my pants. Details.
So this is me, grocery shopping: Here I am in produce. I shall buy bananas and apples and pears and oranges and onions and garlic and peppers and spinach and… hey, maybe I should buy some kale. I think I saw some good kale salad recipes online. Sure, I have a vague memory of kale being a pain in the ass, but I'm a big girl, I can handle it. Yes. BUNCH O' KALE IT IS!
I brought my groceries home and put everything away and felt like a productive human. The next day I rummaged around in my freezer, extracted a hunk of meat large enough to feed a small army, plopped it into the crock pot at breakfast-time and patted myself on the back. Later that evening I roasted some potatoes and braised some red cabbage to with it, and dinner was DELICIOUS. I was very impressed with myself. (I am easily impressed, especially when it comes to food.)
The day after that, we ate leftovers.
The next day, I remembered the kale. Oh, right. I bought kale. Kale is stupid. I looked at some recipes online; I rummaged around in the freezer and pantry; I formulated my game plan. That night, I took the kale out of the fridge. I carefully swished each leaf around in a giant bowl of cold water to remove any dirt and sand. (This took about fifteen minutes.) I lined up the clean leaves on a fresh kitchen towel so that they could dry. Then I gathered up my other ingredients and set to work cutting up artichoke hearts and cooking them in some garlic and lemon and various spices. Once that was done, I checked to see if the kale was dry. It was not, because kale is curly and stupid and I had to get ANOTHER towel to finish drying it off. (Another five minutes.) Then I started cutting the center stems out of the leaves and ripping up the usable bits and chucking them into a bowl. (This took another six hours. Or maybe twenty minutes. It's all a bit fuzzy.) Once all the kale was ready in my big bowl, I seasoned it, tossed it with some olive oil and balsamic vinegar, and MASSAGED THE LEAVES because the Internet told me to (and also that that would make it more palatable). (That was maybe another ten minutes.) After that, I added my artichoke mixture, some dried cranberries, some sliced almonds (ALMOOOOOOOOOONDS!!!!!), a little more seasoning, and tossed it all together. I tasted it. It was… not bad. Not the best thing I ever made, but palatable.
I then placed the bowl containing the salad back in the fridge while I made the remainder of the meal.
The rest of the meal? Cheese ravioli for my gluten-eaters (a frozen bag of ravioli added to boiling water because I'm a GOURMET) tossed in tomato sauce (jarred sauce, because we have used up all the sauce I made this summer), and some sautéed beef sausage for those of us who eat meat. Grand total of time spent on LITERALLY EVERY COMPONENT OF THIS MEAL WHICH WAS NOT KALE SALAD: 10 minutes.
When I called the family to dinner, having set out a line of salad, ravioli, and sausage, the children regarded the salad with deep suspicion. "Just taste it," I said. "Monkey, you LIKE kale!" It's true—Monkey's never met a leafy green he didn't like. He took a smallish amount of salad, while Chickie assured me that she couldn't possibly, she doesn't like kale, she has never liked kale, kale ruined her life, etc. Otto also took a small amount of salad.
I had a giant bowl kale salad for dinner. I spent half my life making that damn salad, I was gonna eat a large quantity of salad. (Also: I couldn't have the ravioli. Stupid wheat.) And as I said, already: It was fine. Not bad.
Monkey carefully ate around everything ELSE in the salad, devouring the kale and leaving all of the almonds, cranberries, and artichoke hearts on his plate. Otto ate his portion but didn't look too happy about it. Chickadee spent a full five minutes soliloquizing about how artichoke hearts are the devil's work.
In the end, there was just enough salad left over for me to have it again for breakfast this morning. I know, that's weird. But I was not going to waste this when it took so much time, plus I am pretty sure Oprah promised me it would make me sexy.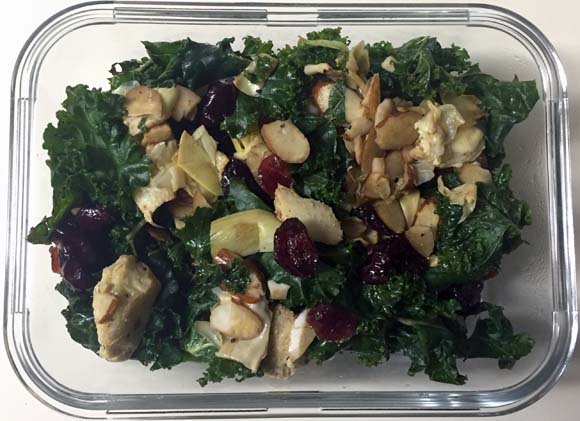 The salad in question, looking stupid, as it does.
So it was fine. But was it worth all of that prep? I'm not sure it was. I don't always have an hour+ to make a salad, people. If I'm going to spend that kind of time cooking, it had better yield a cheesecake, or at least something that makes me say, "Oh, this is really good," rather than something that makes me say, "This… isn't the worst thing I ever ate."
1200+ words later and I probably could've just stopped at "kale is stupid."