Forgive me, Internet, for I have sinned. I have leapt to conclusions and impugned the good name of an innocent. In short: I am a monster.
Remember when I told you that Licorice has been eating my tomatoes? Tomatoes were ripped in half, still dangling from the vine, and never in all of our years with her has Licorice bothered my garden boxes, but here she was, strolling inside with tomato guts hanging from her muzzle. Of course I took this evidence to be indisputable. Clearly, she had become a rotten, rotten tomato-stealer. FOR SHAME. At first it was just a single tomato, here or there. Then a couple of days ago, my garden turned into a veritable wasteland.
We went from the occasional appearance of something like this…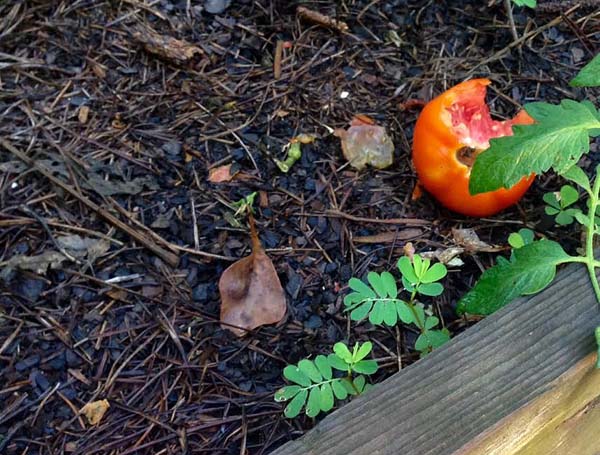 … to multiple casualties. Behold: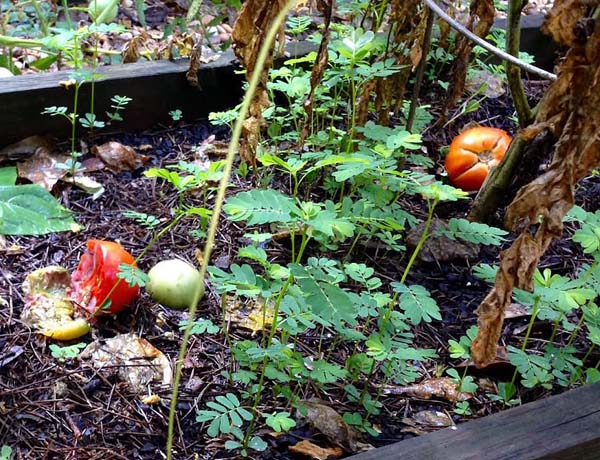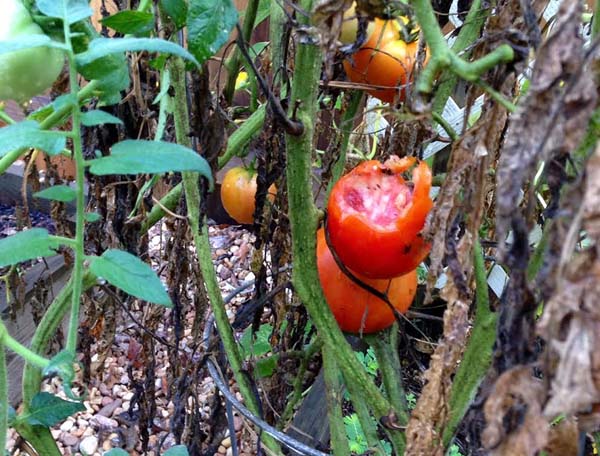 I would go out to pick in the morning and there would be more tomatoes either ripped from the vines entirely or dangling, eviscerated, than whole, ripe ones ready to pick. Because I am an eloquent wordsmith, this left me coming inside and declaring things like "WHAT THE HELL??" and "STUPID DOG!" and so on.
We stopped allowing Licorice to venture outside unsupervised. If she went out, we went out. She would head out to her run, then come back inside the pool area and head for the garden boxes while one of us screamed at her to STOP RIGHT THERE. With a guilty look and a tucked tail, she'd turn back around and come up the stairs to go inside, duly chastened.
Yesterday when I followed Licorice out for her fourth or fifth "pretend I need to pee but actually just wander around for a while" adventure, I discovered this: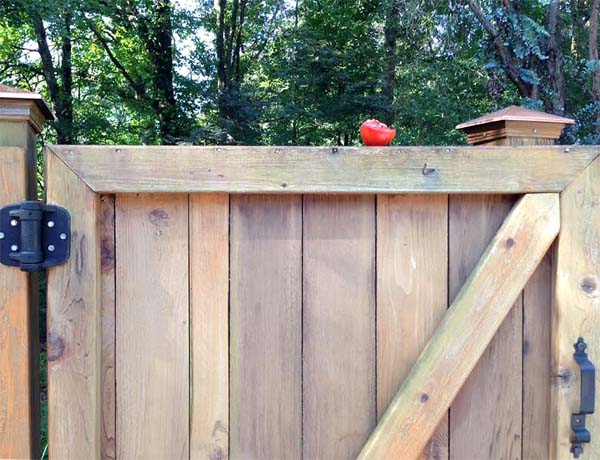 In case it's unclear, that's half a tomato sitting right on top of the gate out to the dog run. That was weird. I mean, Licorice doesn't have thumbs, and also, that's a 6-foot gate, and she's a 12-pound dog. What's more, that's… reaaaaaally kind of far from the garden boxes.
See? That gate is about 25 feet from the boxes.
So I came inside and laughed at Otto, asking him why he'd taken one of my precious, destroyed tomatoes and left it on the gate. "Is that like putting the heads of your enemies on stakes at the entrance to the castle? Are you hoping it'll deter her from further thievery?"
Otto looked at me like I'd lost my fool mind. "What are you talking about?"
Oh. Oh, no. NOOOOOOOOO.
I called the children downstairs, desperation mounting.
"Did either of you put half a tomato on the gate out to the run?" I demanded, while they exchanged glances of "well, Mom's finally lost it."
They denied it, but then wanted to know why I thought they'd do such a thing.
I went back outside. I scoped out the entire scene. There was a this half-tomato on the gate, and another hunk on the fence across the way. Upon closer examination of my plants, I found hunks missing from fruits much higher up than Licorice could possibly reach. Yes, there were tomato shards squashed on the ground BETWEEN the boxes, and those, undoubtedly, had been serving as Licorice snacks. But she was just cleaning up. Being helpful. She wasn't attacking the plants. She never had been.
"I told you it wasn't me! Fucking squirrels."
[EDITED TO ADD: A friend on Twitter has suggested a raccoon rather than squirrels, which seems reasonable. I have NEVER seen a squirrel in my boxes. Guess we go on stake-out after dark tonight!]