The big, exciting news from here this week is that Duncan is finally the picture of health. His skin is pink and unblemished, his hair is growing back in where it had been lost, his face is free of irritation, his legs are working well… even his nails are neatly trimmed! Basically Duncan is the poster child for puppy rehabilitation (just so long as you don't mind your perfect puppy looking like someone smashed him in the face with a frying pan, that is). I remain deeply aggravated by all the things that were wrong with him (and how uncomfortable he must've been, poor pumpkin) when he came to us, because I have very few skills, but holding a grudge is one of them.
Never before has a dog looked so perfect. I mean, he even strikes a pose for the camera:
(Okay, that's a lie. He doesn't pose for the camera. He does, however, make himself look awfully cute while you're waving a plate of food nearby. Thanks to assistant Chickadee and her breakfast for that photo.)
Anyway! Everything's FANTASTIC with Duncan! There's just this one teensy little problem. Hardly a problem at all, really. I mean, surely even if we'd known, it would've fallen in the category of "no biggie." I mean, I assume. On account of his general sweetness and goodness as a dog. I'm just saying it might've been nice to know, is all.
Turns out… Duncan is blind. Like, almost 100% blind.
I brought him in to the vet for a follow-up, and also because he had a funny-looking little thing on his eyelid that I wanted checked out (because I am nothing if not a neurotic mother to children and animals alike), and during the exam I mentioned that "We've noticed that he doesn't seem to see very well." I waited for the vet to tell me that that was silly, but instead he shined a flashlight across Duncan's face a couple of times and then told the lab tech to "come take a look at this." The tech whistled a quiet, low whistle as he watched.
Duncan's pupils are fixed and unreactive to light. One eye doesn't respond at all, and the other provides "a small flicker of activity." In other words: He can't see. He's blind. He needs a tiny little white cane taped to one of his front paws, and our attempts to explain to Licorice that she needs to be Duncan's seeing-eye dog have fallen on deaf ears. (No, Licorice isn't deaf. She's just a selfish jerk.)
So many things make sense now! His hesitation with stairs, how he circles the perimeter of whatever piece of furniture Licorice is taunting him from, the way he pokes at the water dish if it's not really full, his signature snap at food and toys like he's hunting instead of just retrieving the object of his desire. And, of course, you have to give the little guy props for being with us an entire month and none of us dummies realizing that his weirdness about things like our inside stairway (in retrospect, even though he goes up and down the outside stairs multiple times a day, the stairway with a landing/turn in it must be confusing for him, hence his initial habit of climbing halfway and then crying) was due to his lack of vision. Granted, he didn't land with a real brain trust in our family, but still.
The discovery of Duncan's status as a Very Special Pup has—much to Otto's chagrin—only served to solidify the reality of Duncan's voice being a lot less JFK and a lot more dopey-football-thug. I don't know why this is, exactly, except that Duncan came to us doing this funny thing with his toys where he sort of puts them down on the floor and then "hikes" them backwards with his front paws, and somehow this has evolved into a veritable comedy routine courtesy of Chickadee.
Initially it was… "I play football. Hut hut hike!" in the Duncan voice. That's been going on since he came to live with us.
But ever since The Diagnosis it has evolved into an entire monologue, and it cracks me up EVERY SINGLE TIME and I don't know why. Now it's "I play football. Oh yeah. HUT HUT HIKE! I play on a special football team. Oh boy. For dogs. FOR BLIND DOGS. Know our team name? Do you? It's the Bats. You know why? BECAUSE WE'RE BLIND. And we play football. I am the center. HUT HUT HIKE! Oh yeah! Oh boy! We are going to Nationals next week. To play football. The Bats. That's us. OH BOY!"
Now all Chickie has to do is say so much as "We're going to Nationals" in sotto voce and I'm rolling on the floor.
For his part, Duncan then looks around, wondering what's going on. But sometimes he grabs a nearby ball and hikes it, and then I pretty much laugh until I can't breathe.
Oh, boy. We set out to adopt a young, healthy dog and ended up with a 7-year-old, allergy-ridden, blind football enthusiast. I would love to tell you this is a surprising turn of events, but are you new here? Of course this is what happened. (In fact, I texted Otto from the vet's exam room to say "DUNCAN IS BLIND!" and Otto was all "He is? Huh. Hey, what's for dinner?") Perspective is the gift that keeps on giving, that's for sure.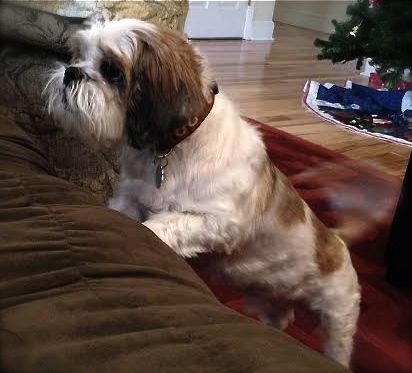 "Oh boy! I can smell you up there! Come down and play!"