The Great Doggie Integration Experiment of 2013 continues apace. Licorice continues to endure, while Duncan continues to try to figure out what in the world is happening. It turns out that his former owners weren't kidding when they said he was "very food motivated," so with liberal application of treats, we're making good progress with him.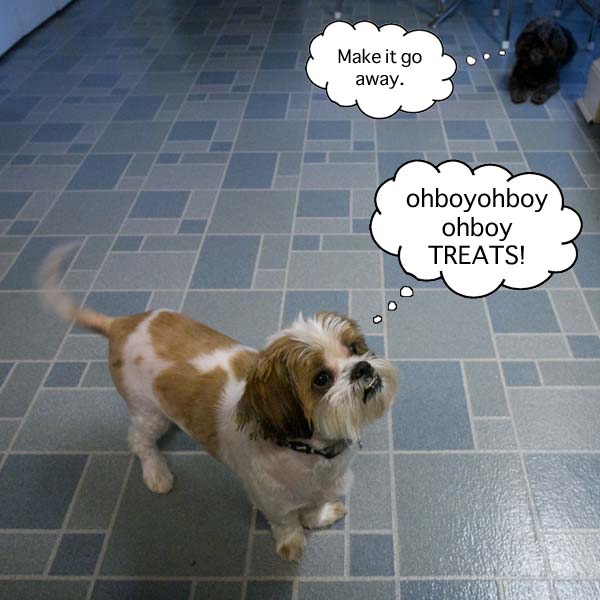 A fairly typical tableau.
Perhaps my favorite part of dog ownership is watching Otto interact with our furry children. He was… let's say… a little lukewarm when we adopted Licorice, and again when we procured Duncan. This is just how Otto operates. I knew he would warm up, and having already seen him with Licorice, I knew it would happen even faster with Duncan. So last night when Otto was sitting in our oversized easy chair with his legs up on the ottoman and Duncan was acting like he wanted to jump up (but was having trouble getting enough traction on the wood floor to do so), I was not the least bit surprised to see Otto carefully maneuver the ottoman over to the rug so that Duncan could get purchase and leap. Then Otto gently steered the ottoman back over to the chair so that Duncan could join him.
I know Otto is supposed to be all tough and manly and everything (and he is), but that was kind of adorable.
Also, there is a distinct "Licorice voice" we all use, because we are crazy pet people. It's sort of high and girly but also a little potty-mouthed on account of Licorice is kind of a cranky old broad. Licorice is known to say things like, "Where's my kibble, bitches?" and "I can't find my ball. It was here a minute ago," when someone swipes it from her. There was never any dissent during the evolution of the Licorice voice, but Duncan's voice is currently a bone of contention: The kids and I believe he sounds a lot like Droopy Dog from the old cartoons, whereas Otto believes that any dog called Duncan Donut is clearly a Bostonian.
So the kids and I will do a hangdog Duncan voice of something like, "Do you have any food? I love food." But Otto will be over there going, "No no no! He doesn't sound like that. Here's what he says, 'Ask not what kibble can do for you, but what you can do for kibble!'" (His JFK impersonation is a little creepy, I'm not going to lie.)
In other words, we are all easily entertained.
Duncan is now completely transitioned to Licorice's Special Snowflake Of Grain-Free Specialness kibble, plus we're doing steroids and anti-fungal meds to try to heal him up completely before going with a new daily regime to keep his skin clear. The thing about anti-fungals is that they work best if you do them internally AND externally, so he's on a pill, plus I need to bathe him every few days with this medicated shampoo the vet gave me. Duncan is not a fan of this idea.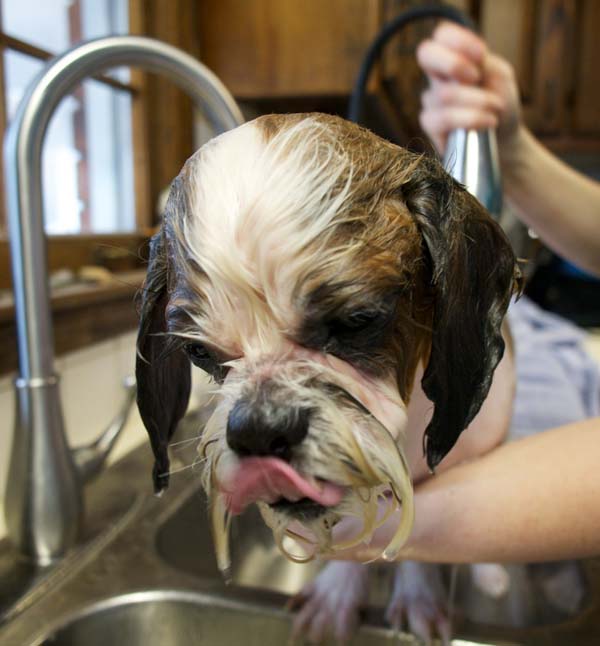 "Why do you hate me?"
And it's not just an every-few-days-bath—oh no! that would be too easy!—but the medicine needs time to penetrate, so I have to put this poor little guy in the sink, suds him up, and then try to keep him there for, like, ten minutes. SUPER FUN. By the time we finished, he was soaked, I was soaked, the floor was soaked… you get the idea.
Licorice became very concerned when I walked off with Duncan for his bath, and then she all but pointed and did the "HAAAA HA!" Nelson-from-the-Simpsons laugh when she realized what was happening to him. Then she disappeared, which I assumed was because she was afraid that she was next.
I was wrong, though. After Duncan's bath I took him into my bathroom and blow-dried him (he actually loved that, little weirdo), and when we came out, it was to a crime scene of epic proportions. Duncan came to us with a bag of toys, and we've put out just a few and guarded them carefully from Licorice's destroyer tendencies. WELL. While Duncan was having his forced spa treatment, Licorice went and grabbed one of his stuffed toys and ripped it to shreds. Because NO ONE PUTS LICORICE IN THE CORNER.
(We cleaned up the carnage and Duncan didn't really seem to notice. The next day I found an errant eyeball that we'd missed, though. Slightly disconcerting.)
For the most part, the dogs still aren't interacting much. Duncan has tried to get Licorice to play with him a couple of times, and just last night we were tossing balls for them and they both lunged for the same ball and Licorice came back with it while Duncan nipped at her ears. Licorice tolerated this, so I thought it was a good first step, but then Duncan started barking at her and she started growling at him and Otto was all THIS IS WHY WE CAN'T HAVE NICE THINGS and we had to separate them. It's early, yet. They'll figure it out.
And in the meantime, they are ever-so-slowly accepting that this is their life, now.
Portrait of confusion and resignation, respectively.