So before I forget, allow me to direct you to my latest recipe over at Alpha Mom, the perfect option if you kind of secretly love old-fashioned chicken casserole type things but are 1) gluten-free, 2) a fan of spices other than salt, and 3) religiously opposed to recipes that involve canned soup. This one is our alternative to chicken pot pie, but it's topped with (gluten-free) cornbread. If you're not gluten-free, make the cornbread with regular flour; I don't judge.
Also, have you ever noticed that sometimes you ask me questions, or say "hey, can we see a picture of that?" and I don't answer or produce? It's very rare that this is intentional. It's a lot less "no, you can't have that" and a lot more "sure, let me just… oh, cookies!" And sometimes it's more that someone says something like, "Oh, what oil-controlling moisturizer do you use?" and I realize that I hate my oil-controlling moisturizer and don't want to recommend it to anyone. Stuff like that.
But when I mention Otto taking pictures of something, y'all KNOW there's photographic evidence. And despite the fact that he's an awesome photographer, I am not the most photogenic person in the world all the time. (TRY TO CONCEAL YOUR SHOCK.) Most of the time, I don't share pictures. But sometimes, I guess I must.
There is, in fact, and entire SERIES of photos (thanks to my charming husband) of me committing unspeakable acts of amputation on a store-window mannequin. I didn't feel like it was right to subject you to all of them, but you asked, so here's a good summation, I think: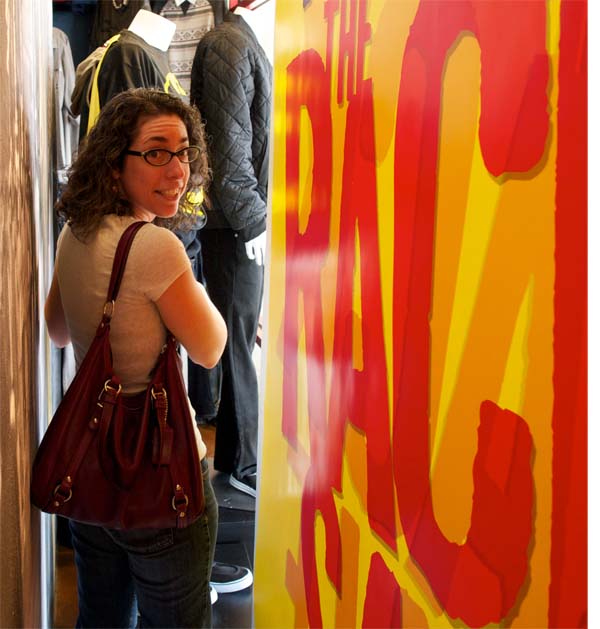 "Seriously, pictures? Good thing you're cute."
[Otto sent me these and I was immediately horrified. In my standard gentle and lyrical way, I screeched, "AM I REALLY THAT WIDE?? I LOOK LIKE A LINEBACKER IN THIS PHOTO!" and he was all "wide-angle lens something something" and "everyone looks kind of bubbly with it" and "please don't hurt me." Whatever.]
I spent about five minutes wrestling with the mannequin before a store associate became alarmed free to help, so while she continued dismantling my new plastic friend, I, uh, ended up doing this: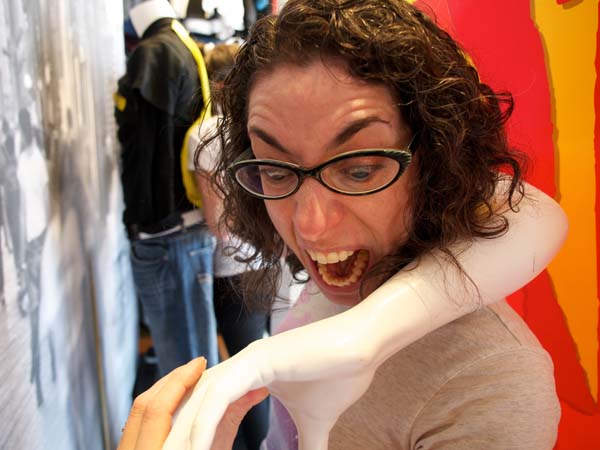 I have never looked more beautiful, I know.
I think we need a caption contest for the second photo, just to ease my feelings of WTF-did-I-just-share-with-the-world over letting you see that. (Seriously, ignoring the gorgeous facial expression, even, what is happening with my hair there? I would've asked Chickadee, but she was elsewhere in the store, pretending she didn't know us.)
Caption away. I mean, no biggie or anything, but my self-esteem depends on it.