Hey, remember that time I broke my hand on an apple and turned into a cyborg? Good times, man. That was almost a year ago, now. It was year ago next month, in fact, though I wasn't thinking about that at all this week. After the surgery I did months of physical therapy and then also kept going back to the hand surgeon for rechecks because my hand remained kind of weird and deformed for a LONG time, prompting him to keep saying, "Let's have another look in a couple of months." And then I'd go back and he poke and prod and finally my hand mostly looked like a hand again and he said, "Okay, you're good to go!" and that was that.
That was that until this past Wednesday, anyway, because I AM ME and if I made stuff like this up you'd be all, "Oh don't be stupid, that could never happen." That's because on Wednesday I was making a lovely from-scratch chicken pot pie—one of Monkey's favorite things, so he kept wandering into the kitchen and asking if it was ready yet, starting at about 2:00 in the afternoon—and the thing about me and chicken pot pie is that it's a "one dish meal" where I end up using every pot and pan in the kitchen. I had to bake the chicken, roast the veggies, caramelize the onions, etc. I was moving things around and lifting heavy pans and making a huge mess and having a grand time.
Finally dinner was in the oven, and Licorice—who'd been under my feet all afternoon, hoping I'd drop anything at all, but hopefully some chicken—sat down by her dishes and wagged. So I pulled out the canister of kibble and scooped her dinner, and then as I was putting the container away…
… something in my hand… gave way.
It was weird. The dog food container isn't heavy, and I wasn't doing anything weird with my hand, position-wise, but it was indeed my BIONIC HAND, and something was definitely… wrong.
I tried to shake it off. I rubbed my hand for a minute. Perhaps a tendon had just kind of rubbed against the metal plate, or something. My hand throbbed, and waves of pain radiated outward from the knuckle at the top of my surgery scar. I felt a little dizzy.
But you know, I am also kind of a wimp about pain, and also prone to a bit of exaggerated poor-me-ing, sometimes. So again, I tried to shake it off, and went back to dealing with dinner (read: making Chickadee some non-animal-laden food). I couldn't really grasp anything firmly with my left hand, though, so I worked with my right, and after a few minutes I stopped to take some Advil, but I thought surely it would stop hurting very soon.
I called the kids to come sit down and eat shortly before Otto got home, because I knew he was going to be late. Monkey was so excited about the chicken pot pie he immediately fell to shoveling food into his face, but Chickadee looked at my hand and then looked at my face in that pitying, "you are kind of too dumb to live" sort of way, and said, "Ummmm… I think you'd better put some ice on that. It's kind of… purple? What did you DO?"
"I put the dog food away," I answered, through clenched teeth. But I went and got myself an ice pack.
Otto came home and suggested we go to the Emergency Room. I argued, because who wants to spend the evening in the ER? I could still move everything, and while it hurt, I obviously didn't have a broken bone, or anything. On the other hand (perhaps the one that wasn't swelling up like a blowfish…?), what if a screw was loose in there? Or a piece of the plate had broken off? OR MY TENDON HAD SIMPLY EXPLODED? (Okay, I only thought that last one in my inside-the-head-drama-queen voice.) Otto suggested we give it an hour to see how I felt, but we actually ended up going even sooner than that, because I was sort of freaked out and it really hurt and also I didn't want to be there all night.
In the elevator at the hospital, Otto smiled at me and said it had been a while since we'd had a date night. That was enough to get me laughing, which I suspect was the goal.
We waited and waited and waited some more, and then someone came and took me for X-rays, and then we waited even longer, and eventually they put us in the same room where I'd been when I broke my hand in the first place, which prompted me to proudly point out to Otto that the FIRST THING I did when I hurt my hand, this time, was to take off my wedding rings. (Last year, I'd ended up hunched over the sink in that room, soaping up and sobbing while prying rings off my rapidly-swelling, broken hand, lest they be cut off, instead.) Eventually a doctor came in and said my film looked good, the hardware was fine, and it was likely a "soft tissue issue." I should go see my hand surgeon as soon as possible. And in the meantime, they would splint the affected area to make me more comfortable. But they were just going to move us, first.
I suspect there was a room shortage; we ended up in a couple of chairs in the hallway, and a nurse came along and wrapped me up after a while.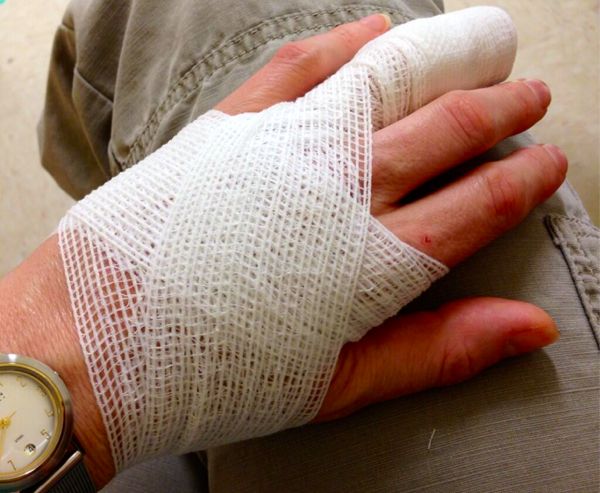 "More comfortable?" I'm pretty sure those words, they do not mean what I think you think they mean, doctor.
We made it home close to midnight, and I told Otto I hated everyone and everything before I ate all the Advil in the house and flounced into bed.
Yesterday I called the hand surgeon and got an appointment for today. Yesterday I left the splint on and my hand hurt; today I took the splint off and my hand still hurt, though I notice now it's turning lots of pretty colors.
The meeting with the surgeon involved some poking and prodding and a declaration of a "scar tissue tear," which sounds about as unpleasant as it felt. As to why, he had no answer. As to whether it will happen again, yeah, he doesn't know that either. He told me that at this point it is "completely up to me" whether or not I have a second surgery to remove the hardware. Pointing out that I am not a doctor didn't seem to sway his opinion. "Most people" do fine with this sort of plate. "Some people" have complications. "Some of those people" have continued complications.
"So what would you like to do?" he asked.
"Punch you in the face" seemed like a bad response, so instead I said, "Ummmm… how about we… just… see how it goes? See if it happens again?"
He nodded. "That's a good approach, I think," he said. "If it happens again, I will recommend removal of the plate. But this could've been a freak thing. Just keep icing it and taking Advil. Hopefully that's it."
So, you know. My hand is apparently full of explosive scar tissue that could attack at any moment, but no biggie. I'll just sit around waiting for it to pull that fun little "OH HEY PAAAAAAAIN!" trick again. Or not. Nobody knows what will happen! The human body is a WONDERLAND! And my left hand is confused, because it seems to believe it should be an asshole.
I guess for now I'll just continue… not touching anything… ever. That seems like the best plan.