Remember when Georgia was in a drought? And whenever it rained, people all but danced in the streets? Good times, man. Good times.
Er, technically we are still in a drought. I don't know who decides this or how they determine that we are no longer… ummm… drought-y, but TECHNICALLY we are still in a drought. Even though it's been raining for upwards of a month, now. (It has not really been raining for a month. I mean, it has, but not continually. It just feels that way.) (Are you there, God? It's me, Mir. I would like my hair to stop being the size and style of a full-grown poodle perched atop my head, now, please.)
Anyway. Clearly I do not want us to still be in a drought. But the constant rain is making EVERYONE cranky. It's gray and cold and damp and gross outside. It was spring for a single, pollen-infused week and then it was summer for two days, and it's been Whoops Are You Sure You Didn't Accidentally Move To Seattle ever since. It's unnerving for those of us who were primed to be bitching about how hot it is, by now. It is too cold and disgusting out for people to bless your heart, people! This is a true southern CRISIS.
And so, we have various rain-related indignations. It is sad. And damp. And cold. And INDIGNANT.
INDIGNATION THE FIRST: The pool. THE #$*&@$ MOTHEREFFIN' POOL.
When we last left off on the pool saga, things were well and truly borked, and it was unclear how they might become un-borked. But then the Head Pool Guy and several Ancillary Pool Guys came over one morning while I was still in pajamas and had themselves a conference around said pool while I ran to put some clothes on. By the time I'd gone outside to find out what the plan was, they were busting out measuring tapes. They called me ma'am a lot and promised to "get it all fixed up" and it wasn't until I said, "I just don't understand what your plan is, here," that they finally told me that the plan was to measure for a new liner. And then take away the current liner. You know, the new one. That they'd just installed. Because maybe it was defective. But they'd "measure real good" this time and I shouldn't worry.
Two weeks to make the new pool liner, by the way. And then they would "fit us into the schedule" after that. And yes, of course, they'll pay for the water.
So this is… good news, I guess. I mean, they're trying to make it right. Props for that, although Otto and I both still suspect there's nothing wrong with the original liner other than, shall we say, user error. Ahem. But WHATEVER, they're fixing it! Maybe. We'll see.
But in the MEANTIME, you see, the RAIN. The relentless rain. The pool was about halfway full pre-fiasco, and then it's been just raining and raining and raining, and for a while there I'd go out and rescue frogs every morning (they can jump in, but the water level isn't quite high enough for them to jump back out), but really, who cares, now? The pool water grows more disgusting by the day (no chemicals/filtering happening yet) and the frogs probably like it. Until we drain it again, I figure they can have at it. This means that Licorice is VERRRRRY interested in the pool these days, because MOM! MOM! MOM! LOOK! FROGS!
This morning I noticed that in addition to frogs, apparently our pool-swamp is hatching new life forms, too.
I… have no idea. None.
Licorice can almost reach the frogs when they hang out on the steps, at least.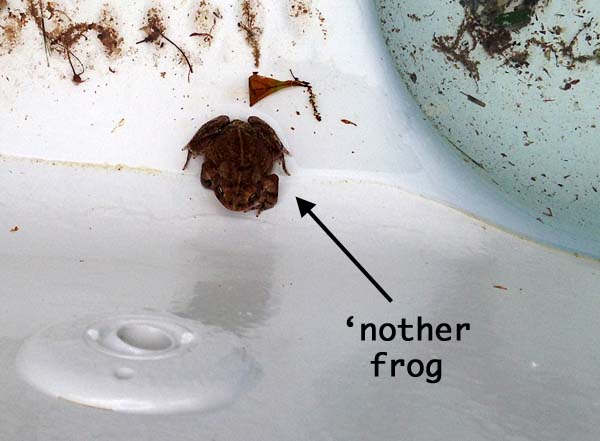 In summary: Many frogs. Lots of swampiness. No working pool, yet.
INDIGNATION THE SECOND: My garden is on crack. Rain is GOOD, right? Plants like rain? The peas certainly like rain: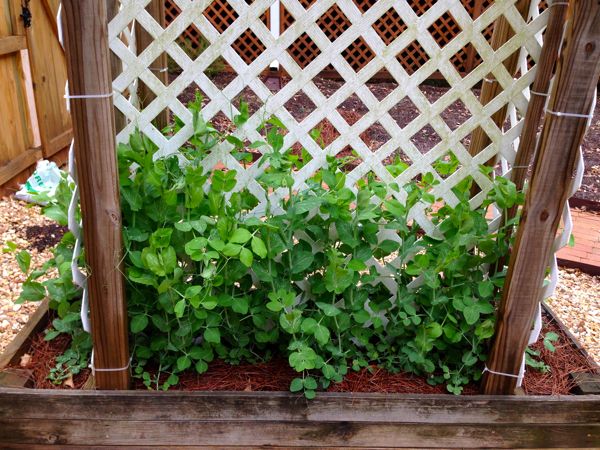 They're just growing like crazy, happy as can be. Yay peas!
On the other hand, I have now TWICE planted seeds for zucchini and cucumbers, two of the most no-brainer vegetables there are in terms of being easy to grow, and the first time no seeds sprouted, and the second time I got two sad little cucumber sprouts and NO ZUCCHINI AT ALL. I began to think that perhaps my seeds were bad. (They have been hanging out with delinquent seeds under the bleachers, no doubt, becoming tainted.) But with all the rain, a tiny zucchini sprout finally surfaced. Fickle thing.
And then on the third hand which I don't actually have, I bought some heirloom tomato plants at the farmer's market this year in a fit of crunchy-earth-mother-ness, and I lovingly planted said plants with high hopes. (They're Copias, which I've never grown before. Aren't the fruits pretty, though?) Once in the ground, both plants proceeded to silently mock me with their refusal to either thrive or die. Meanwhile, the Roma tomatoes I'd gotten from the Big Box Hardware Store which are probably GMOs which will give us all cancer are huge and lush plants, already, even though they were smaller than the Copias when planted.
But then, it rained. And rained and rained and rained. And ONE of my two Copias decided to snap out of its funk: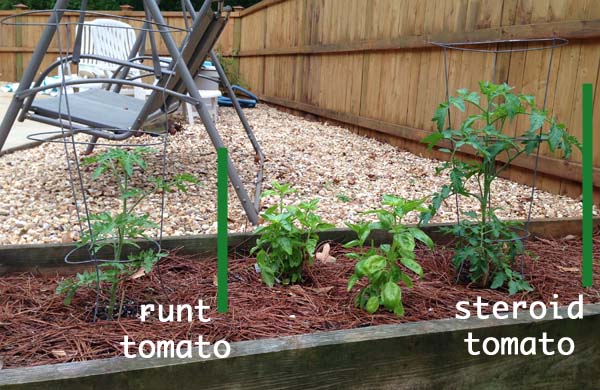 What makes one plant get all big and happy while the other one is all, "No, that's okay, I'll just sit here, unmoving," not dying but not really growing, either? I have no idea. It is upsetting me, though, because clearly with everything going on in life right now, it is that one plant's failure to thrive that is my biggest problem.
INDIGNATION THE THIRD: We had our annual cookout for Otto's students this weekend, only—say it with me!—because of the never-ending rain, we actually just had a pizza party indoors. Super fancy. And raucous! Except not really.
We have a pretty big driveway, but for whatever reason, when we have students over there are always reluctant to park in the driveway. They tend to park out on the street, which is fine, though they then end up covering a good section of the street and it's a pretty sleepy neighborhood, so I guess folks might notice.
The party was nice. The students are always surprised to discover that their professors have lives and families and coolers full of soda, seems like. A good time was had by all, I think. Towards the end of their time here, as some of the kids were starting to leave, we noticed an umbrella coming towards the house instead of going away from it, and we asked Otto if he had someone who'd gotten the time waaaayyyy wrong. Otto answered the door, and it was one of our neighbors.
[Sidebar: The kids refer to that family as The Invisibles. I'm sure they're nice. The two or three times we've spoken, they seem perfectly pleasant. But they are also almost never home, or when they are, they're never outside. They're basically invisible.]
The neighbor let Otto know in a voice loud enough to carry inside the gathering that one of our party guests "wasn't satisfied to just park on my lawn" but then "had to tear it all up by revving out of there." Otto was, of course, surprised and apologetic, and offered to come over after the last of the kids left to repair any damage. "I don't need you to fix it, I just need you to tell them not to do it!" he huffed, and stomped back outside, and home to his now presumably ruined lawn.
Kind of a mood-killer.
Here's the thing: It's RAINING. Rain makes ground SOFT. Later Otto discovered that yes, one of his students had put a couple of tires on Mr. Invisible's lawn, and yes, it had left a small churned-up rut. THIS IS WHAT HAPPENS WHEN IT RAINS. And even if you believe your lawn is God's gift to the miracle of landscaping, this is the sort of thing that happens sometimes when it rains, right? Even assuming that not wanting other people's guests to park over your property line is a valid complaint (and it is; though why he didn't just come over two hours before to ask us to ask them to move, I don't know), why come over to complain but then reject the very reasonable offer to fix any damage?
I found the whole thing very confusing. Either you want us to do something (fine) or you don't, but to come over when the party is still going on just to be mad and flounce away… yeah. I don't get it. INDIGNATION!
Someday it will stop raining and everyone and everything will stop being so indignant, right? RIGHT?? Lie to me if you need to.