I think the various tributes and remembrances and "never forget"s and such that are all over the 'net today are good and important and needed, but I just can't. Call me a delicate flower, call me cold or shallow or whatever, some things are too hard for me. And this is one of them. I'm calling it knowing my limitations.
Over the last few days, my good and loyal hosting provider—truly the very best hosting service I've ever had—has been working literally around the clock to deal with various DNS attacks that keep bringing my servers down. Which means every time I think to go post something, my sites aren't working. Now they are, and all you're getting is a story about my dog.
But if you're like me, maybe that's what you need, today.
So, we have this fence, now. Remember the fence? It is a good and fine fence, and allows Little Miss Barkypants a bit more freedom, even if we did have to find out the hard way that it wasn't entirely secure in the beginning. But Otto fixed up the gate and now we have a completely impenetrable dog containment unit (all for the low low price of a metric butt-ton of money and two months of aggravation).
The weather here in Georgia turned in the wake of the recent storms; after what was one of our hottest summers on record to date, we had a couple of days of unseasonable cool temps (like, in the 60s all day long), and now we're coming into our more typical fall temperatures. In short, the weather is gorgeous. It's cool and crisp in the mornings and warm but not overbearing in the afternoons. Evenings are cooler again, and more often than not, Otto and I will slip out with Licorice for a walk after dinner.
So when I take Licorice outside on a leash to head down to the woods so she can do her business, when we come back up onto the porch, I'll often close the gate and then unclip her, allowing her to roam free within the gated area. Usually she'll run around for a bit while I water plants, empty the pool filter, etc. Then when I'm all done, I call her and we come back inside.
At least, that's the way it worked this summer, when it was a billion degrees outside. Now that it's cooler, Licorice has decided she's not so interested in that routine.
So I took her out a couple of days ago and did what I needed to do and then called her as I headed back up the porch steps. And… nothing. For a minute I wondered if she'd gotten out again, but then I heard… something.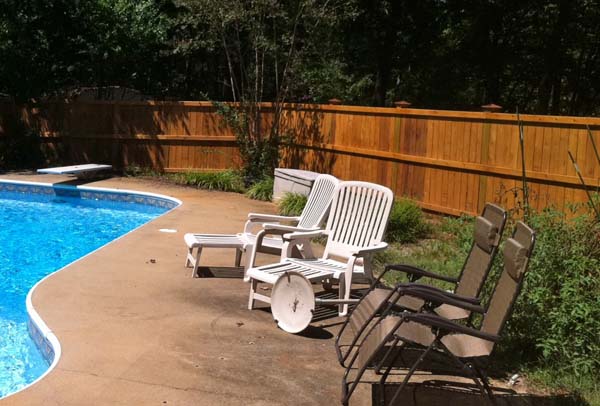 I couldn't quite see her, though. The pool area looked undisturbed. (Except for the fact that we laid down the umbrella before the last storm and haven't stood it up again, because we're lazy.)
But then I heard another rustle. Ah.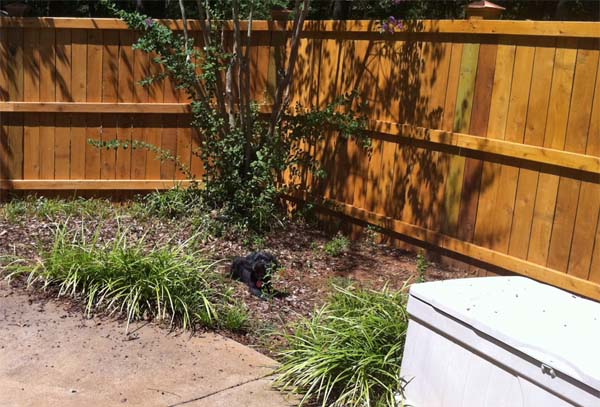 She'd found a sunny spot. And clearly had no intention of leaving it. Even so, like the moron that I am, I called and called and tried to cajole her back up the steps with me. Much like my teenager does, Licorice surveyed my antics with wide eyes and a touch of disdain.
After what seemed like forever, she came to her feet and I turned around to head inside, confident she was behind me.
Of course, she wasn't.
She was having a little snack. Because that's what you do when you're queen of the jungle and feeling a mite peckish.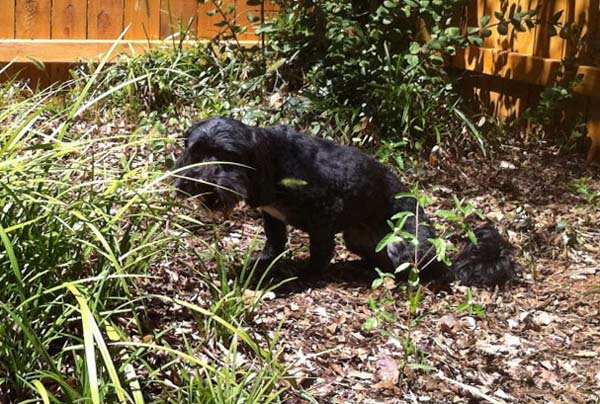 "Mmmmmm… delicious grass things! I can puke them up inside later on!"
She stayed out for about an hour, before sauntering up to my office door and asking to come back in. Since then she's spent a sizable portion of each day outside, and Otto and I have taken to referring to it as her time "out on safari." She comes back rumpled, sun-baked, twigs and other foliage in her tail, breath smelling like grass and lord only knows what else. In the evening the children ask her what she saw in her travels—elephants? Lions? Mighty, mighty toads? Sometimes she tells them stories (in a high-pitched voice that may or may not truly be hers) about her adventures. Like, she fought a cobra! And drowned it in the pool! And then she made herself a salad. Or maybe she just kind of flicked a stick into the pool and then ate some grass. Whatever.
She's an excellent distraction from the worries of the world at large, is my point.