As I so often do, after a more difficult topic, today I'm going to go "LALALA!" very loudly with my fingers in my ears, and turn to lighter matters.
Lighter matters like trying to drown my dog.
The thing is, she can swim. We KNOW she can swim. And once we converted the pool to salt water we thought AWESOME, NOW THE DOG WILL SWIM because we were sure her previous aversion to the pool was because of the chlorine. I mean, after all, she loves the beach, so maybe with the chemicals out of the way, we could teach her to love the pool. Especially now that we have a decent fence and she can just run around in the pool area.
Hahahaha. My optimism is hilarious!
Actually, I am totally going to blame this on you guys. Yeah, that's it.
A while ago when I mentioned Licorice hating the pool, commenter MelissaB told me that her dog just LOVES riding around their pool in a little boat. She even sent me a picture. Doesn't Bubba look happy??
I went right out and bought Licorice a boat. Which she hated. But I figured she hated it because she hated the chlorine, so this year I took the boat out again. She did that air-swimming thing that dogs do when you hold them over water as I carefully brought her over to the magical orange pod of happiness, but once inside the boat, she did seem to like it. But… well, I'll just have to show you. All photos in this post courtesy of Otto, of course, because the rest of us were in the pool, laughing until we cried.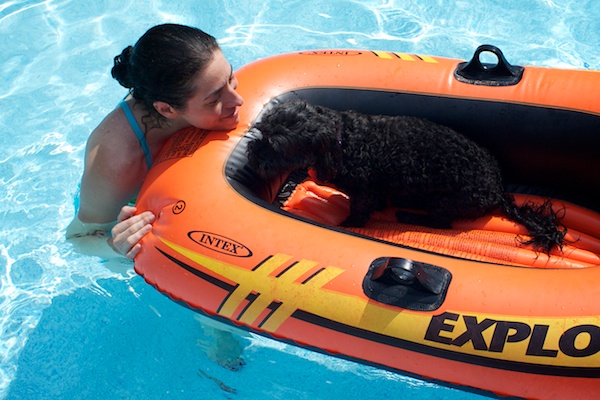 See, she let me push her around in the boat a bit. She was fine! She totally loved it!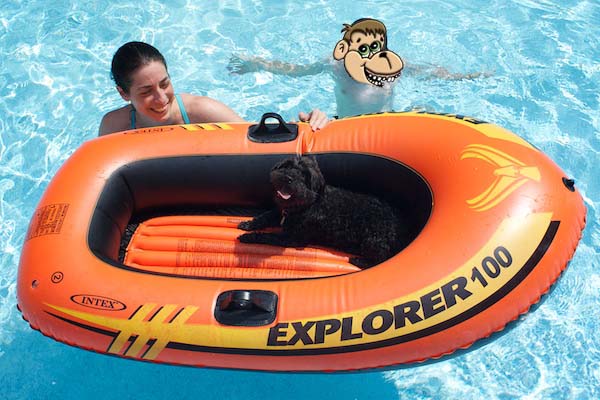 See, she's SMILING! Having a grand ol' time! (Although she probably doesn't see that weird kid behind her. Gotta admit, he's looking a little spooky.)
Really, it was all going incredibly well. So of course I had to mess it up.
I decided that if she loved the boat, SURELY she would love the water! I took her out of the boat and walked around the shallow end holding her for a few minutes. She was FINE.
And then I very gently set her in the water, held my hands around her for a minute while I spoke VERY ENCOURAGINGLY about how she was going to SWIM! and it would be SO MUCH FUN!
It's true, she can swim:
I let her go in the middle, pointed at the stairs, but she opted to head straight for the wall and slither along it.
But she made it to the stairs okay. (No thanks to Batman. What an asshole.)
Of course, then the indignation kicked in.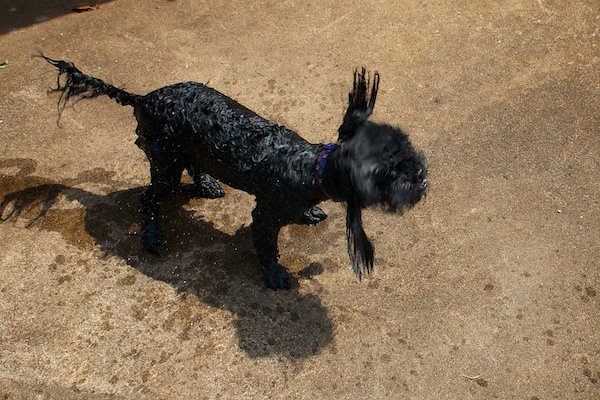 First she had to shake and snort and generally glare at us.
Then she headed straight out into the dog run to roll in the dirt.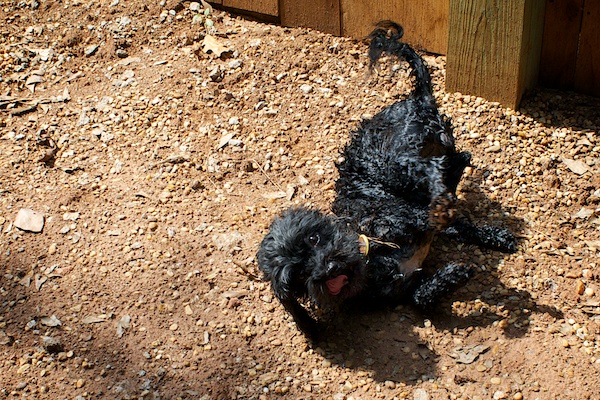 I like how she stopped to glare at Otto, all, "YOU WANNA COMMENT, JERKFACE?"
Ultimately, the dirt proved unsatisfying. How could it fully convey her sorrow, and the betrayal we'd wrought? It couldn't.
She headed for a pile of dead leaves to continue displaying her anger.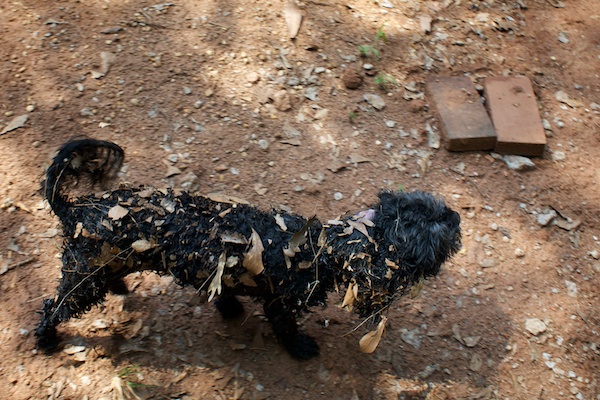 She strutted around the pool like this for about ten minutes, all, "You think you're gonna throw me in the pool, huh? I'LL TELL YOU WHAT HAPPENS WHEN YOU DO THAT. YOU'LL BE PICKING PINE NEEDLES OUT OF THE COUCH FOR A YEAR, THAT'S WHAT."
Every time Monkey or I swam to the edge and called her, she fixed us with a steely look of pure derision. And went and rolled in something else.
She totally showed us, is the point.
Kind of.
I mean, the final indignity was yet to come.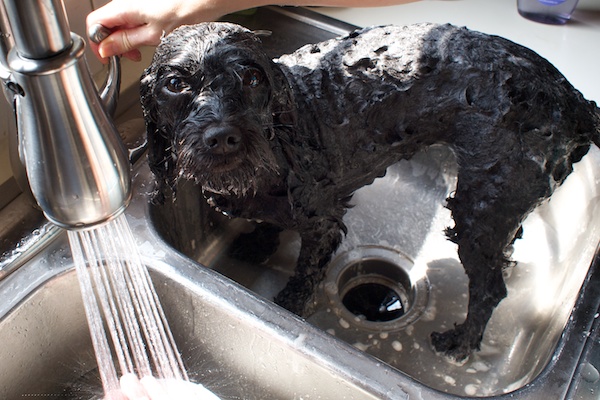 She smells like lavender, now. And that's a good thing, because I'm hoping it means I'll be able to smell her coming when she arrives to kill me in my sleep.