Christmas has already been completely ruined, and we still have five days before the actual holiday, so I'm thinking this is some sort of truly awesome record for Maximum Suck.
The Plan was that the kids' dad would pick them up on Saturday to fly north; Otto and the dog and I were to follow the next day, driving up to my folks in New York; the kids would spend a week with their dad, we would work our way Boston-ward for Christmas, and then on Christmas Day we'd get the kids back, they'd have time to see the New England relatives, and we'd head back through my folks' place again on our way home for some quality maternal grandparental time.
In reality, the ENT said he thought it wasn't a good idea for Monkey to fly with a head full of goo (gee, ya think?), and Chickadee outdid herself by running a fever of at least 102 for the entire last week, so it was unclear that she'd be healthy enough to fly in time. So no one flew. And Otto was so sick it wasn't clear we could drive, either, so no one drove. We're all still here.
Now everyone is just better enough get on everyone else's last nerve.
Today it seems ridiculous that we're not going, because everyone is mostly healthy, though I am still feeling just kind of off and waiting for this stupid flu to hit me full-force. But the complication of trying to coordinate with a far-away parent is that "playing it by ear" is often not an option. The kids' dad has to plan his vacation days, and when we were busy canceling flights I still had a houseful of sick people, so I couldn't reasonably promise we'd drive up at any specific point.
That left my ex with the task of buying a whole new set of plane tickets if he wanted to ensure seeing the kids, and he was remarkably understanding about the whole thing, so I didn't feel like I could argue with the new plan, which is that he'll pick the kids up on Christmas Eve, and return them a week later.
Sure, it'll be my first Christmas ever without having them for at least part of the day, but flights are flights and it's a huge unexpected expense and I wasn't going to split hairs just because I was sad about it.
The more complicated issue that it presents is that now we basically CAN'T drive up; we can't leave before the kids do (nor would my ex be pleased, I suspect, if we drove them up after he just spent all that money on tickets), and with them being gone for just a week we really don't have enough time to drive up, see people, and get back before them. So apparently we're not going anywhere.
In the meantime, Otto started talking about trying to make the drive anyway—maybe we could just drive straight through and make it one day each way!—and I don't see that happening without us drugging the dog and possibly ME, as well. Plus I know that if we go, assuming I've dodged the flu, that I will get sick approximately six to ten hours into the journey. That's just how my life goes.
["The advantage of driving is that if you get sick we can just come back!" insisted Otto.
"The advantage of driving is that if I get sick, I'm SIXTEEN HOURS ON THE ROAD away from my own bed! Awesome!!" I replied.]
This morning I tried to buy Otto some plane tickets to fly up and see his family, and it ended in a huge argument, as most of my attempts to do nice things for someone else do. Because he cannot possibly go without me! He'd be completely miserable! And I may have called him a big baby. And tried to explain that I already feel completely guilty about, oh, EVERYTHING, and just wish he would take a couple of days to go so that at LEAST I would know I hadn't ruined everything for him. Otto and I rarely argue and so when we do we both get all puffed up with self-righteousness and fury and I need a nap. Oy.
Anyway. Christmas is ruined, but last night we (finally!) decorated our pitiful little fake tree, because both kids were finally healthy enough to do so.
And despite the fact that I will be without my kids on Christmas, and our trip is ruined, and my husband is apparently very angry at me for not taking his "I cannot possibly spend part of this vacation without you" protestations seriously, there is one Christmas tradition that will always cheer me up just a little: Licorice is convinced that our Playmobil nativity set is delicious.
Understand, this dog has destroyed NOTHING in our house. In the year and a half that we've owned her, she has gotten into food that was left a little too close to her exactly twice. She has chewed up nothing else that didn't belong to her. She doesn't take things that aren't hers, and only chews toys she's given. So her obsession with the nativity is a mystery, but she did exactly the same thing this year that she did last, which is to say she was VERY INTERESTED in the entire thing—as the kids spread it out on our side table—but went STRAIGHT for the Baby Jesus.
Baby Jesus' head is exactly the same size as her kibble. I don't know if that's the attraction. Maybe?
She sniffed and licked and looked OH SO GUILTY, and didn't actually TAKE Him, no, because she knew she wasn't supposed to.
I removed Jesus from the manger and held him up in front of Licorice and tried to explain to her that HE IS NOT FOOD. With the tiny, enticing morsel poking up from between my fingers, she dared to try to slurp his head into her mouth, gently biting around his neck with her now-toothless front gums, giving me a pleading look that said, "All I want for Christmas is some Baby Jesus Snacks."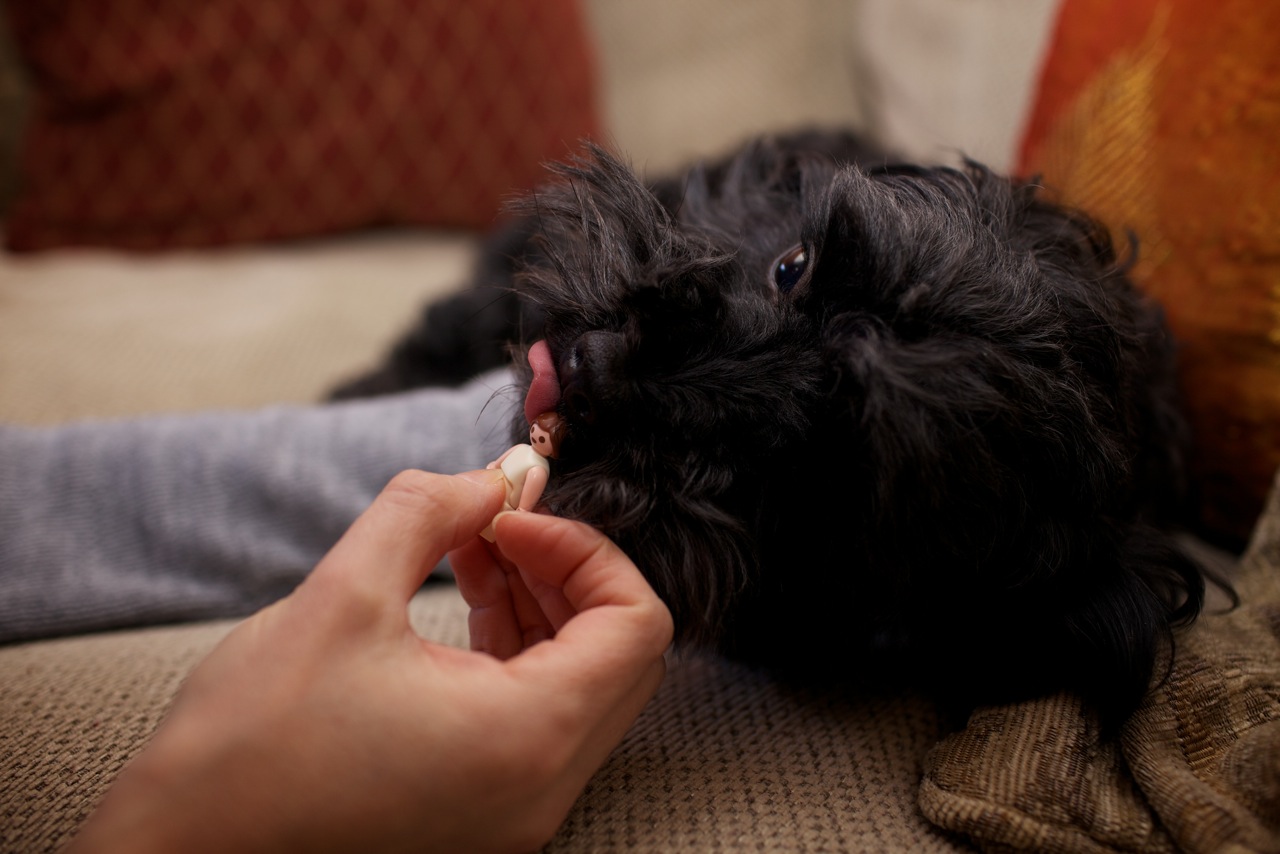 Eventually—when I refused to let go of Him—she heaved a mighty sigh and lay her head down on the couch, still looking a bit sad and filled with longing, and I rubbed her head and told her I know how she feels.
(But not because I want to eat Baby Jesus. Just so we're clear.)