Let's get this out of the way right up front: I'm a sap. I'm aware; no need to point it out. I choose to believe that awareness of my penchant for treating the dog like a toddler mitigates whatever degree of crazy comes along with that. Ahem. Don't bother telling me it's not true.
So. Tomorrow we celebrate one year since Licorice came to live with us. Chickadee has informed us that tomorrow is our Doggiversary, but that today—her 365th day with our family—is Day of the Dog.
It seemed wrong to explain to her that EVERY day is Day of the Dog, 'round here, and Licorice is our household's equivalent of the spoiled baby, doted upon and adored by all. Sadly her lack of opposable thumbs leaves her unable to exercise the pinchy hand that would best enlist us to do her bidding, but her unbearably cute face seems to get her message across, nonetheless.
After nearly a year of begging, we have recently relented and now allow the dog to sleep in Chickadee's room. This has caused some minor problems with Monkey, but so far he accepts our explanation that 1) his bed is too high for her to get on and off of safely in the dark and 2) his (twin) bed and sleep-flailing ways are not as safe as Chickie's (queen) bed and sleeping-like-the-dead routine. I see no reason to further point out to him that his idea of "loving the dog" often includes "squeezing her to within an inch of her life" and I'd rather not leave them alone all night long for his special brand of affection.
So it used to be that Otto would take Licorice out for the last potty-stop of the night, and she would then come inside and make a beeline for her crate. She'd wait patiently for Otto to hand her a treat and close the door, and then we'd all go to sleep.
Now she comes in from that last trip and runs up the stairs and waits at Chickadee's door. But if I am not RIGHT THERE to let her in, she comes looking for me. And because I've been fighting this yucky cold this week, where I am, most often, is already in my bed. So she comes FLYING up to see me, licks my sinuses with fervor, and then curls up beside me until she hears Otto coming.
Now, Otto is a sucker for this pup as much as any of us—despite any toughguy assertions to the contrary—but she knows that Otto coming may well mean she's about to be stuffed in her crate. So as soon as she hears him approaching, she panics. And I'm sorry, it's mean to enjoy it, but it's hilarious. I mean, have you ever seen a 13-pound dog try to become invisible?? Her ears prick up when she hears him, and then she goes all boneless and flat and either burrows under the covers or just tries to lay sort of under me where she can't be seen. It doesn't seem to occur to her that my hysterical laughter at her antics renders me not the greatest camouflage.
Still, Licorice doesn't move until Otto ascends the stairs, and she feels confident he's about to let her into Chickie's room. Then she scrambles up again, leaps off the bed, and runs upstairs before he can change his mind. Heh.
If you dare not to pay her the attention she craves, she politely sneezes… once, twice, maybe a third time if you're really playing hard to get. Then she smiles and cocks her head, as if to say, "Who, me? I was just sitting here, being adorable. And also starving to death, you know."
The timid, voiceless, half-hairless dog who came to us a year ago now stands guard and barks ferociously when the UPS man dares to approach the house. Her fur is thick and shiny, due partly to premium dog food and possibly also due to her penchant for carrots and apples. Other dogs beg for meat; Licorice goes INSANE if you sit down with an apple. And Otto scoffs at how spoiled she is, then feeds her half his apple when he thinks no one is looking. AHEM.
She jumps and prances and plays like a puppy, despite the months of disinterest in the toys we kept giving her. One day it just clicked, I guess, and then… let the destruction begin. No toy is spared; they must all undergo the emergency squeakerectomy, then the merciless limb amputations, and finally, the reduction to just a pile of fuzz. The ferocity she displays in these dismemberings is all the more hilarious to me because she has never chewed on anything that doesn't belong to her.
In short, the dog who we were warned "might never play" has morphed into a goofy, playful, confident member of our household. It's hard to believe she's only been here for a year. Nevertheless, today I pledge to give her a new tennis ball, take her for a walk, share my popcorn, AND let her sleep in Chickadee's bed. That's pretty much Puppy Christmas, right there.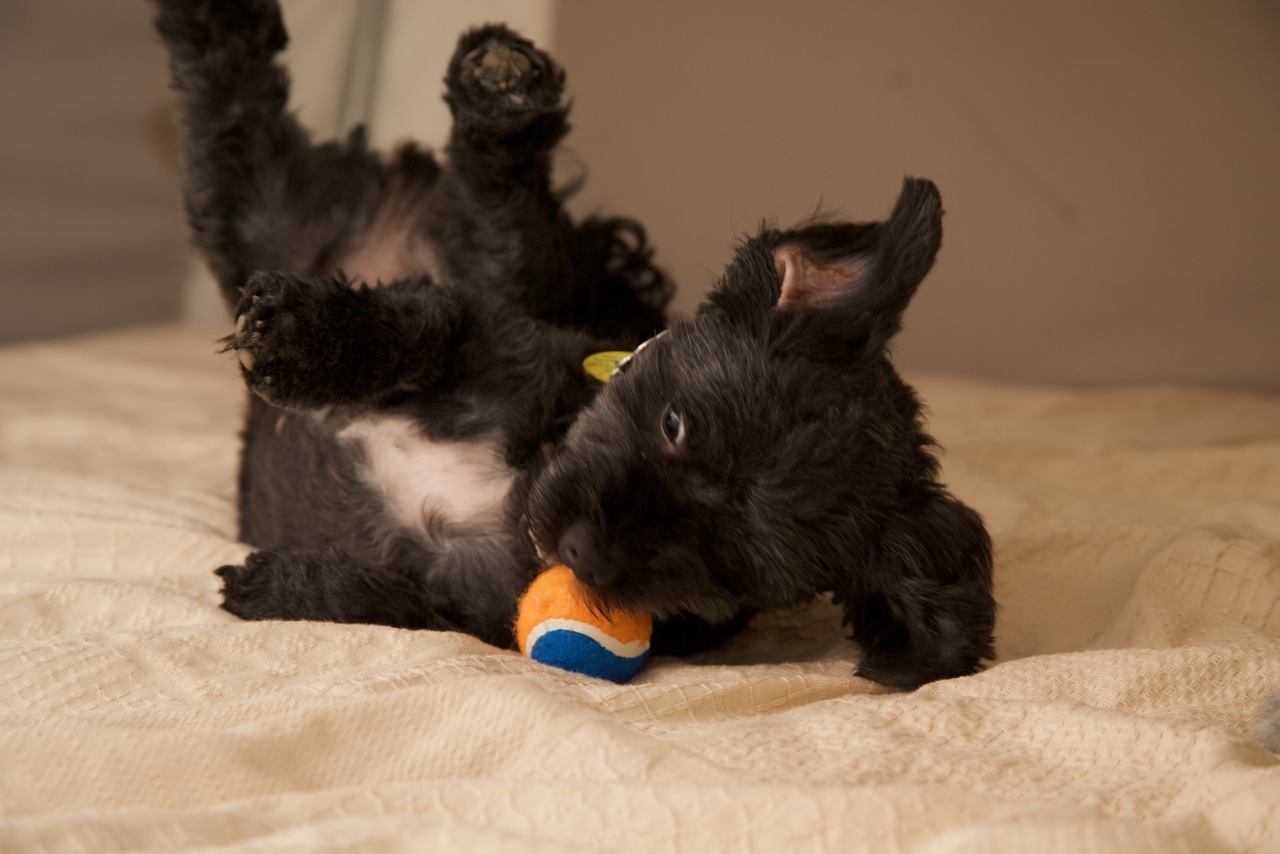 Happy Day of the Dog, Licky-Loo. You may be "just a dog," but there's no one else I'd rather have put their tongue in my nose.