My goodness, is it Sunday afternoon already? I scarcely noticed, and that's because I have ONCE AGAIN been sucked down into the swirling maelstrom of suckitude that occurs every time I pick up a damn paintbrush.
[You: Aren't you done talking about painting, yet?
Me: Shut up and go tape that corner.]
See, I thought I was done in the dining room because "touching up" the trim was only going to take a few minutes. HAHAHAHAHAHA. HA. HAAAAAAAA.
*sob*
Oh, it's fine. Really. I mean, I am going to finish painting the trim this weekend EVEN IF IT KILLS ME, and I am not at all bitter that Otto can't help me with this. Really.
My husband has MANY MANY MANY fine and outstanding traits, but what remains to be done in there involves teeny paintbrushes and tiny edges, and when "WE" started painting something happened in "HIS" corner—he was painting while sitting in a vibrating chair, perhaps? I don't know—that caused me to say, "Darling, sweetheart, soulmate of my dreams, I love you beyond all measure. And if we want to keep it that way I need you to put down that paintbrush and get out of this room immediately." He obliged (very quickly, I might add) and after I'd had enough time to cool down (aided by his helpful farewell mention of how that's the corner where the linen chest goes, so really, that will all be hidden) he came back to keep me company while I touched up the tiny facing edges of the baseboards.
No, I couldn't tape. Because there are now roughly 80 layers of paint involved, there are great crags of paint here and there which must be gently dabbled around while inventing new curse words under my breath.
Anyway, Otto came and chatted with me, last night, while I worked, inch by painful inch, and by the time I'd worked my way around to where I'd started, I looked up and realized that it was well after midnight. Whoops!
We went to bed and I dreamt of moving into a house that was completely covered with layer upon layer of lousy wallpaper, and I woke up and started to tell Otto about how horrible it was, and he laughed because HELLO, THAT'S THIS HOUSE.
Oh. Yeah.
So today I've been doing similar touch-up on the chair rail, and I repainted the baseboards in their entirety, and I did one doorway. That means I only have THE ENTIRE FREAKING CHAIR RAIL and one more doorway to go. Hooray!
The point is, I've been a little busy. On the up side, I've invented some REALLY GOOD curse words.
Yesterday I did take a break from painting the dining room to paint my eldest. Remember how I promised her pink hair and then utterly failed to deliver? Yeah, HER TOO. Anyway, I ordered the appropriate dye and yesterday we played salon. She's delighted, and I must say, I am, too.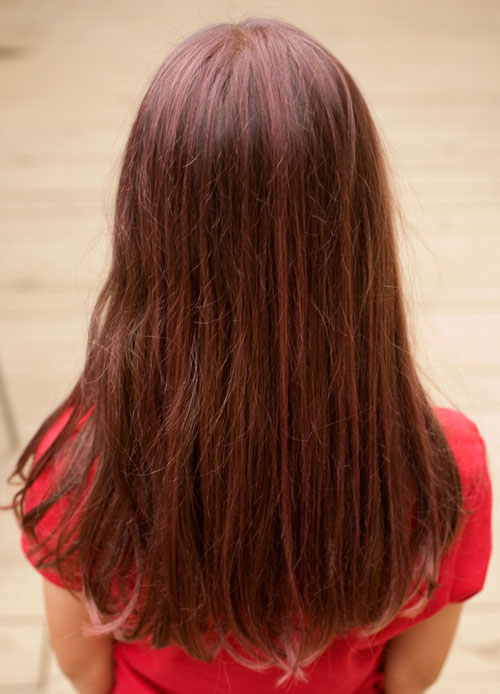 I'm really not cool enough to allow her to bleach out her hair, first, allowing for a brighter (and more permanent) result, but it's definitely pink—enough to be noticeable/different but not enough for people to give me disapproving stares at Publix. I hope.
Also, you'll be pleased to know I didn't swear AT ALL while coloring her. Possibly because I am much more fond of Chickadee than I am of the chair rail.