This is the part of our story where the children have returned, and Otto has returned, and the cartoon bluebirds sing and all is well and easy and back to normal, hallelujah and amen!
Except that this is ME, so nothing is ever that easy. Of course. Really, that sort of tranquility would make me highly suspicious, anyway.
So have I ever told you the story about how I am a wee bit impatient when I get a bee in my bonnet about redecorating and home projects? It's true! I can see that you are astonished! But yes, occasionally once the decision has been made to do something, I am not so good with the whole waiting thing. Why, I once rearranged all of the furniture in my living room single-handedly (including a sleeper sofa that weighed at least a thousand million pounds) because my husband told me he'd help me with it "later." LATER is no good. I have an idea, I have a VISION, I need to ACT! You know, before the lethargy sets in.
Before Otto left for California he told me "not to worry" about the dining room—we could finish working on it when he got back. Nineteen years that man has known me, and he says something like that. As IF.
Naturally I made it my mission to finish the dining room before he returned. Because it would be a nice surprise, and also because I COULDN'T STAND TO LEAVE IT UNDONE. And Otto really did a tremendous amount of work with me before he left, too… we'd handled three layers of wallpaper and two layers of primer and troweled on two layers of Venetian plaster. Really, how hard could it possibly be for me to do the topcoat and then the portion of wall beneath the chair rail?
As anyone who's been reading the last week already knows, that turned out to be rather a lot of work. BUT I DID IT. Because I love Otto! Also because I suffer from a strange strain of home improvement OCD. (Must… Finish… Room!)
The topcoat for the Venetian plaster, as it turns out, is ALSO supposed to be applied with a trowel. But in a VERY THIN layer. Let me tell you how applying a thin layer of topcoat over a textured wall works with a trowel: NOT AT ALL. So I grabbed a paintbrush and did a dry-brush technique to get the topcoat on, which is to say that I painted tiny little Xs—back and forth, back and forth—over an entire room until my wrist broke and my hand fell to the floor. I then had to tape a paint roller to the bloody stump of my wrist so that I could continue painting the lower part of the wall with Fairmont Hotel Impossible To Coat Evenly Hahaha Sucker Midnight Blue. That is dedication, right there.
Anyway, I got it DONE, is my point. And yesterday—after the kids were home, but before Otto got back—my sickness deepened a little and it occurred to me that I should really remove all of the tape before Otto returned, so that he could see how BEAUTIFUL the room looked.
Now, fortunately, I'm no dummy. I knew the tape needed to be CUT off, lest I rip large portions of the fresh wall paint off. So I set to work on a stepladder with a utility knife (always a good combination, a clumsy woman perched on a ladder with something sharp!), slicing and pulling, slicing and pulling. I was prepared to be UTTERLY WOWED by the room once the tape was down. Yes.
Well, I was… something… once I got the tape down. See, I made a few interesting discoveries:
First, that in a few places the tape had just plumb come up or buckled, and I'd slopped paint on the trim. Navy blue paint. On white trim. I'm sure that'll be easy to cover, right? Ha. Hahaha. Ha. Hmph.
Second, that the previous owners/painters had slopped maroon on the trim, leaving me, now, with a navy wall and maroon-striped trim. Behold:
(See the bottom of the chair rail? Isn't that attractive? But feel free to tell me how utterly WOWED you are by the plaster. One part paint, one part goopy plaster, fifteen parts a proprietary mix of curse words and tears, that.)
Third, that the plates to cover the light switches are so small that by not going RIGHT up to the metal, I have left an area that will not be covered when I put the plates back on: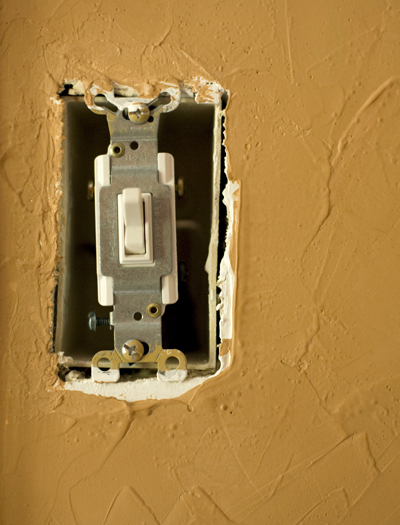 (I could go back in and patch that little bit, or I could buy new switch plates. GUESS which one I'm opting for?) (Also, air bubbles much? I would care but I'm over it. Those were totally intentional! Light and airy, that's me!)
To his credit, Otto walked in there and oohed and aahed and assured me that it all looks great. I think he might have suffered a bit of brain damage in California, or maybe he was afraid that I would cry if he didn't say nice things.
So, yeah. It's fabulous, really. Except that now I have to go back and sand and paint the crown molding, the chair rail, and all the trim. PLEASE KILL ME.
In other news—no doubt because I am so deeply pious when it comes to painting, and God wants to reward me—my daughter has returned from this last trip with a bad case of the Creeping Crud. Her elbows and the backs of her knees and some other spots on her legs and a part of her body I am probably no longer allowed to mention here on the blog, even to say that I used to love to pinch it, are covered in what looks like tiny warts. IT IS HIGHLY ATTRACTIVE. Also, it's terribly itchy. So I have been slathering her in moisturizer and cortisone cream, but clearly she needs to be checked by a doctor.
So I called the doctor first this morning, and they told me to "bring her right in." At which point I had to say that actually, haha, even though she might have some contagious sort of ebola or something, I had taken her to Vacation Bible School and she'd be done at noon, so could we come this afternoon, instead?
Maybe Jesus will heal her while she's there. You know, between the singing and snack time, maybe. Because Jesus LOVES the little children, even when they are covered in creeping crud, and even when their mothers suffer from Obsessive-Compulsive Painting Disorder.