Time has ceased to have meaning, right? It's not just me? When I sell things on Poshmark (woefully infrequently, these days, because who needs clothes when we're all hanging out at home in our sweats?) and get them packaged up, I always include a thank-you note. Because I store my Posh stuff in the room where Monkey hangs out and plays video games, it's typical for me to ask him to tell me the date, as he is surrounded by devices and can usually find it faster than I can. This morning I was packing something up and asked him to tell me the date while I was writing out my little thank-you card. "It's the 24th," he said. "Of June." I laughed and told him I knew what MONTH it was, silly, but I do understand why he felt the need to clarify.
I totally know it's June. I've got it. I've got it so completely, I predict I will continue to believe it's June for at least the first week of July. I like to COMMIT to hard-earned knowledge, you know.
Of course summer is no different this year in so many ways, as we continue to mostly be at home and have spirited debates about whether we TRULY need to make an extra grocery run before the slated 2-week mark has been reached or if we can simply live without various random food or personal care items for a bit longer. On the other hand, it IS summer, and there are a few things which make it unique.
For example, it is quickly becoming Georgia Hot outside, which is that DELIGHTFUL environment where there are simultaneous feelings like your skin is on fire AND ALSO underwater, thanks to the humidity. Now, I keep my ("thick and curly" a.k.a. "expansive and bushy") hair relatively long and don't get haircuts all that often, but owing to everything having been shut down for so long and having kept it a bit longer than usual after my last cut, my hair was reaching a crisis situation. We're talking randomly-gets-caught-in-my-armpits kind of length, which—coupled with the spike in temperature—was becoming unwieldy. I think I wore my hair up in a giant, messy bun for about sixty consecutive days in a row, and even then just having it all piled on my head was SO GODDAMN HOT I couldn't stand it.
My regular salon declined to open back up when the governor first said they could, which I appreciated, but they did recently reopen with very stringent safety measures in place, so out of desperation (and Chickadee repeatedly offering to cut my hair for me, which was a little scary) I finally made an appointment. They not only took my temperature at the door, they made me fill out and initial in about twelve places a form releasing them from liability if I get COVID even though everyone in the place was masked up and stations were spread out, etc. It felt like a Big Deal, is my point, but I have been home 99% of the time since this all started and I was SO EXCITED to finally get rid of some of this heavy hair. So. My stylist—whom I've been seeing almost since I moved here, so a LONG time—asked what we were doing and I said, "I dunno, I trust you. Cut it up to my shoulders, maybe?" That would've been about 6-8 inches off, so a whole bunch, already.
She set to work. I diddled around on my phone. I noticed there was really QUITE A LOT of hair on the floor around me. Anyway, long story not much shorter—though certainly not as short as my hair—my hair is now up to my CHIN. I haven't had it this short in forever, and I can juuuuuuuuust barely fit about half of it into the tiniest, stupidest ponytail in the history of hair if I pull on it REALLY HARD. I was… surprised. I am still getting used to it. And I can't get too worked up about hair, y'know, because it grows. But. That's the first time I felt like my stylist didn't listen to me, so that was kind of a bummer. Also I am afraid I look like I want to ask to speak to your manager, but Otto and Chickadee both assure me it looks great. Then again, I cook for them, so who knows.
If I spend more than 5 minutes outside it poofs out into an impressive afro. On the bright side, I am using a lot less in the way of hair products. So. Yeah.
Another marker of summer is that we open the pool back up, which felt really important this year as we are all bored out of our minds and figured maybe we'd use it more since we're all here, anyway. Otto and I pulled the cover and did all the other pool-opening things—including his favorite ritual of immediately sending pictures of the algae-filled water to friends with the caption "WHO WANTS TO GO SWIMMING?"—and in a few days the pool was ready for use. This of course means we've added "clean the pool" to our daily chores, and I will often go out in the morning to check on my garden boxes and then go ahead and vacuum out the pool before it gets too hot out.
As usual, every morning seems to mean finding at least one frog in the water left over from the previous night's Amphibian Orgy, but most of the time those finds are still alive and they can be scooped out and freed. Sometimes the frogs are dead, which makes me sad. And then one morning I went to empty the filter basket and there was a dead mouse swirling around in the water and I decided that Otto is home all the time now and I really have my hands full with… whatever it is I'm doing… and I should maybe leave the pool cleaning to him.
This turned out to be a wise decision, as the very next day Otto—who gets up much earlier than the rest of us—sent this photo to our family group chat: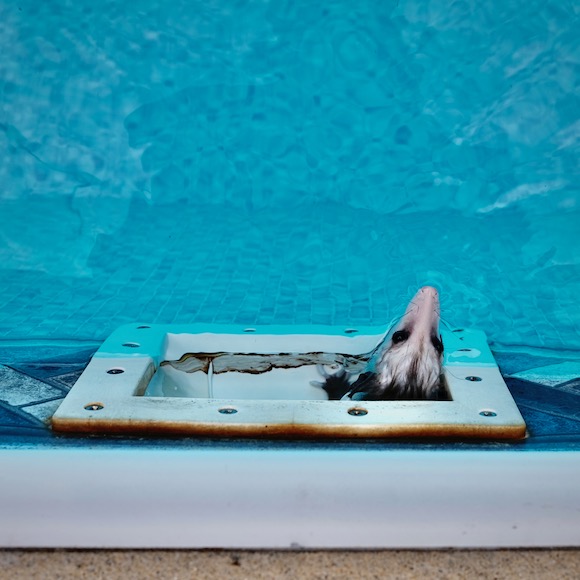 Do not regale me with your tales of how misunderstood the possum is and how he eats ticks and other things and is super great, because I can assure you that having a wet, angry, tired possum in your pool is one of Dante's circles of hell. This poor little guy must've fallen in, and couldn't get back out, but neither did he want to be scooped up in the pool skimmer, and also THERE WAS A HISSING POSSUM IN MY POOL. Otto is a freakin' rock star and managed to get it out and, um, on its way (translation: hurled over the fence), but I am still scarred and I wasn't even there.
My gracefully sprained ankle I mentioned last time got a little worse and I ended up getting it checked out, and thankfully it didn't need surgery, though I did end up in a boot for a while and then a smaller splint. It still hurts nearly two months out but not as much as it used to. I think… no, really… I THINK I might be getting old. The orthopedist told me it may be a slow recovery and he wasn't wrong. Blargh. 70% of the time it's fine. 30% of the time I have the audacity to bend it more than usual and it reminds me that I messed it up. I'm doing my little physical therapy exercises and swearing at it a lot, which seems to be helping. (The exercises are, at least. Jury's out on the swearing, but who knows.)
The kids and I all had a brief bout of malaise and low fever and we, naturally, panicked and assumed the worst, but COVID testing was negative and a few days later we were all fine again, so who knows. It's so dystopian-novel-esque to be living in a time where the slightest sniffle sends us scurrying to our nearest test center with dread, but here we are. (Also we have barely been out, so someone explain to me where/how we got sick with ANYTHING, please. Also how Otto didn't get it, though he swears it's because he drinks orange juice every morning.)
The rest of life is sort of more of the same from when I was last here: sourdough, random baking, mask-making, and cleaning things out. Chickadee is getting ready to fly the coop for real in about a month (*sniffle*) so we are spending a lot of time digging out her room, sorting, donating, cleaning, etc. I also spend a lot of time saying helpful things like, "Is there anything that's come into your life that you didn't hang on to?" and "How about I just shovel this pile directly into the trash?" I am joy personified, truly.
I hope you're staying safe and doing well. I realize this was all fluff during a fraught time, but it's all I can manage for now. 2020's dumpster fire is exhausting and sometimes I just have to complain about my hair instead of, say, trying to convince jerks that oppression still exists and needs to be rectified. (P.S. Happy Pride month, and Black lives matter. Obviously.)