Haha, remember how a couple of weeks ago I was all WOOOO CORONAVIRUS I'M DISTRACTING MYSELF? Welp. I've now been "socially distant" for eight days (not that I'm counting…) and as of yesterday we've gone from "social distancing" to "mandatory shelter-in-place" so hooboy, I do like hanging at home, but I don't so much like the whole feeling-like-if-I-don't-we-all-die version of it. We now have local friends who are sick and waiting on the results of their COVID-19 tests. Shit, as they say, is getting real. 0/10, would not recommend.
In the meantime, two out of four members of Casa Mir are becoming noticeably twitchy as a result of not being allowed to be with other people (one because of extroversion, one because we are The Worstâ"¢), and the Internet speed in our neighborhood has slowed to a crawl because everyone is home and binging Netflix. Although I'm home more often than not, even I find myself fantasizing about, oh, I don't know, going to the thrift store just to poke around. (The good old days! A couple of weeks ago!) We have been getting outside to walk most days, but it's also Pollen Season so that presents its own challenges.
I am still attempting to distract myself, but these efforts are now taking on a noticeably different format than before.
In no particular order, ways to keep yourself occupied during shelter-in-place when you are a Very Anxious Human:
Go for lots of walks. So yeah, the pollen is actually leaving a thick layer of yellow sludge on everything and I'm asthmatic and this is probably not as healthy as it could be, but whatever. Go! Walk! Get out of the house. Also, feel smug that you upgraded your stupid dying dog from a wagon (heavy and not particularly ergonomic to pull) to a full stroller: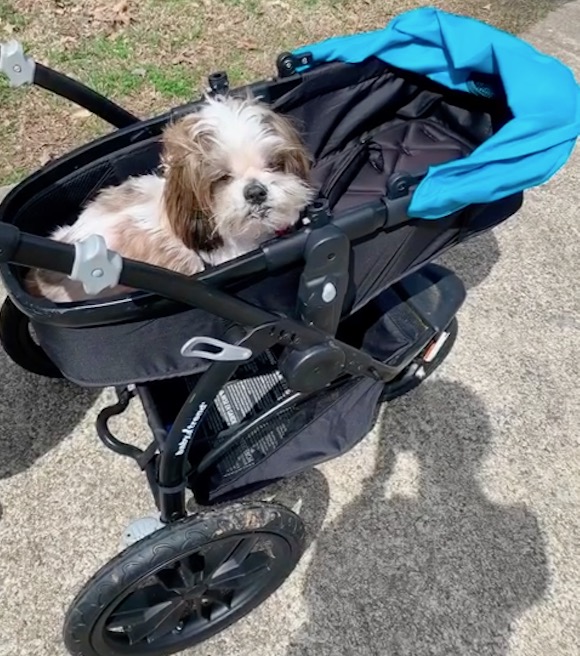 This seemed like a great idea right up until yesterday, when Duncan decided about a mile from home that He Did Not Like The Stroller, Sam I Am, and we kept taking him out and letting him walk a little, but his lungs are still compromised and it's pretty warm out, so he would start breathing really hard and we'd put him back in the stroller, and then a few minutes later he'd be agitating to get out again; lather, rinse, repeat. We will perhaps leave him at home napping today, instead.
Feed your dogs lots of treats and remind them that they are not itchy and not dying. Licorice is overdue for her monthly anti-itch shot and Duncan was in true respiratory distress yesterday by the time we got home, and I find it productive to sternly remind them both that they are fine, just FINE, here, have another treat, come get a snuggle, please stop scratching, stop wheezing like an 80-year-old smoker, EVERYONE IS FINE, DAMNIT. Your mileage may vary.
Clean things! Goodness, when did this bathroom last get scrubbed? When's the last time I wiped down every doorknob in the house? Who has laundry? WHICH DAMN DOG PEED ON THIS BLANKET? Oh come on, WHO BARFED? Golly, forced quarantine is a great time to come to grips with how disgusting our lives normally are. Also, I don't know what's happening at your house, but here at my house I swear I am spending at least half of my waking hours loading or unloading the dishwasher. Having everyone home all the time means our family of four somehow goes through 3,000 cups every day, plus a smattering of plates and bowls, but never the large plates, only the luncheon size ones, because reasons. (No, I don't know the reasons, really.) For added entertainment, finally try one of those HE washing machine cleaning tablets to see if it cures the washing machine of the faint funk smell (it will not, but this is a good way to burn some time).
If you are a reader, now is an excellent time to get pissed at all your books. Lord, to have the time and freedom to read for hours on end without apology… it's a dream come true for me. Sort of. I was going to read my next book club book even though book club is canceled, and I cannot find it. I ordered it, I received it, and… it must be here in the house somewhere, but despite looking in the same five places over and over, I can't locate it. Okay; fine. I'll read something else. I started one book and three chapters in decided I couldn't do it. That's fine; I have plenty of books. Oooooh, I heard John Green speak and got a signed copy of Turtles All The Way Down and never read it. I'll read it now! I'll… definitely… I think I put it… GODDAMNIT. (I can't find that one, either.) Eventually I ran across Chickadee's copy of The Female Persuasion and I'm about halfway through that, now. Maybe I'll find the others by the time I finish this one.
Have a snack debate with yourself. Being home means being snacky, but who knows when availability of food is going to really clamp down? (We stocked up ahead of the panic, and at least so far, we are allowed to run to the store periodically, but are trying to avoid that as much as possible.) Should you eat this delicious food now, or wait because it might be something you'd be more grateful to have in a week or two? Hmmmm. It's like Sophie's Choice, but with peanut M&Ms. Also I have given up keto because if we're all going to die, I am going to eat oranges and bananas and apples while I wait, for as long as we can get them.
Cook! Now is the perfect time to reinstitute the family dinner. I mean, unless your adult children are picky eaters and/or keeping bizarre schedules, in which case now is the perfect time to cook for your own amusement and your husband's gratitude because there's no way in hell everyone is sitting down together and all eating the same thing. Ahem. Still, muffins aren't going to bake themselves and even if the kid who requested lasagna now swears it's "not a lasagna mood," you still make a pretty mean lasagna. Also, the same kid will ask why it's sometimes spelled "lasagna" and sometimes "lasagne" and you will not know the answer, but that's an interesting question.
Yell at everyone to wash their hands. For added neuroticism, also insist that anyone who left the house and went anywhere containing other people immediately change their clothes when they get back, too. That won't make you seem crazy or alarmist AT ALL. Trust me. I'm a doctor. (I am not a doctor.)
Go online and learn how to make medical face masks. Once you get the instructions, go to Amazon and look around forever for the right kind of elastic that will ship in less than a month. Trust me, this will take PLENTY of time. (Or I can save you some time: I was unable to find the right size of flat elastic available any time soon, so ended up ordering a spool of this.) We have gobs of fabric swatches here and once the elastic comes we can make some masks to feel like we're actually doing something.
Go online and learn how to express your dog's anal glands. I'm kidding. Please don't do that. I did, because I'm a moron, and I may never recover.
Pluck and clean your dogs' ears. Oddly enough, Duncan didn't care, but I think Licorice may never recover.
Catch up on Grey's Anatomy. This provides the opportunity to yell at your television a bunch while witnessing medical drama that's only slightly less ridiculous than what is happening in the world for real. Very therapeutic. Also, I recommend watching with subtitles on, because it's infinitely more entertaining when you see things like "*clicking tongue*" and "[sounds of dripping water]" while watching.
Anything else that keeps you occupied. Seriously. I wholeheartedly endorse whatever is keeping you sane right now, full stop.