Man, what a long, strange winter break this has been. Monkey goes back to school tomorrow, and I feel like we have simultaneously been both on break for several months AND like he just got out of school yesterday. Everything is off-kilter. We didn't celebrate Christmas until the 28th (scheduling issues); Chickadee was home from campus pretty early in December, but has had her own schedule of events in which the rest of us are relegated to cameo appearances; the pervasive feeling of not-quite-real that's been clinging to everything since November has only intensified.
Everything just feels WEIRD. I keep waiting for "normal," and normal never comes. I've been here before, of course, but this particular round of WHAT IS LIFE, ANYWAY? seems like the longest and strangest, yet.
New Year's Eve came and we played Cards Against Humanity and made root beer floats and wished each other a happy new year when the ball dropped at midnight. I also commented aloud that just ONCE I'd like to see said ball break free at the last moment and plunge into the unsuspecting crowd—I thought I was being funny! Because HAHA!—and the menfolk glared at me in horror and Chickie promptly inserted my not-so-quotable moment into her Snapchat story. I'm not sure how to feel about any of that.
And then it was New Year's Day, and time for vision boards.
Longtime readers may recall that my first stab at this yearly project was begun with scoffing and completed with a "oh hey, wait, this is actually kind of cool." That was six years ago, and I've made a board every December 31st/January 1st since then, with Chickadee joining in the last few years. I subscribe to magazines I never look at—I put them in the Vision Board Pile all year long, for the express purpose of pulling them out at year's end and getting the scissors into them.
This year, Chickie sat down with me and our giant stack of magazines and… flipped through a few, before declaring she was uninspired and thought she might not make a board this year. I didn't push. She continued to hang out with me while I worked on mine, giving me some guidance on overlapping and placement once I got to the "arrange it on the cardboard" part. Once it was done, I looked at it and thought that from a distance it probably doesn't look so different from the previous six boards. But it looks—feels—very different to me. (Click to embiggen.)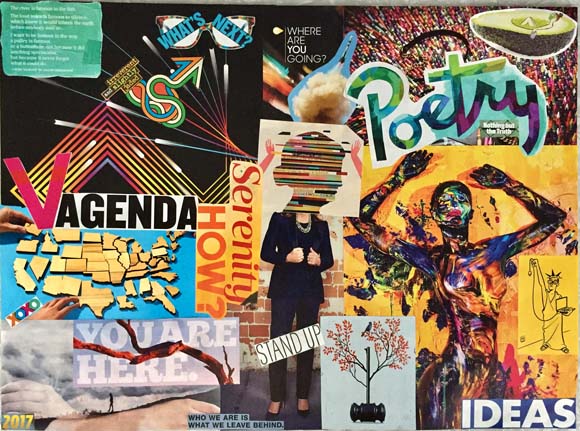 All of my previous vision boards have been about personal goals/wishes/projections, and I'm not saying there's anything wrong with that. I've found a lot of value in the process, over the years. But this year as I let the magazine pages flip through my fingers and catch my attention with pictures and words here and there, I ended up with something that feel more about the world and less about me. It's been that kind of year, I guess.
I'll leave you with the poem snippet in the upper left corner, because even in the large version, I think it's a bit hard to read. This is this coming year, for me.
The river is famous to the fish.

The loud voice is famous to silence,
which knew it would inherit the earth
before anybody said so…

I want to be famous in the way
a pulley is famous,
or a buttonhole, not because it did
anything spectacular,
but because it never forgot
what it could do.

–from "Famous" by Naomi Shihab Nye
2017: I want to be a buttonhole.