Go ahead. ASK ME IF THE BATHROOM IS DONE. Or don't, if you don't want to see me weep. (Long story short: The tile guy has been working SO HARD, and he is so nice and so earnest and he WORKED ON SATURDAY and I hate that we had to point out that the floor is uneven and the lines in the shower are not plumb. He is now upstairs grinding out the tile and presumably fantasizing about my untimely death.)
Anyway. The bathroom is a special kind of sadness, right now. So I baked cookies one day and then this cake the next day, because sugar and flour fixes everything, right? I hope so. I had a bunch of over-ripe bananas and then I had a vision of a slightly spicy, tangy, banana-y cake. I ended up with this:
My hopes were not entirely realized, which I'll get to in a minute, but it was cake and people ate it, plus the helpful feedback I received informed the recipe tweaks that hopefully will make it into something closer to what I'd wanted in the first place. And either way, it's still better than uneven tile in your bathroom, so there's that.
My recipe is based on this recipe for a banana, lime, and coconut cake, but as I was baking for a picky bunch I knew I didn't want to use flaked coconut, plus I wanted to add ginger because I love ginger in a way that is likely abnormal and I love love LOVE the spicy zip it gives to desserts. Also, the original recipe was for a single layer, and I knew that wouldn't be nearly as nerdtastic for a gaggle of hungry gamers as a double-layer cake. So! Here we go.
GINGER-LIME BANANA CAKE (adapted from the above-linked recipe)
Ingredients
For the cake:
4 large eggs, room temperature
zest of 2 limes
4 TBL fresh lime juice
1 TBL fresh grated ginger
1/2 cup milk
1/2 cup sour cream
6 large bananas (very ripe, mashed)
3/4 cup unsalted butter, room temperature
1/3 cup coconut oil
2 to 2 1/2 cups granulated sugar (to taste, depending on banana ripeness)
4 cups all-purpose flour (I might try cake flour next time)
1 tsp baking soda
For the frosting:
1 8-ounce brick of cream cheese, room temperature
1/2 cup unsalted butter (one stick), room temperature
zest of 1 lime
2 TBL fresh lime juice
2 to 3 cups powdered sugar, sifted (to taste)
Prepare
Preheat oven to 350 degrees, and spray two 9″ round cake pans with cooking spray. I also lined the bottoms of the pans with parchment paper rounds (and sprayed again) because the original recipe called for parchment and a springform pan and I was really paranoid that the cake would stick. It popped right out, so the parchment may be overkill, but I'd probably still go ahead and do it.
Make the cake
I used a stand mixer with a paddle attachment. You could use a hand mixer, if you'd rather. Cream together the butter, coconut oil, and sugar in the bowl of the mixer (or in your main big bowl, if using a hand mixer) until fluffy. How much sugar? If your bananas are super-ripe, 2 cups is probably plenty. If they're less ripe, go ahead and do 2 1/2.
In a medium bowl (either while that's going in your mixer, or before you start beating by hand), mash your bananas, then add the lime juice and zest, ginger, milk, sour cream, and eggs. Whisk this mixture until well-combined. Here I will tell you that probably 4 tablespoons of fresh lime juice and a full tablespoon of fresh ginger sounds like a LOT. I only used 2 tablespoons lime juice and 2 teaspoons of ginger, and the batter tasted great—limey and gingery, according to my taste tester. But the finished cake had no lime taste whatsoever and the ginger was barely perceptible, hence my adjusted amounts. If you're not a ginger fan, you could skip that, but as you'll see in a little bit, without perceptible lime in the cake, the frosting seems a bit weird, so go ahead and use ALL that lime juice.
In another bowl, whisk your baking soda into your flour. (Confession: I didn't do this, but as noted above, I might make this with cake flour next time, which will involved a bunch of sifting [as explained in last week's recipe], so I will, next time. This time I just added half the flour and half the baking soda at once, then the other half at once. I'm lazy.)
Once your butter/oil/sugar is creamed, scrape down the bowl and add the banana mixture, then beat on low until combined. Add the flour/baking soda and mix on low until just combined.
Pour batter into your two prepared cake pans, then bake for 50-65 minutes (start checking at 50; mine took the full hour), until a skewer inserted in the center comes out mostly clean.
Cool pans on a rack for 10 minutes, then invert to release the cakes and finish cooling completely before frosting.
Here's my cakes right out of the oven: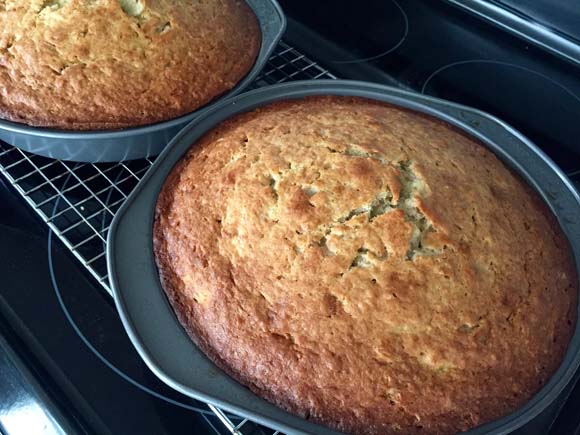 They rose a ton, which was lovely, because I trimmed them to make the cake level, which means my family got to snack on cake scraps for several days. Don't be afraid of trimming down a cake, by the way. Just plunk it down on your cake plate (I put strips of paper underneath to protect the plate during frosting, then pull them out when I'm done), grab your longest knife, and start making horizontal cuts until it's even, like so: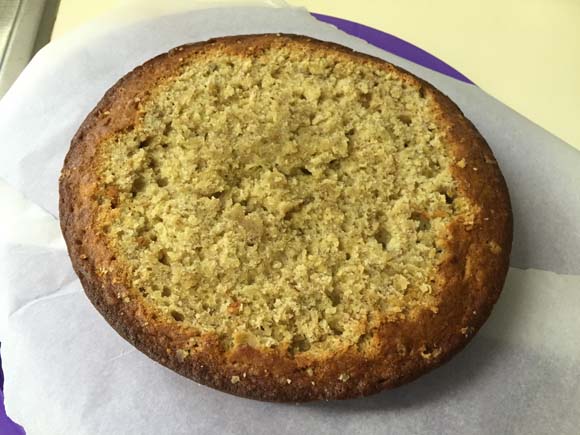 It's weird-looking, but that's cool, because you're about to slather it with frosting. (Don't forget to trim the second layer, too, and then you'll want to put that second one trimmed-side-down onto the first one when assembling.)
Make the frosting
Cream together your butter and cream cheese, then add 2 cups powdered sugar (slowly, lest you end up dusting the entire kitchen), then add the lime juice and zest. Like I said, I made the cake in my stand mixer, so then I made the frosting with my hand mixer. Once you've got this all mixed, taste it to see if it needs more sugar. I think I ended up using about 2 1/2 cups in mine. (Also, don't freak out about the sugar. Remember that powdered sugar is actually a lot less sugar, cup for cup, than granulated.)
It was pretty warm here this weekend, so I ended up making the frosting and popping it into the fridge for about 15 minutes before attempting to use it, because it was pretty gloopy. Use your judgment. Also bear in mind that this is a cream cheese frosting and therefore the cake should be refrigerated once it's all done.
The Verdict
I was super pleased with this cake—the frosting is sweet and tangy and I imagined the cake was, as well, plus it came out so pretty—when I sent it off with the kids. A few hours later, this happened:
Siiiiiiiiiiiiiiiiiigh.
So: I will try it again with more lime, more ginger, and possibly cake flour because yeah, it's a little dense. This will hopefully make it less weird. Please let the record show, however, that Monkey came home and immediately—unprompted—offered that, "The cake was good, and [fellow nerd] had a piece about as big as her head!" Also? Chickie asked for some in her lunch today, despite her supposed confusion.
Not my most successful venture, but with the tweaks I think it'll be yummy.