Spring Break is upon us, and on Saturday, Monkey jetted off to see his dad, Otto took Chickadee to an event at her soon-to-be college, and my lovely friend Ruth who lives too far away came to spend the weekend. Instead of spending quality time with my offspring the night before they left me, I spent quality time in Atlanta traffic gabbing endlessly with Ruth, and then we went out washed down our weight in sushi with a couple of martinis as if we were party animals. (All was forgiven because Ruth makes her own AH-MAZE-ING chocolates and she brought us a box of goodies. The kids might've missed me, but hey, CHOCOLATE!)
Saturday we did some random walking around, more stuffing of our faces (gourmet tacos, this time), and then flopped on the couch and watched baking shows. When Otto and Chickadee returned, we played Cards Against Humanity ("Oh I've never played this before," quoth Ruth… GUESS WHO WON?) and went to bed entirely too late.
Before we turned in, though, I starting combing through recipes. "I think they're having Nerd Night without Monkey," I said. "Chickie will go. I need to make something tomorrow morning." Ruth not only makes candy, she's a master baker (and also sweet and pretty and hilarious and it's okay, you can hate her a little), and she suggested I find a Bishop's Cake recipe.
When I asked what it is, she said, "It has a crumb like nothing else you've ever tasted. It gets crispy on the outside but it's buttery on the inside. It's simple, but it's amazing." Bishop's Cake it would be, then.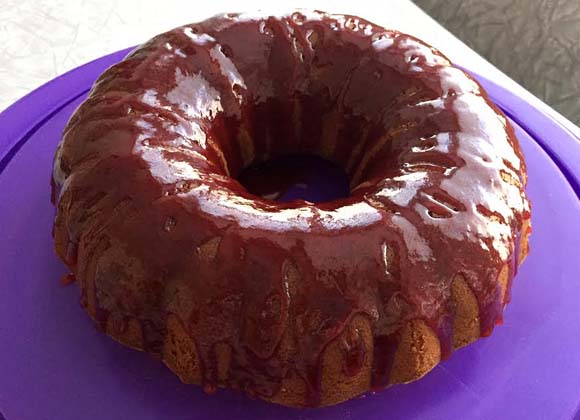 It looks like… an unassuming bundt. Probably a pound cake, okay, YAWWWWWWWWWN. But Ruth was right; I've never baked a cake like this, and while Chickadee's assessment is usually "cake good; I like cake" (discerning taste, that one), Otto had a piece of the leftovers and said, "Oooooh. Crunchy! I like it!" The best description I can give you is that it's like you made a rich pound cake and then somehow wrapped it in the best sugar cookies you've ever had.
I based this recipe on Amber's version at Bluebonnet Baker, and her version is based on a version from a 1959 Junior League cookbook (as it should be). My version of the cake is only a smidge different than hers, but I wanted a little fruity pop to top it off, so I made a different glaze.
BISHOP'S CAKE WITH RASPBERRY/LIME GLAZE (adapted from the above-linked recipe)
Ingredients
For the cake:
1 cup (2 sticks) butter, room temperature
2 cups granulated sugar
5 eggs, room temperature
1 TBL lemon juice
1 TBL vanilla extract
2 cups cake flour
For the glaze:
3 TBL raspberry jam/preserves (strain if it has seeds!)
juice of 1 lime (1-2 TBL, to taste)
1/2 cup powdered sugar
2 TBL butter
Prepare
Preheat your over to 325 degrees. Butter/flour your bundt pan and set it aside. If you have a fancy bundt, this is the recipe to use it—it's a plain-looking cake, for one thing, and for another, the more crispy edges, the better. (I do not have a fancy bundt pan, but I'm not gonna lie… making this cake made me think I probably could justify one, now.)
A few notes, here: First of all, you really want your butter and eggs at room temperature. The butter won't cream well unless it's soft, and then your lovely creamed mixture will get all grainy if your eggs are cold when you add them. So you either need to plan ahead or soften your butter (carefully!) in the microwave and soak your eggs in a bowl of warm water before making the cake. Second, the original recipe called for unsalted butter. I used salted. I think every sweet needs a tiny bit of salt. I promise the cake does not taste salty, but if you're a purist, you could use unsalted. Third, yes, this cake truly has no baking soda or powder. Don't panic. It works.
Also: Don't be scared of the cake flour. And don't go out and buy cake flour (I mean, unless you want to). You can make your own cake flour! Like MAGIC! For each cup you need, simply measure out a cup of all-purpose flour, then remove 2 tablespoons from it and replace those two tablespoons with cornstarch. Then sift it five times to combine/aerate. I know it sounds like a colossal pain in the rump, but it's not so bad. For this recipe, I needed 2 cups of cake flour, so I set my sieve over a bowl, dumped in 2 cups of all-purpose flour, removed 4 tablespoons of it, then added 4 tablespoons cornstarch. I sifted the mixture, then got a second bowl and repeated dumping it back and forth through the sieve over each bowl until I'd done it five times. THIS CAKE WILL TURN INTO A BRICK WITH REGULAR FLOUR so either do this or pick another recipe. Yes, it's a little fussy, but it's important.
Make the cake
I used a stand mixer with my whisk attachment; you could use a hand mixer, if you'd rather. Personally I wouldn't attempt creaming butter/sugar by hand.
Cream together butter/sugar until light and fluffy (read: beat the bejeezus out of it, stopping and scraping down the bowl a few times as needed). Add your eggs, lemon juice, and vanilla extract to this mixture, and beat thoroughly. Add your flour and beat on low speed until just incorporated (mix as little as possible, here; I added it in 2 additions, scraping down in-between).
Pour your batter into the prepared bundt pan and give the bottom of the pan a few good whacks on the kitchen counter to distribute the batter and get air bubbles out. Then into the oven it goes for at least an hour and 15 minutes. Mine actually took about an hour 20; it's done when a cake tester come out with just the tiniest of moist crumbs. I was a little worried because I knew the cake is fairly dark, and when I pulled it out, it looked like this (kind of light):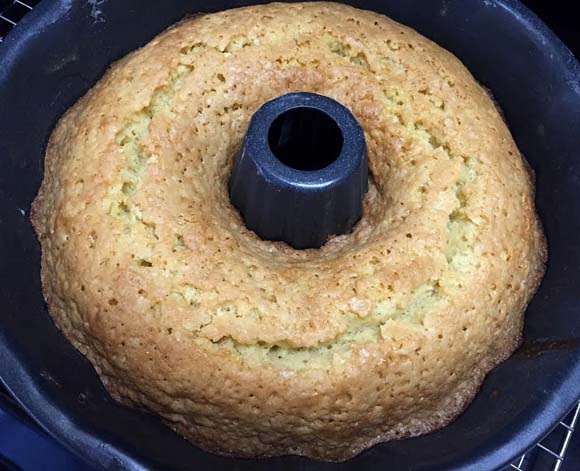 But once you cool in the pan, on a rack, for 10-15 minutes, you can then invert the pan onto the rack (tap a little to release the cake) and allow to finish cooling for half an hour or so. Then it looks like this (dark golden brown):
Make the glaze
While the cake is baking, or while it's cooling (either way), make your glaze in a small saucepan over low heat. I strained my raspberry preserves into the pan (I'm not kidding about straining if there are seeds; you do not want seeds!), added the juice of my lime, and started whisking in powdered sugar until it tasted right. I wanted it to be sweet but still have a little pucker, if that makes sense. I ended up adding about half a cup of powdered sugar. And while the syrup this yielded was tasty, the consistency wasn't quite right; I worried it would soak into the cake, which I didn't want. So I chucked a couple of tablespoons of butter in there and it firmed up, some, which I prefer. Bear in mind that the glaze will need to be a little warm to spoon over your cooled cake, but you don't want it hot, either. Channel your inner Goldilocks. (I made the glaze while the cake baked, then set it aside, and just warmed it up for a minute before I glazed.)
So. Bishop's Cake. Crispy and sugary on the outside, buttery and melty on the inside. With this glaze, also a little sticky and fruity.
Very little came home. I think this recipe is a keeper.