… every time I let the dogs out, Licorice comes back in covered in twigs and leaves and mysterious little burrs, all "I'M A WILD ANIMAL! YOU CAN'T TAME ME!" Meanwhile, Duncan comes back inside sneezing. Because he is a delicate puppy-flower, and he has hay fever.
… both children are suddenly complaining that they "don't have any clothes that fit," as if it's somehow MY fault that they grew since last year. Also, at 15 and 17, they seem unable to grasp the concept that 10 minutes before the bus comes is not the most optimal time to start demanding I find them some larger shorts. (I'm good, but I'm not THAT good.) I bought Monkey 5 new pairs of shorts after confirming that, yes, every pair of shorts he had magically shrunk over the winter. The first morning he wore a pair, I asked him if they felt alright and he said, "Yes, they're comfortable and easy to wear!" This prompted a conversation about the extreme (comparative) difficulty of wearing jeans (don't ask me; I'm just as confused as you are), and for WEEKS he then appeared in the kitchen each morning, struck a pose, and announced that his shorts were easy to wear. I really have no idea what that's about but it makes me laugh every time.
… tiny ants. TINY ANTS IN MY HOUSE EVERYWHERE OMG MAKE IT STOP.
… everyone suddenly seems very interested in their grades. I am amused by this. I mean, you couldn't be bothered for the last 9 months, why start caring now? Er, I mean… great job, kids…? (Related: I think we're all ready for this school year to be over.)
… the other day I said to Monkey, "You have a little something on your neck, let me get it," and I went to brush it off, thinking it was a random piece of flotsam shared with him by the dogs or whatever, and it not only didn't brush off, it WAVED A LEG AT ME. So hey, apparently it's gonna be a humdinger of a tick season down here. (Translation: I only dry-heaved a little while working with the tweezers and rubbing alcohol to free my precious baby from the blood-sucking grossness of nature.)
… I am rapidly becoming obsessed with this year's gardening efforts. Which I know is one of those things I find super-interesting and talk about endlessly and maybe it's not even remotely entertaining to anyone but me, but I am too busy crooning to my plants to notice.
This year brought an exciting discovery. We planted some wee blueberry bushes in the dog run… 5 or 6 years ago, I think? And they haven't died (HALF-TRUTH ALERT: one of them did die the first year, but the other three have persisted), but they haven't exactly delivered the bounty of homegrown blueberries I'd envisioned when we first put them in. Granted, I haven't put much (any) effort into them, but still. ANYWAY! This year when doing spring clean-up and raking and leaf-blowing, Otto dumped a ton of leaves and crap over the fence directly onto the blueberry plants, sort of by accident. He forgot they were there. Well, the bushes displayed their displeasure by… doubling in size and starting to grow tons of berries.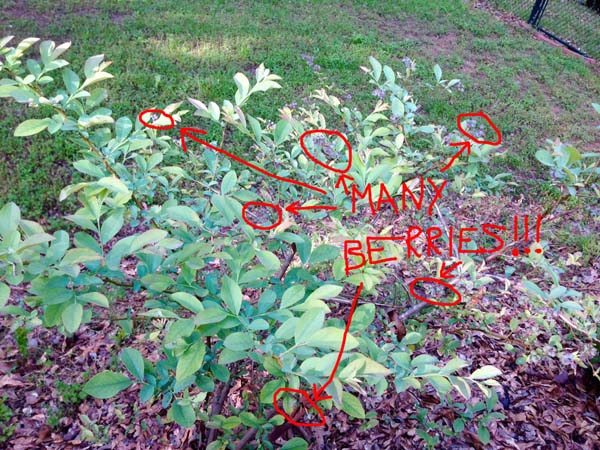 (This is a terrible top-down photo I took by standing on a bench on the other side of the fence. Trust me, this bush is big and prolific and it has two friends just like it.)
(Moral of the story: Blueberries like a good mulching, apparently.)
Conversely, I've had a rosemary plant for… ummm… foreverish, at least seven years, which I started from a clipping and used to live in my herb box. Over the years it got bigger and bigger, and last year I transplanted it into the ground and it became HUGE (like, 4 feet across kind of huge). This delighted me, because 1) more fresh rosemary than anyone could possibly use up, and 2) gross bugs are repelled by rosemary. But we've had 40 days and nights of rain (approximately) and suddenly my rosemary is Super Sad: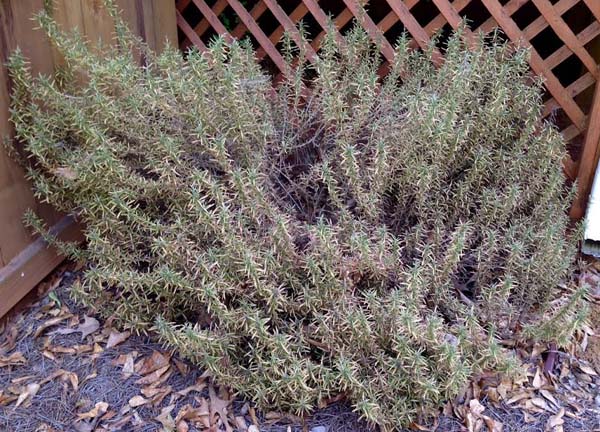 It's all kind of brown and yellow and leggy and so I went and read up on caring for rosemary, and WHADDAYA KNOW, I didn't do anything I was supposed to. Whoops. I have it planted in our regular clay-y soil, which apparently it hates, and I haven't trimmed it, and basically I am an abusive plant mother and now I have to try to figure out if this plant can be salvaged or if I should just rip it out.
Instead of figuring this out, I am busy planting my vegetable boxes and admiring my tomato plants. Because… reasons. This year I bought two kinds of basil, yo.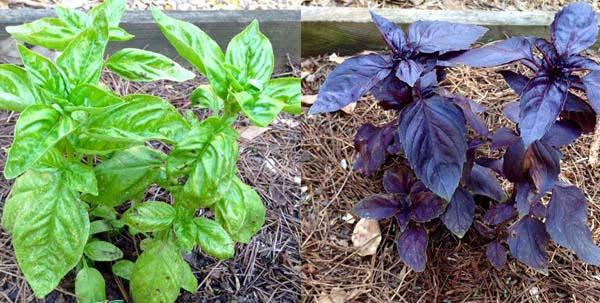 Purple basil! So pretty! And I think it's more robust than the regular green stuff, because you can see the green one is all PLEASE STOP RAINING I'M DROWWWWWNING AND TURNING YELLOW and the purple one is all WHAT UP, I'M FABULOUS.
The basil and the tomatoes and the peppers are all pretty happy. And the green beans are coming in nicely.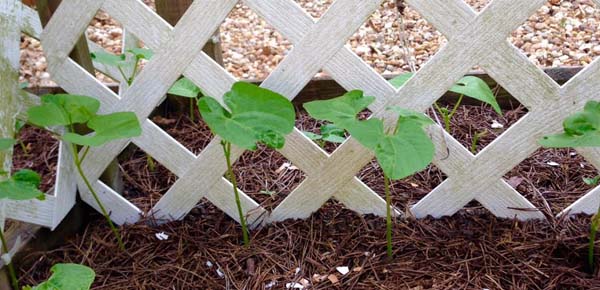 This year I appear to have attracted a critter (or critterS??) who is VERY INTERESTED in several of the items I am attempting to grow from seed. My zucchini and squash are untouched, but up until this week I had a lot more cucumber shoots than this.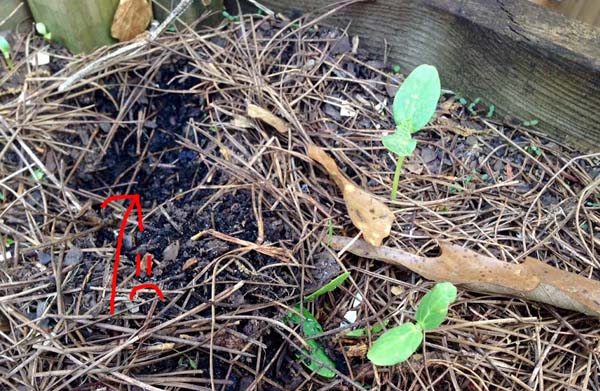 My Google-fu is failing me in terms of determining who or what is digging, but at first it was just holes in the soil and now plants are disappearing. The garden area is fenced, so at first I thought squirrels…? But then I remembered that small things could come through the chain link in the dog run and then just walk through the door into the wooden fenced area where the boxes are, so that opens it up to bunnies, moles, voles, and who knows what else.
Not pictured: I'm trying to grow beets and eggplant from seeds, this year. So far I have a lot of holes in the soil and no plants. GO ME. I may break down and go buy some plants, because I don't know what I'm doing wrong with the seeds, and history suggests that eggplants at least will go nuts here, provided I can get them started. I don't know what to think about the beets. I've never tried a root veggie before.
And lest you think I've changed in the slightest, well, I haven't yet decided what to put in my herb box this season. Except of course for…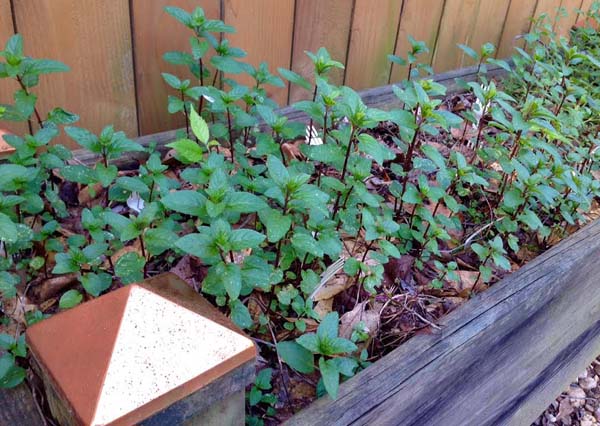 … MIIIIIIIIIIIIINT!!!11!!!1!!!! (Nope, that's never going to stop being funny to me. Related: MOJITOS AT MY PLACE.)