It never fails to delight me when someone who knows my kids in real life actually refers to them as Monkey and Chickadee. Those are not their real names, of course (sorry to shock you if you thought otherwise…), but they are their real nicknames from wayyyyyyy back, and we are big on nicknames here at Casa Mir. (Bonus points for people who call my husband Otto even though they know him in real life.)
Nicknames evolve, 'round here. For a long time Monkey was most often called Small Boy and then one day he pointed out that he was no longer small, Mom, GEEZ, so Otto started calling him Medium Boy. And there was that whole thing where Chickie changed her nickname to Pork Rind on my phone for reasons which were unclear to me.
Well. For a long time she was Pork Rind and the picture of her in my phone was a cartoon turtle stuck on its back, owing to her OTHER nickname for quite a while of Helpless Turtle. (That nickname has gone by the wayside thanks to a lot of hard work on her part. If you look very closely at her vision board you'll find a clever nod to leaving that persona behind.)
Somehow—do not ask me to explain, because I cannot—of late she has become Flerp Derp. This started as a random nickname and has become a whole THING, like, with a life of its own. Are you familiar with the Narwhals song (mildly NSFW)? There is a Flerp Derp song, now, set to the same music. It's a thing.
Naturally, she is now in my phone as Flerp Derp. I understand that there is some conflict about the term "derp" or "derpy" in some circles, and I don't know if I can make a compelling argument for adding "Flerp" rendering it offense-neutral, but this is what the child does. She calls herself Flerp Derp. Regales me with LOUD and FREQUENT versions of the Flerp Derp Song ("SWIMMING IN THE OCEAN! BECAUSE I AM SO AWESOME!") And then one day she texted me a picture of a delighted duck with only the message FLERP DERP!
This duck has become a catch-all of emotion. Surprised? Flerp Derp duck. Happy? Flerp Derp duck. Just want some attention? OH HI FLERP DERP DUCK!
[Note: The duck's name is not really Flerp Derp. In fact, it's Buttercup (awwwww!) and the delighted face is apparently because he got a prosthetic foot (double awwwww!). This does not stop my darling Flerp Derp from adopting said duck as her spirit animal.]
So text exchanges such as the one below are not at all unusual for us.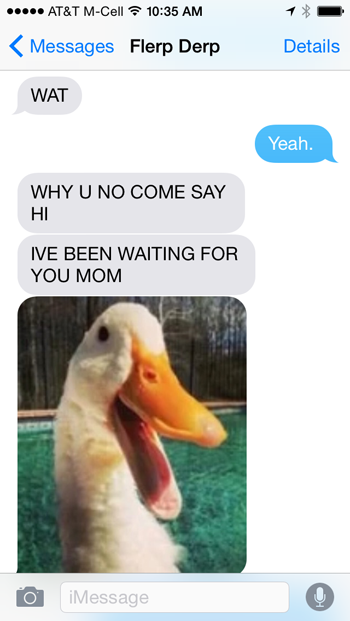 When we upgraded to The Grand And Gratifying Glory Of Everyone Having iPhones Finally, I added Life360 to all of our phones so that I could keep better track of the kids and their various comings and goings without having to text them "Are you on your way home?" and such. (I have no affiliation with this company whatsoever, I just downloaded the program on a recommendation and it's been working pretty well for us so far.) Basically it allows you to see everyone on a map, set up alerts for certain locations and comings/goings, and contact everyone quickly if you so desire. I set up a family circle and sent invitations to the kids and Otto, and then all they had to do was accept the invitations and set their names and profile pictures.
I picked a sort of ridiculous pic of myself (I thought, wouldn't it be nice if every time the kids opened this app they saw me making angry eyebrows? JUST LIKE HOME!), which was followed by one of Monkey wearing his new Cthulhu hat, and Otto using a picture that is 98% Duncan and 2% him. Both Monkey and Otto used their actual names, though.
Chickadee, on the other hand (and why I didn't anticipate this, I have no idea), not only used the duck as her profile picture, she set her name as Flerp Derp, and when she discovered that would only display FLERP, changed it to Flerp-Derp. Because of course she did. Sadly, the display is only large enough to now display it as Flerp-D, which I think is probably her rapper name.
My new favorite thing is opening up the app when she's headed out and watching my deranged little duck sail down the road.
I don't know how long she'll be Flerp Derp or who (or what) she'll be next, but I can tell you that it's never, ever dull at our place.