I think I promised you some super-exciting content about our last visit to Costco. (I tell you what, this blog is worth EXACTLY what you're paying for it. Such value!)
Before that, though, apparently I am falling down on my chronicling duties by not verifying that 1) my children went back to school and 2) they were wearing shoes when they did it. Here you go: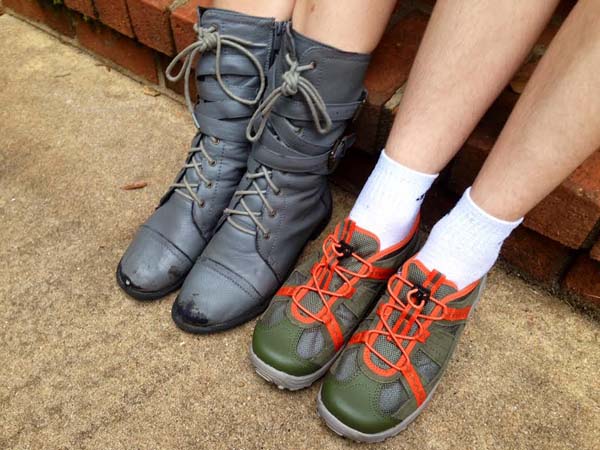 [Obvious from the picture: My darling vegetarian has thus far refused to let me buy her leather boots, which means she wears these crappy ones that fall apart and make her look homeless. I'm not saying she doesn't rock that particular look—she's pretty cool and all—but lord, child, let me buy you some decent shoes. Not obvious from the picture: Monkey's shoes are, for the first time, larger than his sister's (I think his heels are just further back).]
School is going well, so far. The kids share one class (out of seven) and of course the teacher said, "Oh, are you twins?" which delighted Monkey and enraged Chickadee. ("I TOLD HER WE ARE 20 MONTHS APART!") We set up an Organizational Strategy before they went back (yep, just as anal as it sounds; desperate times and scattered children call for desperate measures, and all of that) and I made it VERY CLEAR that failure to write down homework assignments in their planners would result in loss of electronics. All agreed. And lo, on the second day of school, not only did Monkey miss recording a homework assignment, but I never would have known (the homework was on the board and he missed it; he wrote "no homework") EXCEPT that it was in the class they share. DUN DUN DUNNNNNNN. Chickadee glowed with a holy light of righteousness as her brother complained and handed over his Nook and iPod, then quipped, "This is a whole new experience for him. I mean, has he ever been grounded before? Don't worry, buddy, you get used to it."
There was much complaining and gnashing of teeth, but there haven't been any more missed assignments. (Hi, my name is Mir, and I AM AN EVIL GENIUS.) I am knocking on wood and throwing salt around and all of that stuff, but I have a good feeling about this year, for both of them.
In the meantime, my job is to pack lunches. SO MANY LUNCHES. And with both kids in marching band this year and both kids needing all of the calories I can stuff into their skinny little bodies, of course we headed off to Costco to stock up before school resumed. Then we spent hundreds of dollars on ridiculous things, because that's what happens at Costco. Ready? Here we go!
Things I Bought At Costco And Why They Are Ridiculous
A giant box of protein bars
In my perfect fantasy world, the children take protein bars on band practice days and eat them after school, before practice. In the real world, Monkey almost always forgets that he has one, and Chickadee only deigns to eat protein bars on alternate Thursdays when the moon is full (the rest of the time they are "yucky"). "Would you like a protein bar?" has become such a passive-aggressive punchline in our house, the other night I got ready for bed and then when I went to pull back the covers, I discovered a box of protein bars with a WOULD YOU LIKE A PROTEIN BAR??? post-it affixed to the top. Well played, Chickie.
64 ounces of maple syrup
I believe in real maple syrup. It's very affordable at Costco, and I make pancakes or waffles just about every weekend, plus sometimes I buy the kids those Power Grains toaster waffles when they're on sale. But ever since joining Costco, I've gotten into the habit of picking up two jugs every time we go, which means we got back from this latest trip only to discover that… we haven't cracked the last two jugs, yet. Um. That is a LOT of syrup.
A variety snack pack of Annie's bunnies snacks
Yay, Annie's Organics! Yay, Annie's Organics on sale! Oh look, this works out to, like, a quarter a pouch. Cheddar bunnies, bunny grahams… what's not to like? Of course I started packing lunches and the first time I packed cheddar bunnies my daughter came home and put her hands on my shoulders and looked me in the eye. "The cheddar bunnies are displeasing," she said. "Please do not give them to me again." Further conversation revealed that they "aren't nearly as good as Goldfish." We take our tiny animal-shaped cheese crackers seriously 'round here. Thank goodness Monkey doesn't seem to have a preference.
5 pounds of black rice
I've never had black rice. I was intrigued. The children are horrified. And then a few days after I bought it, my doctor told me to lose 12 pounds before I see him again, so I'm sure as hell not going to be eating any rice. SMART.
4 pounds of kiwis
Me: You love kiwi!
Children: We have never eaten kiwi in our lives ever. Are you okay?
(Does anyone have any kiwi recipes…?)
A case of Kirkland brand sport drinks
After years of WATER IS FINE! I have finally given in on sports drinks for marching band practices. A case of these bottles from Costco was, I don't know, something like $10 for 30 bottles (way cheaper than Gatorade or Powerade). Since purchasing this case, I have packed the same two damn bottles—for the children who INSISTED THEY WOULD DIE WITHOUT SPORTS DRINKS—no less than four times. "I forgot I had it." "I wasn't thirsty." "I just drank some water." "I had a little bit, see?" So I guess we have enough sports drink to last us until… forever.
NOT TINY stupid bread
Who told me that you can get actual normal-sized Udi's bread at Costco? I can't remember. [Update: Credit to Angela!] But I finally bought a loaf of it. It's lovingly stashed in my freeze for gluten-free sandwich emergencies. (No, I don't know what would constitute a gluten-free sandwich emergency, but I assume it could happen.) Yay!
Two loaves of normal wheat bread for the kids
Guess who has since decided they'd rather have cheese and crackers/leftovers/anything but bread in their lunches, since then…?
Enough sliced turkey and swiss cheese to feed an army
I got smart this time, though, and divided up the packages and froze some of it. I'm learning!
A case of pudding cups
No one has complained about those. Yet.
A case of frosted shredded wheat
Because my husband has interesting cereal needs.
A watermelon and a pineapple
While unpacking our bounty, I referred to the pineapple as a watermelon (because I was looking at the watermelon, and also because my brain is mush). The children are now calling pineapples watermelons, because it's fun to mock your feeble mother.
2 pounds of chia seeds
Because I enjoy making chia pudding so that the children will watch me eat it and comment, "It looks like you're eating snot."
Socks
I am not planning to eat those.
Under-cabinet LED motion sensing lights for the kitchen
These were Otto's idea, and I was neutral on it, but now that we have them I LOVE THEM SO MUCH. For one thing, it really does make a different in terms of how much light we get on the kitchen counters, because our kitchen is kind of dark. For another, it means that walking into the kitchen in the dark gets you instant illumination, and I have yet to tire of watching Duncan streak into the kitchen in the morning and set off the lights.
96 Ticonderoga pencils
They are the BEST PENCIL IN THE WORLD, you know. I'm not sure we needed quite that many, but whatever. PENCILS FOR EVERYONE!
A giant bag of sweet potato french fries
"Why didn't you buy regular fries??"
"Because I hate you and like to make you sad."
(Costco: bringing obnoxious families closer since 1983.)
There was probably some other stuff. I don't remember. At a certain point it all becomes a big blur. All I know for sure is that: 1) summer is officially over and 2) I am NOT going to buy syrup the next time we go to Costco.