[This post is utter fluff with bonus terrible cell phone pictures. You've been warned.]
In addition to being taken to task for my comments about the unflattering wide-angle lens Otto used in this post, there were a couple of comments about how DIDN'T YOU LET YOUR HAIR GO GRAY? and I DON'T SEE ANY GRAY AT ALL YOU LYING LIARPANTS WITH PANTS AFLAME. (I may be paraphrasing.)
These comments made me laugh, and then they made me feel all warm and fuzzy, and then I sent each of you a pony as a thank-you.
You may remember there was some serious trepidation about disembarking from the Hair Dye express. After all, I'm so YOUNG (ha!) and VIBRANT (haaaaaaaa!) and really not ready to look like someone's grandmother. On the other hand: lazy. So very lazy. And also I still have acne so hey, problem solved. Time to go gray!
But the thing is, I was sure my gray was really, really obvious because my natural hair color is just this side of black. I mean, my roots were SUPER-obvious while I was still coloring, so I never anticipated all of the comments I regularly get on photos about how my hair has hardly any gray at all. Turns out, I have a few things going for me here.
1) My gray is fairly evenly distributed… on top. I actually have a couple of fairly solid streaks on the underlayer (underlayer? like I'm a dog? QUICK, GET THE FURMINATOR!), but most of the hair that's visible when I wear it down sports an even mixture of dark and silver.
2) Most people seem to go gray in the front, first, then gradually gray to the back. Because I am an extremely special snowflake, I am much grayer at the crown/back of my head than the front. Yay?
3) Something about wearing my hair curly makes it hard to process what color it is, I think. Maybe because your eyeballs are too busy going WOW THAT'S SOME MESS OF HAIR THERE, I don't know. I wear it curly about half the time, and never get comments on the color. When I wear it straight, people comment on the color.
… and most importantly…
4) I think my hair appears a lot darker in most photos than it does if you're standing here with me in real life. Because MAGIC. Or maybe Otto is afraid I'll start bitching about my hair, next, if he doesn't make the photos look like my hair is still brown. WHO KNOWS.
So even though I pretty much never take and hardly ever post pictures of myself, I thought there was enough chatter about my hair color (and length! though that happened on Facebook, and yes, I take my vitamins, and yes, my hair grows really fast) that I should really come clean.
I went out on the porch just now, intending to take a side-view picture of myself. I got about four pictures of the ceiling, one of the floor, and this: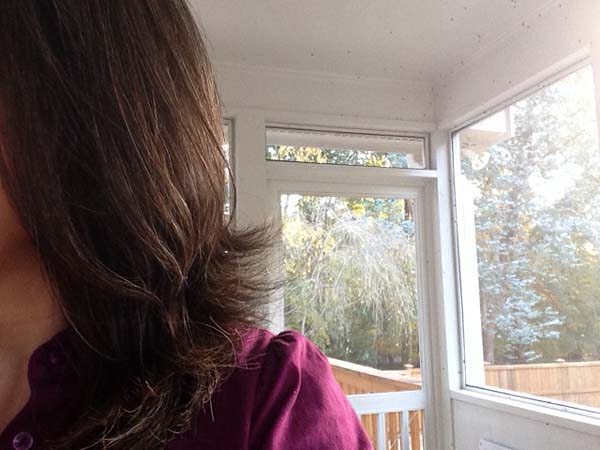 Granted, this isn't a lot of my hair, here, but it's hair from the front (less-gray) part of my head, and sure, if you just saw this, you might think I was exaggerating about the gray situation. I get that. [Also note that our porch isn't filthy, all those dark dots are just because it's currently infested with Japanese beetles. Which is so much better!]
So next I took a dozen photos that proved my arms are not long enough to get a shot of the back of my head. Enter Monkey, who snapped this for me and then said, "Why do you want a picture of the back of your head?"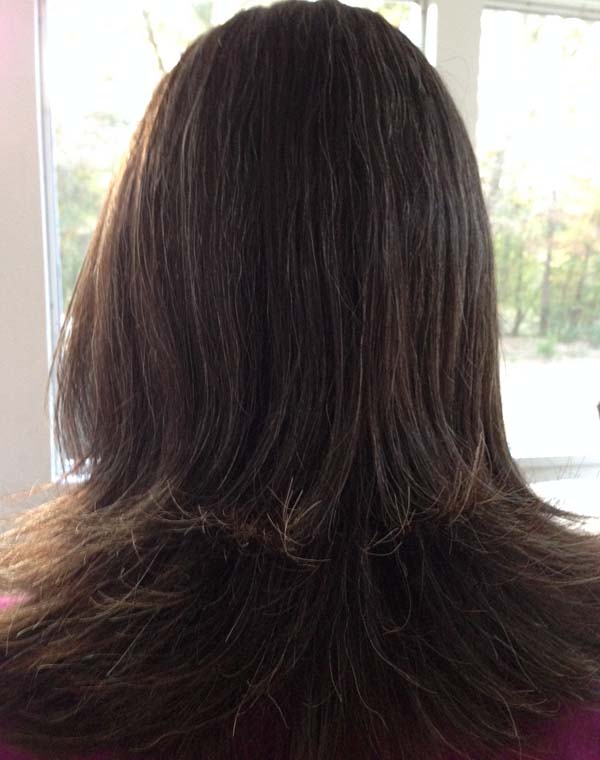 It's kind of blurry and lighting-wise Monkey and I probably should've swapped positions (Otto is dying of secondhand shame right now, I'm sure), but you get the general idea. And STILL, as a photo, you don't look at that and go OMG SO GRAY. Just a little gray, right? Camera = MAGIC.
Unless you do this: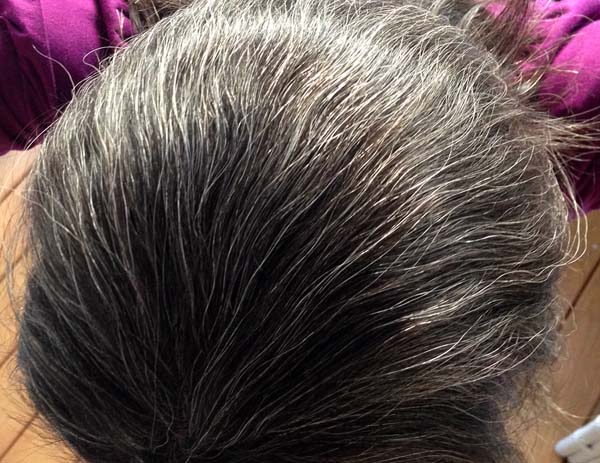 THAT is what color my hair really is (minus the phone shadow from me holding it over my head).
Please direct any complaints to my father, who has been silver as long as I can remember. At this point I am grayer than both my stepmom and my mom. So unfair.
(And no, I can't believe I thought this was interesting enough to write this much about, either. My hair is FASCINATING.)