I neglected to mention that about a week ago, Licorice and I had our birthdays. (Hers is the day after mine, according to the rescue from which she came, and also karmic math equations wherein your birthday + a dog's birthday the very next day = The One True Dog.) It's hard for me to verbalize why my attitude towards my own birthday these days is pretty unenthusiastic. It likely has something to do with the speed of time passing, the unexpected loops life has thrown our way the last couple of years, and gravity. (Mostly that last one.) Regardless of the cause, my excitement for marking another year of my life is hovering somewhere between "NO" and "whatever."
On my birthday morning I woke up to a very excited family, a pile of small wooden boxes, and a weird paper thing. Following instructions from Otto, I eventually assembled this tableau: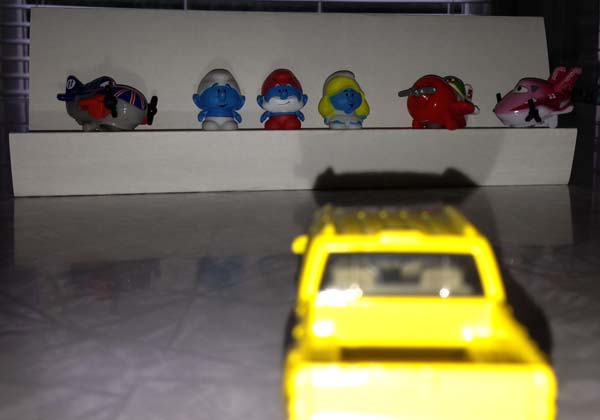 I still had no idea what it meant, and my family grew more and more impatient as I guessed things like, "We're driving to a bench to sit with Smurfs?" and "We're painting the truck yellow and then flying somewhere?"
To his credit, rather than either smacking or divorcing me, Otto patiently explained that he'd located an old drive-in movie theater about 90 minutes away, and for my birthday we were going to go see a double-feature of Planes and Smurfs 2. Then I was excited because a drive-in theater! So cool! But also I was a little frightened, because smurfs? Really? (Monkey: The first Smurfs movie was actually not bad, Mom.) It was totally cute how they'd made me this whole set of clues and everything, though, so mostly I was excited.
And then it poured down with the rain, and we didn't go to the drive-in. Otto insisted they never cancel the movies, but I couldn't see sitting in the rain for all that time, especially with it being so far away. We could go the next weekend, I assured everyone. They were so disappointed, I felt terrible. Like I'd personally arranged the crappy weather just to spoil my birthday.
The next day was Licorice's birthday, and because she's a dog she didn't care in the slightest, so because I'm a big sap and I wanted her to care, DAMNIT, I went out and bought her a new toy. Most of the time Licorice only has a couple of Dura Doggie toys laying around (I have no company affiliation with them, I just love their products), because they're the only ones she can't destroy. (Seriously, this Beba is the best! toy! ever! according to our 12 pounds of terror, and not just because we refer to it as her "ballball.") Give Licorice a stuffed toy, though, and she'll be in heaven for about an hour.
First she'll carefully remove any internal noisemakers—this is the emergency squeakerectomy—and then she will pick out all of the stuffing and throw it all over the room. After that, she will methodically destroy every seam, chew the whole thing into sodden scraps, and strut around like she just single-handedly saved the planet from evil. This is a process that Licorice adores, but it 1) makes a godawful mess and 2) makes my frugal self squirm a little, as I paid good money for that toy and she destroyed it. If I want to see my money wasted, I'll buy something for my kids, y'know?
But it was my PRESHUS SCHMOOPYKINS' BIRTHDAY, so while I was out running errands, I picked up a quacking duck for my furry little princess. Lord, that thing made a terrible sound. (It "quacked," by which I assume they mean it made this awful bleat that registered about halfway between "sheep in distress" and "cow giving birth.") No matter, though, because Licorice had the quack-box out in about ten minutes.
So that was the birthday weekend. Low-key, somewhat quack-y, and fine. We were looking forward to the better weather and going to the drive-in THIS weekend, and also it turned out that this weekend, Smurfs 2 was no longer playing, so I took that as a sign.
Anyway. The day before our family drive-in date, Licorice was tossing around the remaining scraps of her birthday duck, and she came running in to our room and leapt up onto the bed with a soggy orange duck foot, and Otto and I had a brief conversation about whether or not we should take it from her before she actually ate it.
Me: Nah, she's just chewing on it! And that piece of felt is enormous, and besides, she doesn't eat the stuff, she just likes destroying it.
Otto: But remember our friend whose dog had an intestinal blockage from eating a piece of toy? Emergency surgery, worry, hassle… we shouldn't risk something like that.
Me: Don't be silly. She's FINE! She doesn't eat toys!
Licorice: *chewchewchew* *swallow* *burp*
Me: Fuck.
Now we had to keep a close eye on the dog for signs of distress, because what if her snack of felt duck foot clogged up her pipes? What if she needed emergency surgery? WHAT IF I HAD KILLED MY DOG WITH HER BIRTHDAY PRESENT???
We followed her around and went outside with her (fifteen times a day, because that's how often she needs to go out and sniff things and maybe eat a few blades of grass) and then before we knew it, drive-in night had rolled around and she still seemed okay, but hadn't yet seen the duck foot, uh, emerge. So naturally we took her to the drive-in with us, because between the travel and the movies themselves, that would've been a long time to leave her home alone.
Off we went, and the drive-in was ADORABLE, and there were tons of kids and even a few other dogs, and we set up our camp chairs and settled in to pass the time before darkness fell and the movies started. Except Licorice was being a complete basket case; jumping on all of us, leaping out of the back of the truck when she decided she was done hanging out with the kids up there, whining, etc. Finally I said, "Hey Licorice, do you need to go potty?" and she all but bellowed, "YES, STUPID!" so I walked her over to the periphery and she squatted and peed. I praised her and turned to head back to our spot, but she pulled me the other way, and that's how we ended up walking a giant loop around the whole drive-in space.
When we were as far away from both our truck and all the other people there as possible, she squatted again and pooped out… a duck foot. Like it was no big thang. (I'm glad we'd seen her eat it, though. Had that emerged from her hindquarters without prior warning, that would've been alarming.)
I praised her, picked up and disposed of her, uh, recycling, and headed back to my family. "No intestinal blockage!" I announced, with glee. The kids cheered, and the families on either side of ours decided we were crazy. I mean, probably.
Planes was pretty good, and because it was my birthday outing, Otto bought everyone the overpriced movie snacks of their choosing, which meant that he and the dog had some popcorn, and I had some Skittles. A jolly—if slightly delayed—birthday time was had by all.
Well, everyone but the duck.
Licorice, under the futon in my office, assures me that the duck had it coming.