Some days I have a ton of work to do, deadlines coming out of my ears, and also there is laundry to be done and the kitchen is a mess and the dog needs a bath and my children are needy in various ways, and because I am a professional and also a master of life balance I look around and say, "Screw it. Let's go pick strawberries."
So we do.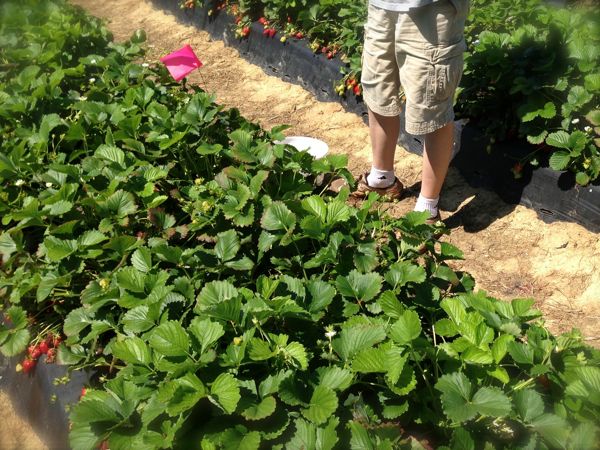 I love taking Monkey to the strawberry farm. For one thing, I feel like it's often hard for us to get quality one-on-one time; between other (louder, arguably more pressing) demands on my time and the fact that I am not particularly interested in discussing math/Minecraft/Pokemon until my ears bleed, it can be difficult to carve out a Monkey-and-Mom space in the midst of everything else. For another thing, in much the same way that Licorice will spot her ball at the end of the day, all OMGOSHDIDYOUKNOWIHAVEABALLABALLABALL?? and be consumed with joy, Monkey is endlessly delighted by the various shapes and sizes of berries and the places they hide, and observing this phenomenon never fails to make me happy. (Yeah, I just compared my kid's berry-picking delight to my walnut-sized-brain dog's inability to grok object permanence. Mother of the freaking year, over here.)
We have fun, is my point. Also: fresh strawberries. What's not to like?
On the way out there this week, Monkey decided we needed to play the Alphabet Game. I bet this has a more official name somewhere, but it's where you run through the alphabet looking for each letter on various signs. The thing is, the farm is kind of out in the boonies, and he found the letter "I" just before we hit that stretch of road where there's pretty much nothing for miles.
"J… j…" he murmured, craning his neck and peering out the window, becoming agitated that the game couldn't continued.
"Don't worry, son," I assured him, ever the picture of maternal comfort, "in a little while we'll arrive at Strawberry Jfarms! And then you'll have your J." I meant this as a distraction, but somehow the idea of the the place actually being called Strawberry Jfarms was HILARIOUS INDEED, and the remainder of the trip was spent with him calling out various items—"Look! It's a bunch of guys on Jmowers!" "Did you see that Jfence?"—and then laughing hysterically at his own wit. Monkey will never, ever be unamused with himself, I can tell you that much.
We arrived and set to work, by which I mean I began picking and Monkey began a running commentary on the plants, the berries, things he found stuck to his shoe, the direction of the wind, and how he really should've brought a water bottle. Nevertheless, a good time was had by all, and somehow we managed to fill our two buckets before he collapsed from heat exhaustion and/or dehydration. (Full disclosure: The time it takes to pick two giant buckets of berries at this place is MAYBE twenty minutes.)
After paying for our bounty, we carefully placed the buckets in the cooler I'd brought, and then we went out to lunch, because picking berries is HARD WORK. Also, we'd worked our way up to Q in the Alphabet Game by the time we got back to civilization, plus someone NEEEEEEEEEEDED ice cream, so we went to Dairy Queen.
So this is all well and good; the day we picked and went to lunch, we had a wonderful time, and we came back home and Monkey went off to read for a while and I went back to work and everything was dandy. It wasn't until the next day that I realized I now had a metric butt-ton of strawberries that I needed to process and I still had work and laundry and dishes and everything else.
This week I've been working through the strawberries, or at least the ones my family hasn't just shoved directly into their gobholes. (Note: I fully support the direct application of strawberries to gobholes, don't get me wrong.)
First I had to wash and hull fifty pounds of berries (maybe not really fifty pounds, it's possible I'm exaggerating) and put them in various containers and pots and freezer bags and whatnot.
(Not pictured: the other forty-nine pounds.)
Then I got the bright idea that I could make freezer jam, because how hard could it possibly be? Not hard at all, as it turns out, though it does turn your entire kitchen into a sticky crime scene by the time you're done.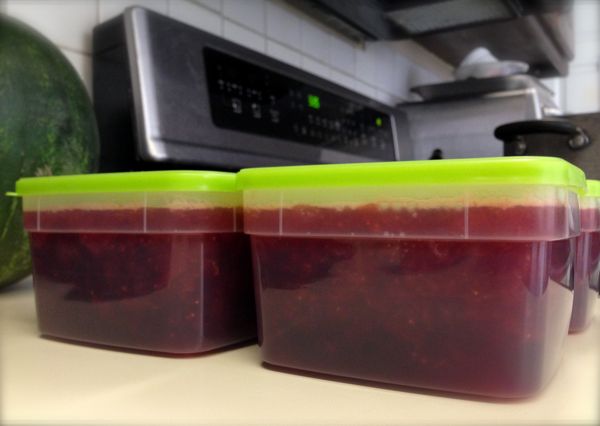 (Not pictured: red goop all over the stove. Delicious!)
And then I still had a bazillion berries and one of the things Chickadee will never turn down is ice cream or frozen yogurt, so it was time to make strawberry-basil Greek froyo, because STRAWBERRIES and PROTEIN and YUM: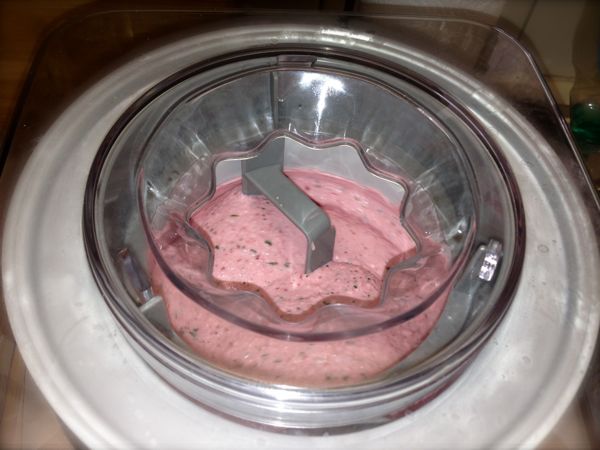 (Not pictured: both children shoveling this down their gullets after dinner.)
I would say the whole adventure was pretty successful, all in all. Kind of a lot of work, though. Which is of course why we've already made plans to go pick again with friends next week.