I keep waiting for something BIG and EXCITING to happen, possibly because I'm still in the pinch-me-I'm-dreaming phase of delicious normality. The reality is that life has been mundane and I am not complaining. I am just… perplexed. Surely one of us is about to come down with Ebola, or the next time we run out of milk and I drive to the store, my car will burst into flames. I mean, that's… just sort of how my life goes, no?
Well—hang on, I have to knock on some wood, throw some salt over my shoulder, and perform a rather complicated ritual with the tchotchkes on my desk—right now, things go pretty boring. It rocks.
Of course, Monkey would tell you that things have NOT been boring. Things have been TERRIBLE because he has been DEPRIVED OF FRIEND TIME while Lemur's family was sick. It was AWFUL and he nearly DIED of LONELINESS. Apparently none of the rest of us were interesting enough to keep him alive.
On Friday I dangled a Lemur-carrot in front of Monkey (metaphorically speaking, of course) and let him know that once he got through his schoolwork for the day, he could go over to Lemur's for a while. That was supposed to be helpful, you understand. Unfortunately, because I am often stupid, all it did was turn Monkey into a giant ball of stress, because he had an assignment to complete which was a little unclear, and rather than his typical reaction of "I don't understand this, clearly the teacher is stupid" (which is just as charming as it sounds) (meaning: yes, I'm aware this is not my child's most endearing quality), we instead got, "I don't understand this, clearly the teacher is stupid AND ALSO I WILL NEVER GET TO SEE LEMUR EVER AND I HATE EVERYONE AND EVERYTHING."
So that was… uhhhh… a little stressful. Ordinarily, you know, I handle all of the homeschooling. But Otto was home for the day so I left to run some errands and came home to my usually unflappable husband looking a little wild-eyed and suggesting that he had a whole new appreciation of what I handle on a regular basis. (If only I could've had a few minutes to savor that before I had to go sit on Monkey until he stopped howling.) (Kidding! Mostly!)
In the end, Monkey met his deadline and went over to Lemur's house for the evening. AND LO THERE WAS MUCH REJOICING.
And then on Saturday, one of Lemur's brothers had a birthday party, so Monkey was over there AGAIN, and when I went to pick him up, Lemur followed us out to the car and I said, "Are you trying to come home with us?" Lemur grinned and nodded, so I looked down at his feet and suggested he get some shoes, and while he did that I confirmed that his parents were okay with me kidnapping him, and then Primateapalooza continued over at our house for the rest of the day.
While Monkey was busy with Lemur for a day and a half, the rest of us… hmmm. I don't know what we did on Friday. On Saturday Otto was off doing some stuff and Chickadee worked through a list of chores and homework with unprecedented speed, because when she was done, we turned the kitchen into Hair Dye Central. For months she has been begging to dye her hair purple, and after much research and bargaining, Saturday was the day.
Pro tip: Bleaching hair is terrifying. At least, it is for me. It stinks and it scares me but we had YouTube how-tos on our side, man. It ended up taking waayyyyyyyyyy longer than I thought it would (I was so nervous with the bleach, initially, that I essentially ended up doing it twice), but at the end of the day, Chickie was rockin' purple hair tips: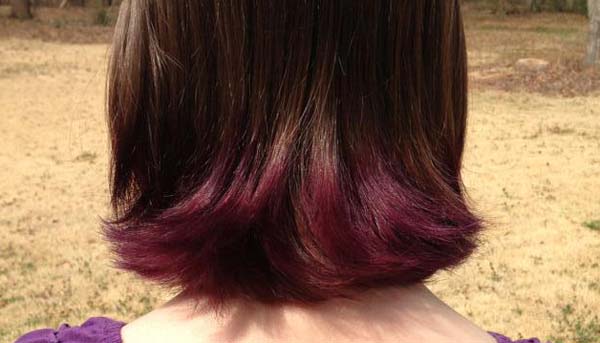 So that was pretty exciting, and I think we only lost about 50 IQ points between us due to the bleach fumes. BEAUTY IS PAIN. Or, you know, beauty is stupid. Whatever.
We had a LOT of dye left over, and Chickadee tried to convince me to go purple as well. That led to the magical time in a young girl's life when her mother explains that darling, however old and unhip you normally assume me to be, I am actually even older and less hip than you think. But thank you.
Sunday involved a whole lot of mostly nothing—laundry, chores, grocery shopping—and then to celebrate the passage of such an exciting day, we had breakfast for dinner. I made lemon ricotta multigrain pancakes—which sounds a lot fancier and more thought-out than it actually was, which was more like, "Hmmm, how about pancakes, and what do I have in the fridge that I need to use up…?"—and bacon, because why not? And as I was flipping the last batch of pancakes I told Chickadee to go ahead and microwave some of her fake bacon, if she wanted some.
Our bacon—the One True Bacon, if you will, made of delicious pig fat—looked and smelled amazing. Chickie pulled her plate out of the microwave and together we beheld the Morningstar "bacon" in all of its fake glory. "That looks like dog treats," I remarked, ever-supportive of my child's vegetarianism.
"Shaddup," she replied, always ready to offer a compelling counter-argument.
Thankfully, we all agreed that the pancakes were delicious. [Sidebar: Do not ask me for the recipe. I didn't use a recipe. I took the homemade gluten-free multigrain mix that I use and added a giant scoop of ricotta and the juice/zest of one lemon. And then I crossed my fingers and lucked out. Yay! Though if you're looking for an actual recipe that gets the Casa Mir stamp of approval for being both gluten-free and vegetarian (and being devoured even by our resident picky carnivores), Karen's lentil tacos have become a new favorite of ours. We had that on Saturday night, and even Lemur ate them. Much like the old Life commercials where they say Mikey doesn't like anything, Lemur is pretty much my benchmark for whether food is universally appealing. And hey, Lemur liked it, so go forth and lentil.]
Today everyone went to school and work and I just peeked upstairs to discover that both kids picked up their rooms and made their beds before they left. This may all be a dream, but if it is, please don't wake me up. I'd like to enjoy this bacon-scented ordinariness for as long as it lasts.