I spent half of yesterday prepping/cooking and then got up at 6:00 to start throwing everything into crock pots. What? You don't do that? It's awesome, because then instead of musical ovens your guests come and say, "What can we do to help?" and you just wave an arm at your counter full of crock pots and say, "Nothing. It's all done." And then they back away slowly. Yay!
This year I'm thankful for lots of things, like that I didn't break any other bones while cooking stuff, and that my family and friends are awesome, and my readers (that's you) are lovely and supportive, and that this year is almost over. (CAN I GET AN AMEN?)
Of course I am missing having Chickie here—she won't be home to visit until next month—but in the spirit of my new the-glass-is-half-full-dammit outlook, I compensated for her absence by putting meat in every single damn dish. (Sorry, honey. I'll make whatever you want when you're home for Christmas, sans "chicken juice," I promise.)
Otto is blasting "Alice's Restaurant" while hard at work on the turkey and I'm about to go make some rolls, but I have some crappy iPhone pictures to share with you because I'm taking a break and I'm a giver like that.
I started yesterday with cranberry sauce. One cranberry-orange-ginger-compote (basically a traditional sauce) and one raw cranberry-horseradish relish. And look, I already lied to you! No meat in these.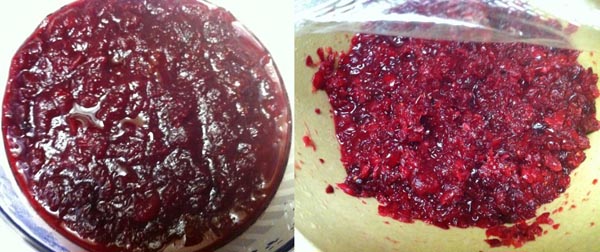 Then I did the prep for these next two, which are happily socked away in crock pots, making the house smell amaaaaaaazing.
First, cornbread-apple-caramelized-onion stuffing. Usually made with vegetable broth for my girl. Today? It's got a pound of sausage and is well saturated in chicken broth. MEATTASTIC.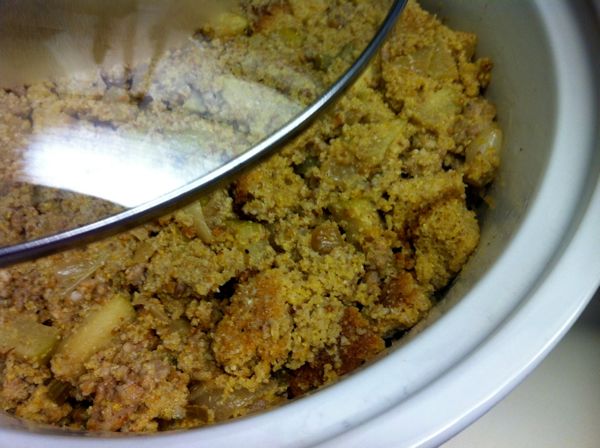 Next, drunken sweet potatoes with pecans and apples. This is a Guy Fieri recipe and YES, I AM ASHAMED, but damn if it isn't delicious. (No meat in this one, either. I am a lying liar who lies.)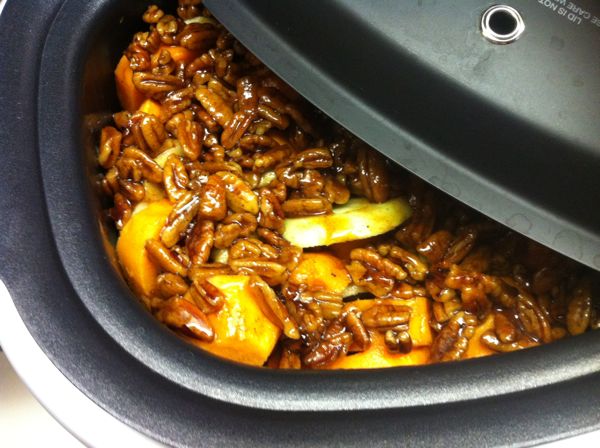 I apologize for this next one. Because it isn't Thanksgiving until I have to touch a disgusting turkey neck. (Turkey neck = gross, but finished giblet gravy = delicious.)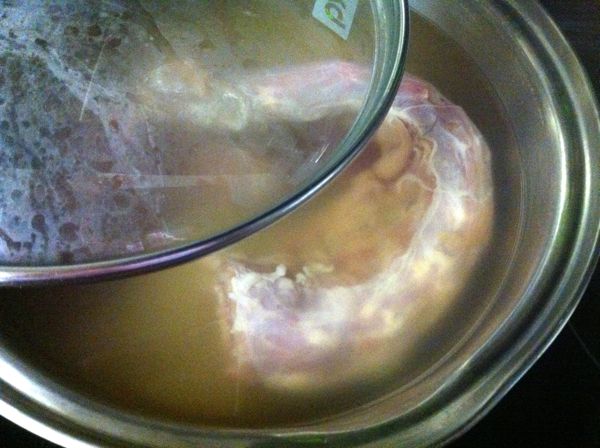 So the turkey's going in the oven and the mashed potatoes will be beaten into submission with all the butter in the world, and the rolls will be Monkey's favorite thing even with a billion pounds of food on the table, and our guests are bringing pies. But I also made this: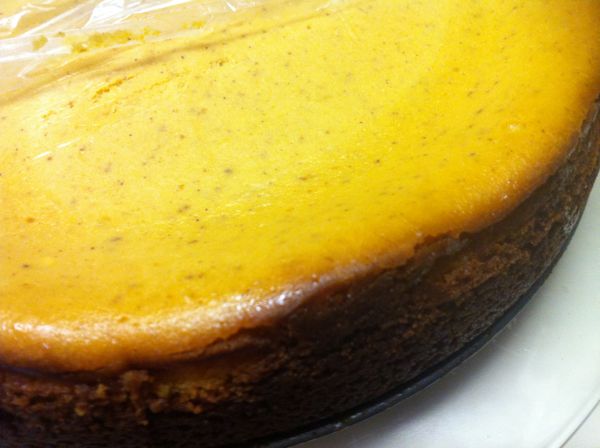 (That's gluten-free pumpkin cheesecake with a molasses cookie crust. Also meat-free, but I'm willing to tell everyone I put liver in it if it leaves more for me.)
I'm wishing all of you and yours a very happy Thanksgiving, and whatever peace your heart needs this holiday season. It feels like it's been a long year for so many of us; I'm glad we can still gather and give thanks and mean it. I hope you can, too.