Did you know that school is finished for the year here in just a few weeks? (And before the usual slew of "No fair! You get out so early!" comments that this usually brings, allow me to point out that the kids went back to school the first week of August. They've had a whole year.) Anyway, it's true. School is nearly out for the summer.
Just a few more weeks to get through, which means that everyone's Great Big Hairy Meltdown is right on schedule for… now.
This happens every year. I have no idea why it surprises me, every time. But the children are… oh, a little on edge, let's say. Moreso than usual. And my tried-and-true rule about only one child having an issue at a time seems to go out the window, this time of year. Or, you know, THIS ENTIRE YEAR. (See also: hurry the hell up, 2013.)
Otto and I have taken to sneaking out the house early on Saturday mornings, just the two of us. This has become my favorite part of the week, better even than sleeping in, and you KNOW how I feel about sleeping. We go to the Farmer's Market, or we go check out some yard sales, or we do both. We talk about important things or stupid things or funny things, but not sad things, and not at all about the kids. We pet other people's dogs and chat with strangers and run into people we know and marvel at what appears to be the global shortage of used patio furniture. (I KNOW. But that was a table and chairs, and we still need some comfy lounge furniture. So that we can… lounge.)
Otto likes to tease me that I can find something to buy at any yard sale. It's true. Because if that t-shirt is only a dollar or that cup will hold an entire can of soda AND another ten ounces of ice, that's cool by me. But I'm trying hard to cut down on the amount of STUFF these days, so I'm getting better at merely sifting through other people's castoffs and then saying thank you and moving on.
Today, though, we found a real gem of a sign for just a quarter, and while it made me laugh, I told Otto we really didn't need it. And then Otto said, "Oh no, for twenty-five cents, YOU NEED IT."
We brought it home and nailed it up where it seemed most logical.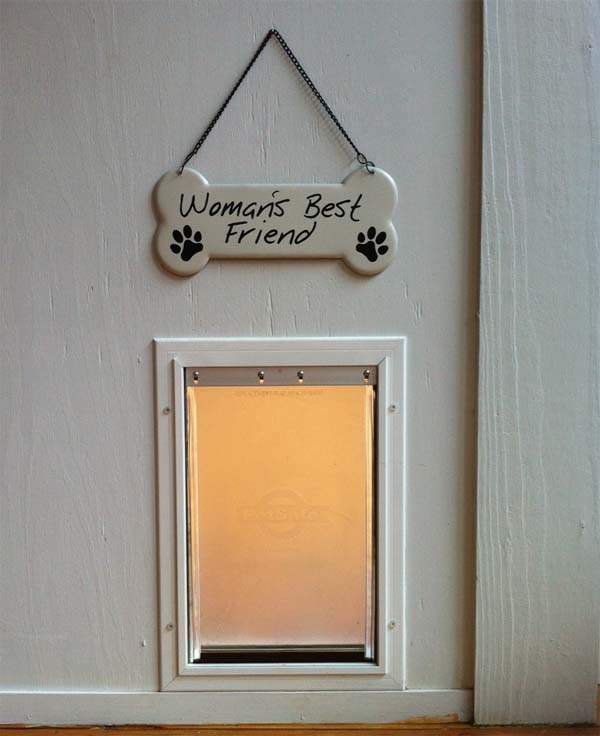 Licorice seems unmoved by it, but I'm pretty sure the other kids are miffed, so I guess it was a quarter well spent.
[Also, I could totally turn Woulda Coulda Shoulda into one of those fashion-y designer blogs, by showing you all of the fantastic and stylish things I buy for my fabulous home. "WHIMSICAL SIGN, JUST TWENTY FIVE CENTS, BUT FULL OF STYLISHY STYLENESS." Or not. Just a thought.]