I've reached the segment of our program where I'm finding it difficult say much, to anyone. Never mind writing about my delicate feeeeelings, Otto's customary "How was your day?" query as we're getting settled in bed at night is enough to render me speechless. How was my day? Ummm, Chickadee remains medically fragile and I think Monkey has another sinus infection (which you understand to mean "He says he feels fine, but he's being a complete butthead at school and has a nasty cough, so that probably means he's sick"), so my days mostly feel like a mad dash from here to there, cradling a dozen raw eggs in my arms, hoping that none of them drop and go splat. If everyone got everywhere they were supposed to go and no one had to go to the hospital, I guess it was an okay day.
Inbetween driving children to more doctors' appointments than I ever realized were even possible, arguing with our insurance company, and filling out paperwork for everything from summer camp to next year's high school schedule, I choose to focus on the things I actually have some power over. Because that's HEALTHY, sort of.
God, grant me the serenity to accept the suckage I cannot change, the courage to find a decent hairstyle, and the wisdom not to schedule that stylist appointment while the kids need a ride somewhere. Amen.
Yeah, that post about my gray hair wasn't the end of that particular saga. Despite the legions of people (including MY OWN FATHER, the traitor) assuring me that I am far too young to go gray, the fact of the matter is… I already AM gray. And I am tired of coloring. I'm kind of curious to see what my hair will look like in its natural state, given that I have just a few strands of gray up front, but a wide swath of silver sprouting from the crown of my head. I'm kind of hoping to end up all striped so I can pretend it's a fashion statement.
This means I need to cut my hair, at least for now. I will probably grow it right back out again, as 1) I'm incredibly lazy, and long hair = ponytail = lazy, and 2) wearing my hair longer tends to stretch my curls out and make them less poodle-like. But at the moment I just look like I gave up, and it's not a good look. For reference, 3 – 4 inches of gray roots on your too-long, very dark mop is the hairdo equivalent of going out in public in your 20-year-old college sweatpants.
So. I'm in the market for a short style I can live with for a while.
The truth of the matter is that if I go to my stylist and say "It's time; cut it off," she'll do something cool that probably won't make me cry. I trust her. But the control freak in me wants some idea of where I'm going to end up, so that it's less of a shock.
There are countless websites out there with hairstyle galleries, so I've just been clicking along, looking for that perfect style. The problems with this approach are many, though:
1) It's hard to find someone with my same hair type and/or face shape, and the "upload your photo to try this hairstyle on you" tools just kind of freak me out.
2) If I search for short, curly styles I am invariably presented with a gallery of beautiful black women with afros. It's true that I could do a 'fro without too much trouble, but… that's not really the look I'm going for.
3) There is a LOT of crazy to wade through to get to useful pictures.
I started on this site, where I found two possibilities for my hair, I think: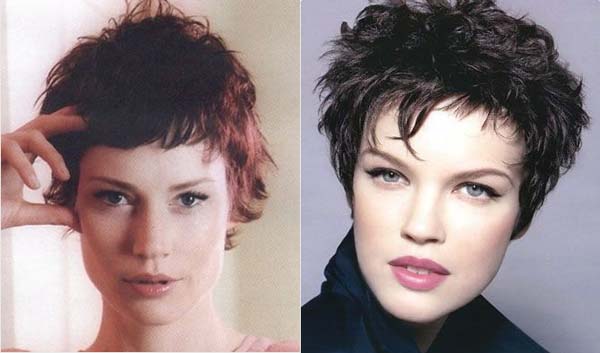 I'm a little worried that the one on the left mostly looks like bedhead, and a little worried that the one on the right is a case of me thinking that woman is gorgeous more than that the hairstyle in question is right for me. And for both of them, there's a decent chance that my hair is simply too curly to end up looking like that, anyway. BUT! I can at least take the pictures to my stylist and say "Whatcha think?"
But then I wandered over to this site, and that's when the wheels started falling off the bus.
First, there was this: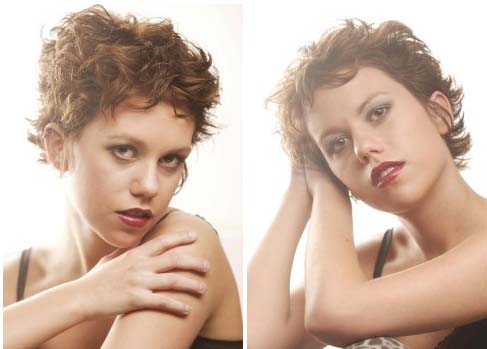 Is it just me, or does this seem like kind of a nice, cute 'do in the pic on the right, but from the angle of the pic on the left, she looks like she has BOTH a horrendously choppy cut AND persistent bedhead?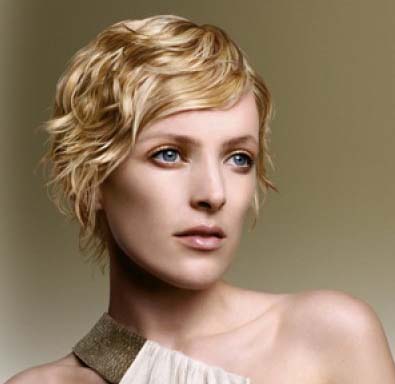 I actually kind of love this haircut. Could my stylist thin out my hair sufficiently such that I could have something like this? I have no idea. Furthermore, would I need to go blond? Wear a toga? It's not clear what the compulsory components of this look really are. (The site's description of this look says it "presents a glimpse of yesteryear." If by "yesteryear" they mean "the model's shoulder," then I guess that's true.)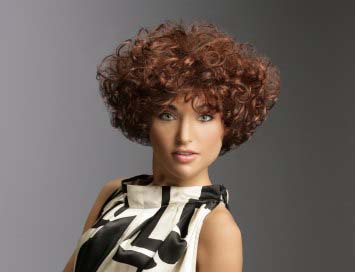 This one was in a section called "on trend." Yep, this look is definitely on trend… if it's 1984. Pretty sure I had this exact haircut when I was in 8th grade, and I'm not gonna lie, I was pretty stylin'. I'm just, uh, not quite ready to go back to it.

It was just a short downward spiral from there to the Gallery Of Crazy Hair, with everything from the chic "Look like the building caught fire halfway through your cut" look to "Mullets Are Totally In If They're Technicolored" to "Flock of Seagulls… Landing On Your Face."
I still haven't found THE cut for me, but as long as I stay away from false pink eyelashes and Aqua-net, I think I'll probably be okay.