I may have mentioned before that sometimes there's a dog at Hippie School; the director was bringing her almost every day, for a while. This dog and Monkey immediately became the best of friends, because Monkey loves animals and Star is a saintly paragon of patience when it comes to children flinging themselves all over her.
It was reported to me on more than one occasion that when Monkey was having a difficult time, either he would spontaneously go bury his face in Star or she would go to him and sit on his feet. (It must be noted here that Licorice is also very patient with Monkey, but at 12 pounds, it's not as though she can actually anchor him the way a large dog can, and that's aside from the fact that if he's truly freaking out, she gets scared.) Just one more benefit of Hippie School, right?
One day last week Monkey came home absolutely despondent. "Star ran away," he told me, eyes brimming with tears. "She was probably just chasing something and got lost. She didn't come back."
I immediately contacted Teresa, of course, to ask if she needed help looking. She said that she had some folks helping, and they were making loops around the area around the school, and talking to people, and thank you for the offer, but she was sure they'd find her soon. She was, as always, sounding optimistic and upbeat, but I could hear the edge of worry underneath. I told her to let me know if she needed anything.
The next morning, I waited until about 6:30 before emailing her again to say I couldn't stand it, had she found Star? This time there was no mistaking the sadness and panic in her response; they'd looked until nearly midnight, she'd gone in again at 5:00 a.m. to resume the search, and no sign of her yet. Worse, there had been thunderstorms, and Star is famously afraid of thunder—if someone hadn't taken her in, there was no telling what might have happened. Plus we were not going to discuss how likely it is for a black dog to get hit by a car in the dark.
I felt positively sick.
When I woke Monkey up that morning, he popped straight out of bed and asked me if Star had come home. Breakfast was a morose affair.
That afternoon, a jubilant email arrived—someone had indeed taken Star in late the night before, and in asking around, finally Teresa was alerted and was able to go retrieve her. She had crossed the highway not once but TWICE, proving once and for all that Star is, in fact, made of magic. There was much rejoicing at school, though of course Teresa explained to the kids that this probably meant Star would be visiting there less often.
The kids wrote a group thank you note to the lady who found Star, with everyone getting to add a line to it. Monkey's line said something about "Thank you for rescuing our teacher from a heart attack." That kid has such a knack for flowery language, no?
At home that afternoon, Monkey regaled me with a play by play of Star's return and the fuss everyone made over her, and he tried to sound brave as he told me she probably wouldn't be coming to school much anymore. "I'll miss her," he admitted, "but the important thing is that she stays safe."
The next day, I was sitting here working when Monkey popped up on Instant Messenger. "Mom! We found a lost dog!"
Yes, the very day after Star came home, a group of boys were playing out in the woods and came across an emaciated stray. With Teresa's help, they "rescued" him, and by the time I arrived for pickup that afternoon, their guest was lounging in the middle of the main room like the King, all curled up on a soft blanket, children taking turns petting him, and food and water at his disposal. He was absolutely beautiful; despite obviously feeling unwell and being painfully thin, he appeared to be a majestic Irish Setter or mix therein, with a pretty face and a ready tail-thump for all. The kids fell all over each other to fill me in on the whole story, and Teresa confirmed that it was Monkey who'd taken to Craigslist and found what appeared to be the Lost Dog ad for their new friend. The family in question lived an hour away and had been called, and they were on their way to come see if he was theirs.
"What are you going to do if he's not theirs?" I asked Teresa. I looked back over at the dog. Monkey was stretched out next to him on the floor, scratching his chin. Before I realized it was out of my mouth, I offered to come back and get him for the night if necessary; I could take him to the vet in the morning, get him scanned for a chip, have his (obviously infected) ears looked at.
Well, the family that drove an hour had lost him back in October (!), but felt this was indeed their pup. They took him home and to the vet, and the next day they sent a long email to the kids to let them know how much better he was feeling and how he clearly remembered their house and where he belonged, etc. It was a happy ending after all, and Monkey was very proud of himself for being the one to find the dog's family.
There was much talk at Hippie School of karma, and how Star had been returned to them, so then they were able to pay it forward in reuniting the big red dog with his family.
"I really liked that dog," said Monkey, somewhat wistfully. "I love Licorice, but I like big dogs like that. I miss having Star at school." I hugged him and reminded him what a wonderful thing he'd done, and also that Star's safety was important, and he said he knew, and I said I knew that it was still hard, and life went on.
A couple of mornings ago, I opened my office door to let Licorice out into the fenced area, and she ran out like a bat out of hell, as per usual. I shut the door and sat back down at my desk, next to the window. I'd gotten through about four emails when I saw something streak across the yard out of the corner of my eye—I looked up just in time to see a medium-size dog dart behind the corner of the fence.
"Otto?" I called. "There's a dog in the yard."
"Is it small, black and furry?" he replied. "That's Licorice."
I was up and peering out the door. "No, silly. A big brown dog. Outside the fence."
"Oh," he said, joining me to look outside. "Yeah, when I was taking Chickadee to school I almost ran that dog over. No collar."
I stepped out onto the porch. "C'mere pup!" I called. A face popped up at the fencepost. Licorice, of course, completely ignored me. "C'mon baby! Come!" I called. The dog started running across the yard, away from me, back up towards the road. I looked back at Otto in a panic. How could I get this skittish dog away from harm if she wouldn't come?
But then Licorice realized there was a dog out there and she ran under the porch so that she was standing directly beneath me, and barked through the latticework.
The stray immediately bowed from up on the driveway—front down, rear up, tail wagging—and as I came down the porch steps and called again, she ran to me. First she sniffed at the latticework where Licorice was going positively ballistic, then she came up one step to sniff at my outstretched hand. I sat down on the top step and that was apparently all she needed; she hurled all 40 pounds or so of herself into my lap and commenced licking my face.
"Now look what you've done," Otto said from inside the porch, a hint of a chuckle in his voice.
"I think this is a puppy," I said, between licks. "Oh man, she is so sweet! Can you take Licorice in? I'm going to get her up onto the porch."
Otto got Licorice inside, and my new friend and I managed to get up into the screen porch. By this time, Monkey had spotted what was going on, and was literally falling over in his rush to get his shoes on. He ran out onto the porch and StrayPuppy was all HELLO! I LOVE YOU! YOU ARE MY NEW VERY FAVORITE! LET'S BE FRIENDS FOREVER! It took a couple minutes just for Monkey to work his way over to a chair, and then StrayPuppy stood up on her hind legs so as to put as much of her body as possible in his lap.
"I think she likes me," he said, grinning ear to ear.
We put in a call to Animal Control and gave StrayPuppy some food and water (both of which she snarfed down immediately), and then we decided to coax her out into the dog run for the time being. As sweet as she was, she was rather, ah, fragrant, and I had no idea if she was housebroken, plus Licorice wasn't feeling too kindly about this visitor. She would need to stay outside. So first I got her outside the screen porch, but she was not willing to leave without Monkey.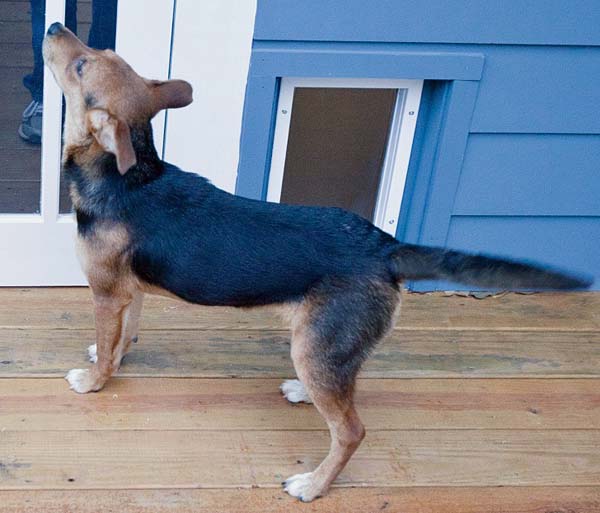 Hey you! Delicious boychild! I LOVE YOU! Come with me!! I HAVE MANY KISSES!
Monkey helped me get her out into the run. We closed her in, and then, of course, she started to cry. I was about to feel just terrible, but then she saw a squirrel and went bounding after it.
Otto took Monkey to school and I went back to work. A little while before Animal Control came, I let her out of the run and she was all I REMEMBER YOU! YOU ARE MY NEW MOMMY! I LOVE YOU SO VERY MUCH! Of course, when the nice lady came to get her, StrayPuppy decided SHE was her new mommy, so it was all good. I was assured that either someone would come claim her or she would be readily adopted, and off they went.
So. Three lost dogs in the space of a week.
I realize our time at Hippie School has made me more susceptible to the woo-woo, but a few weeks ago I started researching autism service dogs. They are impossibly expensive, another mouth to feed, another logistical issue, and obviously a huge commitment. Plus we got a 12-pound hypoallergenic dog as a pet because 1) we didn't want a large dog and 2) we have allergies. There are a million reasons why this is an untenable prospect for our family. And yet. With changes afoot and Monkey needing more support… I just… keep coming back to this. And the dogs, they keep coming back to him. Coincidence? Maybe.
But it's starting to feel an awful lot like a message from the universe.