So the kids went off on their adventure and then Otto and I loaded up the car while Licorice nervously paced my office. By the time we scooped up Her Furriness to put her in the travel crate, she was so relieved to not be left behind that she seemed to totally forget that she hates riding in the car.
We drove and drove and drove and drove, and we listened to a lot of "Wait Wait… Don't Tell Me" and ate a lot of snacks, and when we pulled up at my folks' house the next day, Licorice was all, "I LOVE ROAD TRIPS!" I am certain this had nothing to do with the potato chips I kept poking into the crate, by the way.
In truth, the drive was pleasant, if somewhat repetitive (where are we? still in Virginia? STILL??), though it was a relief to finally arrive and stop moving.
But, uh, did I mention that my parents got a new puppy?
Meet Zoey: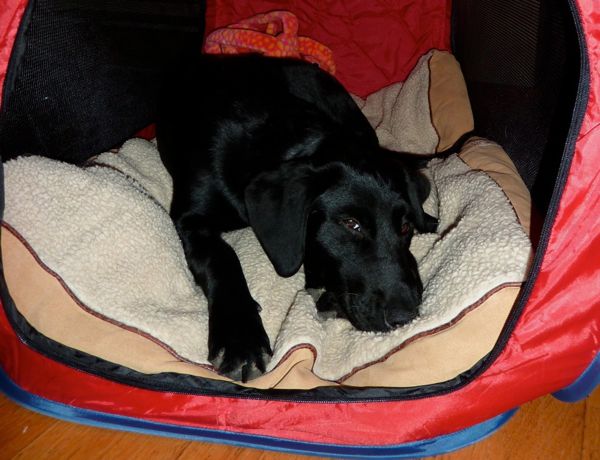 Zoey is adorable. She's a black lab-ish pup who is sleek and shiny and prancey and loves you very much. Like most toddlers, Zoey believes that absolutely everything and everyone is SO VERY EXCITING and wonderful, and it is impossible to feel anything other than slightly giddy in her presence.
Also like most toddlers, Zoey isn't terribly good at following directions, realizing when enough's enough, or peeing only in designated areas.
Naturally, all of the humans in this equation loved her immediately. Equally predictably, Grumpy Old Lady Licorice pretty much hates her.
Zoey is approximately five times Licorice's size, and all she wants in the whole world is for Licorice to play! And run! And romp! with her. This is best communicated through POUNCING on Licorice, with no mind whatsoever paid to the fact that even a single meaty paw is enough to flatten Licorice into a snarling mat of indignation.
My favorite is when Zoey approaches, Licorice starts growling, and Zoey's response is to go front-down, butt-up, tail a-waggin', in the universal PLAY WITH ME! position, as if Licorice's "GET OFF MY LAWN, WHIPPERSNAPPER!" was instead an engraved invitation to a rousing game of Who Can Fit The Other One's Head In Her Mouth.
This is all So Very Exciting for Zoey, who responds to any level of excitement by piddling, and then usually sitting down in the puddle she just made.
To be clear: This means that our "relaxing" few days without the kids has so far mostly entailed 1) trying to keep Licorice from killing Zoey, and 2) cleaning up Zoey's piddle puddles.
Licorice has mostly regarded Zoey with disdain and solved the issue of being pestered by jumping up onto the furniture and/or into someone's lap (where Zoey isn't allowed), but last night when everything appeared to be perfectly calm—and we were, in fact, enjoying the final episode of The Next Iron Chef on Food Network—Licorice hopped off my lap, walked in a circle around the room, and then looked right at Otto and peed on the floor.
I'm telling myself this was her way of admitting she kind of likes Zoey, after all.