The GOOD news is that I found a deal on a huge sack of Sour Patch Kids (mmmmm… Sour Patch Kids) and it took less convincing than I thought it might to talk the kids into us all staying in last night. I know that probably makes me some sort of Halloween Scrooge, but whatever. I gave them each their own bowl of candy and everyone seemed happy and it just seemed easier.
The BAD news is that the dog really and truly hates us, now. Or at least she did until I gave her some peanut butter this morning. Which I guess cancels out the hate. But I'm putting some pics below the fold so that you can judge for yourself. Heh.
The HALLOWEENIE news is that I'm over at Off Our Chests today, talking about wearing a mask for Halloween. Obviously. Come on over and join the conversation, particularly if you've ever felt more at home wearing someone else's face.
Now, for the Licorice lovers:
I want to state for the record that I HAD NOTHING TO DO WITH THIS. The children went off with their father one weekend and returned all giggles and shifty eyes and ran upstairs with the dog, who then trotted back down later looking confused and somewhat violated. But also hilarious. Because…
SQUIRREL! Really annoyed-and-yet-very-much-wanting-the-treat-I'm-holding-out-to-get-to-her-to-sit-for-some-pictures SQUIRREL!
See, there's even an adorable stuffed acorn in her little squirrel-hands across the front, there, but in Licorice's case that needs to be pushed as far away from her mouth as possible, because—fully in character, that one—she is convinced the acorn is DELICIOUS.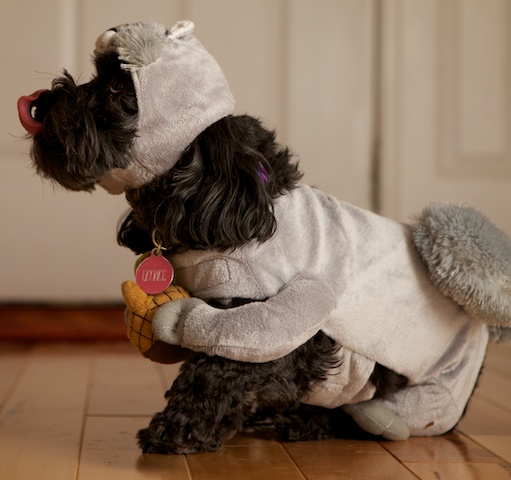 Nom nom nom. Sooooooo hungry.
Of course, she's also willing to stretch and work for that treat…
… which of course meant that she started running through her arsenal of tricks, including sneezing. Turns out that when you sneeze…
… with a squirrel face on your head…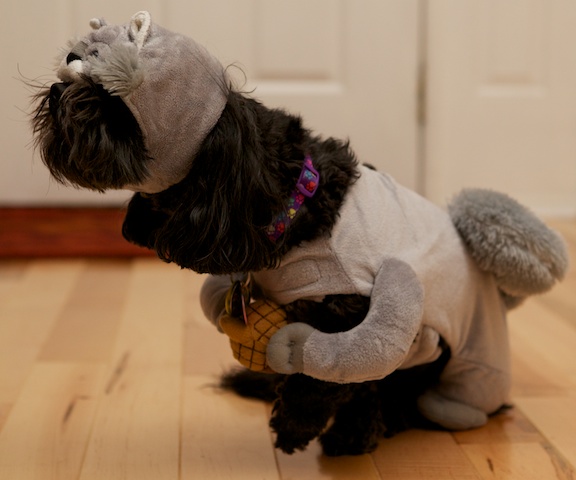 … someone turns out the lights or something. It is deeply confusing.
(Don't worry; after I stopped laughing at her, I gave her extra treats.)
(Extra special thanks to my rockstar photog of a husband for these action shots.)