I got you some rivets! All kinds!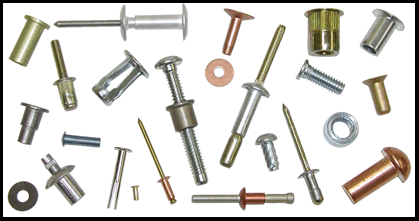 Because… you know… rivets… riveting…? Oh, nevermind.
The soup was delicious. And I made naan! Recipes after the jump, if you care. If you don't care, enjoy your rivets. I Googled them just for you.
Crock Pot Moong Dal Soup That I Half Stole, Half Invented
Rinse 3 cups moong dal (the little yellow lentils) and soak then in hot water for half an hour. Rinse again, then put them in the crock pot with a bay leaf, 32 oz. (one box) vegetable stock, and a cup of water. Cook on high for an hour, skimming off any foam.
Add: one 14 oz. can fire-roasted tomatoes (juice and all), one finely minced sweet onion, 2-3 chopped carrots, 2-3 chopped celery stalks (I was out of celery and had to just use celery seed, but real celery would've been better). Turn the heat down to low if you want to cook all day, or leave it on high if you only have a few hours. Basically, cook until the lentils disintegrate and the soup is thick. Once that happens, fish out the bay leaf and move on to the next step.
In a small frying pan, heat 2 tablespoons of olive oil. Add: 1-2 tablespoons fresh ginger (I was out—surprise!—and used a heaping teaspoon of powder; again, fresh would've been better), 2 teaspoons cumin, 2 teaspoons coriander, 1/2 teaspoon turmeric, some fresh ground black pepper, a teaspoon of salt, and a couple of pinches of cayenne. Stir and heat the spice/oil mixture until bubbling (but do not burn!), then add a ladle of the dal to the spice mixture, stir, and transfer it all back to the crock.
Turn the heat up to high (if it wasn't on high already) and add a couple of cups of chopped spinach and the juice of a lemon. Stir until the spinach is wilted. Serve with naan!
Half-assed Easy Naan Recipe
Add a packet of yeast to a cup of warm water in a large bowl. Leave 15 minutes or until the mixture bubbles. Add 2 cups bread flour, 2/3 teaspoon salt, 2 tablespoons of olive oil, and 2 tablespoons of plain yogurt. Mix first with a spoon, then knead by hand. Mixture should become smooth and tacky but not unbearably sticky—add more flour if it keeps sticking to everything. Oil bowl and put the dough back in; cover with plastic wrap and set the bowl inside another bowl of hot water to speed rising. If you do that water trick, it's ready to go in 30 minutes. Punch down, pull off large golf-ball-sized balls and roll out very thin. Cook in a frying pan on medium-low heat with a little oil or butter (really you should use ghee, which is clarified butter, but who has time for that?), giving each side about 45 seconds. They will puff up and your family will be impressed.
Eat with your moong dal, unless you don't eat gluten, in which case just enjoy your moong dal while wistfully staring at your beautiful naan and saying things like, "You are SO LUCKY to have a mother who loves you SO MUCH that she makes you naan from scratch when she can't even eat any."
Bonus: Even the kid who claims not to like soup will mop it up with the naan because NAAN IS DELICIOUS.