(Subtitle: Licorice's account of The Trauma.)
It was bad enough that they had so many PEOPLES here, milling around, and the puppy-ones were all splashing in the Wet Pit Of Despair and shrieking, probably because being all wet is so horrible. I was dealing with that. I was just trying to stay out of everyone's way, just eating a little grass, wandering out to my run and sniffing along the fence and everything, but then IT happened.
The Interloper appeared. I don't know who he thinks he is, but he's big and drooly and my people are acting like he's wrapped in bacon or something, just because he's old. He may be old, but he's still trouble. I can tell. I tried to protect my family from him, bravely hurling myself between them and him at every opportunity, but whenever I did he stuck his nose all up in my lady-business like a total cad. Fresh!! Finally I was so stressed out I just had to go back to eating grass in the corner.
I was keeping my eye on him, though. Just in case.
Do you know what that big dumb dog did? He went into the water. ON PURPOSE. Can you believe how stupid he is? All of the puppy-people screamed and screamed, probably because they knew that next he'd be shoving his nose in their nethers, only this time it would be all wet and slimy.
Eventually he found his way out of the Wet Pit, but he just seemed so HAPPY. It was disgusting. I had to sulk for a long time while he was basking in the sun on the porch, after that.
Once most of the people went home, MY people had the audacity to leave, too, and they left me with HIM. And I had to go in my crate, but HE got to stay out. THIS IS MY HOUSE. I never! And when they came back, everyone smelled like food and his people kept trying to pet me but they smelled like him and I was still sulking.
But then his lady-person sat down with an apple and everything just faded away for a little while. It was just her. And me. And the ZOMGANAPPLE. She shared it with me (of course). I made my best "I am starving" face. Works every time!
But all good things must come to an end, and once the apple was gone, THE BIG DUMB DOG WAS STILL HERE, and worse, he came outside with me to sniff all of my favorite pee spots. By the time I went to bed (I snuck into Mom and Dad's room and they let me stay! SCORE!) I could only hope he was leaving soon.
I kept falling asleep. But then waking up! Because I heard something! IT WAS HIM! BREATHING!! Well, I wasn't going to let that go. I would sound the alarm! And then my people would say bad words at me, like they didn't appreciate my help at ALL. Didn't they know I was just letting them know he was still around? Sheesh. I mean, I only did that four or five times in the night. I was keeping them informed!
This morning? Yeah, that's right. He's still here. I stay as far away from him as possible, because he can't move very fast, but he still seems to always find a way to get fresh.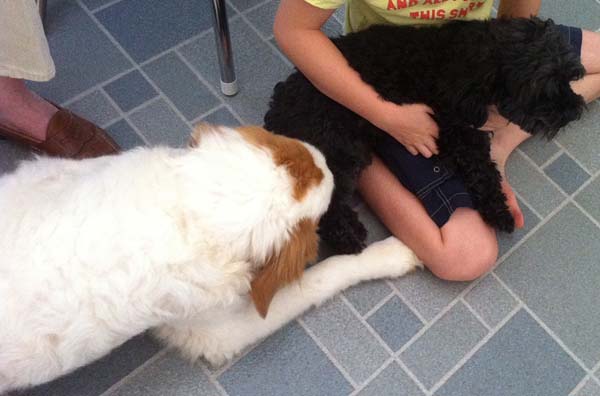 See what I mean? The boy-puppy held me there and ALLOWED THAT TO HAPPEN. I have to go pee on his pillow, now.
I don't know how long I'll be forced to endure these indignities, but I'm working on a plan. It involves that one being left outside… permanently.